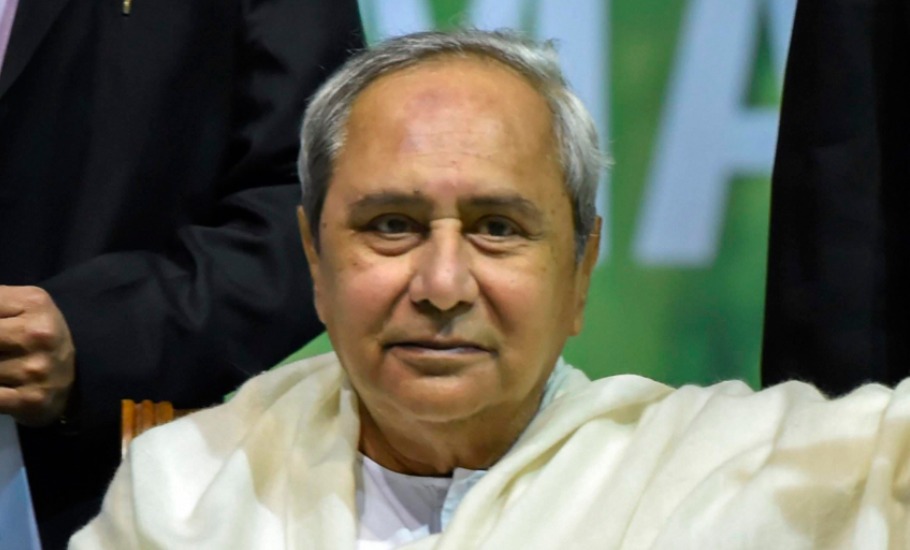 In 2019, after the Bharatiya Janata Party (BJP)'s upsurge in the decisive coastal belt, it was widely felt that the saffron party was a potential challenger to the 19-year-old Naveen Patnaik-led Biju Janata Dal (BJD) government.
With Odisha on his party's radar, BJP's then president Amit Shah had galvanised  karyakartas during his numerous trips and set a target of 120 seats in the 147-seat assembly. In an acrimonious campaign, BJP's top guns, including Prime Minister Narendra Modi and Shah, targeted Naveen.
As an aggressive BJD counter-attacked, a quiet Naveen armed with the goodwill and huge response generated from his just launched Krushak Assistance for Livelihood and Income Augmentation (KALIA) scheme, toured extensively.
Unruffled by the terrible April heat and dust, women, children and men in large numbers — many blowing the conch, the BJD's election symbol — patiently waited for Naveen. As he would wave at them, the frenzied crowd would go berserk.
Also read: Graft charges in COVID purchase tarnish Naveen govt's efficient image
The results (BJD-112, BJP-23) convinced the BJP that in Odisha, personal attacks on Naveen may have been a politically wrong strategy. Post poll, PM Modi, Shah and their senior cabinet colleagues heaped praise on Naveen's political conduct and efficient administration.
In terms of popularity, the 74-year-old Odisha CM has no rival. Two recent surveys (ABP news-C Voter Desh ka Mood survey) and (India Today Group-Karvy Insights Mood of the Nation (MOTN) January 2021), have shown that Naveen's the most popular CM, followed by his Delhi counterpart, Arvind Kejriwal.
"His simple lifestyle, good governance and pro-poor initiatives are appreciated and acknowledged around the country. It's proven that he is the tallest leader in the state," asserted senior BJD leader, Amar Prasad Satpathy.
However, senior Congress leader Panchanan Kanungo blamed the media for not projecting the right picture. "The media of today or its surveys are not believable," Kanungo claimed.
Interestingly, a few days following the media surveys, Odisha found itself among the bottom four states in terms of people with lowest access to basic needs in the Economic Survey 2020-21.
The coastal state is among the bottom three in drinking water accessibility index. The survey also stated micro-environment in urban areas has improved in 2018, as compared to 2012 for all states except Odisha and Assam. While access to bare necessities in 2018 was the highest in Kerala, Punjab, Haryana and Gujarat as compared to 2012, it was the lowest in Odisha, Jharkhand, West Bengal and Tripura. Though the basic necessities access has improved in Odisha since then, it still lags behind several economically poor states.
Also read: One year of Naveen Patnaik's fifth term: The journey so far
"It's ironical that while the chief minister is rated as the best, the people of the state lack access to even basic needs. It means Naveen has projected a rosy picture," said senior journalist Sandep Sahu.
Opponents alleged that in two decades, Odisha hasn't progressed as much as it should have because Naveen lacks a vision and a long-term plan. "Naveen babu serves the wound, doesn't heal it. He is a master of patchwork," senior BJP leader and Bargarh MP Suresh Pujari told The Federal.
Others, however, disagree. "A number of the government's programmes across sectors — social security, disaster management, women empowerment, communication, etc, have done remarkably well," said Jugal Kishore Mohapatra, who was Naveen's principal secretary in the early years of his rule. Mohapatra, who later became the state's chief secretary, added, "He deserves all credit for the state's fiscal turnaround."
Bolangir-based journalist Rajib Sagria said that Naveen has made the state proud by successfully hosting the 2018 Men's Hockey World Cup. "He placed Bhubaneswar and Odisha on the international sporting map," said Sagria.
Incidentally, when Naveen arrived in 2000, Odisha, severely battered by the October 1999 super cyclone, was staring at uncertainty and chaos. Officially, 10,000 people had died, an estimated eight million — one fourth of the state's population — was affected, a majority of them badly. The cyclone had pushed the impoverished state's economy behind by decades.
When the A B Vajpayee government released ₹500 crore as cyclone relief, the first thing the state government did was to use ₹100 crore to pay salaries to its staff. Incidentally, early in that decade, stories of recurring droughts, poverty and starvation deaths in Kalahandi district (in Western Odisha) had made it to the headlines in the international media. Aghast by the maladministration and pathetic cyclone response by the Congress government, Odisha voted for a change as Naveen's BJD, in alliance with the BJP, came to power.
However, Naveen, who neither could speak Odia, the local language nor knew the state well, had enormous challenges ahead of him. He had to carry out massive reconstruction of physical assets, revive the economy, rebuild lives and also instil trust in people towards the administration.
Also read: Cyclone landfalls help Naveen Patnaik win 'landslides' in Odisha
Recalled a senior bureaucrat of that time, "He saw it as an opportunity to do more for the state and its people and bring about a transformation in their lives."
According to the same officer, unlike a typical politician, Naveen's 'access control' was very strong. For a change, crowding the CM's office or his residence was not to be seen. "He showed a lot of promise," the former IAS officer said.
In the beginning years, Naveen ruthlessly cracked the whip on corruption and dropped ministers even on the basis of an allegation. Across the state, the bachelor chief minister, his actions and frugal lifestyle were discussed with admiration. Even now, Naveen's 'Mr Clean' image continues to be his main USP.
Since he forayed into politics after his ex-CM father Biju Patnaik's death in 1997, Naveen has never sat in the Opposition. On March 5, he's poised to enter the 22nd year of his uninterrupted rule.
Many remembered that though a greenhorn in politics, Naveen had a knack for sizing up people, knew exactly whom to trust, how much and for how long. Contrary to popular perception, he was actually an astute politician and played his cards deftly.
"But, he did everything, silently. No one, not even his closest advisor, had any hint of his next move," said a former bureaucrat. He, however, added that Naveen was open to all views and "wouldn't stop one from pursuing an idea which appealed to him".
In a decade-long rebuilding activity, institutional mechanisms, including Odisha Disaster Management Authority (OSDMA), which made the state the best in disaster preparedness  in India, were set up. Massive evacuation saved precious lives in successive floods and cyclones, as better communication network helped in swift response. "People felt the difference," said another ex-bureaucrat.
What, revived the state's ailing economy was the boom in the mining sector. Apart from its long coastline, Odisha has rich coal, iron ore (accounts for more than 50 per cent of the total production in India) and bauxite deposits. It attracted investments and created huge resources for the government, allowing Naveen to pursue a number of poverty alleviation initiatives. The decision to cut back on administrative expenditure, salary and pension also helped. Subsequently, reforms in the power sector, introduction of value added tax (VAT), etc, followed.
However, social security measures, including hike in pension amount and, in particular, the ₹1 per kg rice scheme, made him a household name. Naveen ensured their timely and last mile delivery, conceded a former administrator.
"Pyari Babu (Naveen's trusted aid till 2012 and Biju's principal secretary Pyari Mohan Mohapatra) forced the idea of the ₹1 a kilo rice on the CM and saw to it that all objections by the bureaucracy were overruled," recalled a former IAS officer. The scheme proved a game changer, politically as well.
Also read: Naveen Patnaik files nomination for re-election to BJD's top post
Also, the women-centric initiatives had the desired effect and gave political dividends for the BJD. "He's done so much for us, we can't forget Naveen sir," pointed out Nirupama Das (40) of Bhubaneswar's largest slum, Salia Sahi.
The government claimed Odisha's poverty reduced to 24.61 per cent from 57.2 per cent in  2004-05 and 32.59 per cent in 2011-12. The state's gross domestic product (SGDP) rose from ₹2.13 trillion in 2011 to ₹4.16 trillion in 2018; the compounded annual growth rate of 10.3 per cent was higher than the national average. Last year, in the midst of graft allegations over the procurement of essential medical equipment, Odisha received praise for its efficient COVID-19 management.
Ironically, in 2019, Naveen had given tickets to sons of some leaders who had served jail terms for their involvement in the multi-crore chit-fund scam. Also, it was during Naveen's tenure that the illegal mining scandal — one of the biggest in the country — had rocked Odisha.
However, the scams failed to impact his image. "The entire chit-fund scam was intimately facilitated by his government. Naveen's very good at deal making, has manipulated the Opposition and got the media in his favour. He's sold his image for political advantage," remarked Sahu.
BJP's Pujari blamed Naveen for his "complete failure" to curb the rise in crimes, particularly against women and also "corruption" at all levels. However, he conceded, "He is lucky as he doesn't have a qualitative Opposition."
Both the Opposition and critics alleged that in Naveen's rule, it's the bureaucrats, not politicians, who run the show. Terming it as a baseless theory, Satpathy said, "The government takes all decisions, bureaucracy only implements them."
Despite Naveen's repeated claims that after he had parted ways with the BJP in 2009, his party maintains equal distance from the Congress and BJP, the growing bonhomie between the BJD-BJP has raised many eyebrows. The BJD backed the NDA government in the Parliament during controversial legislations (the abrogation of Art 370 for J&K, CAA etc). However, having supported the Citizenship Amendment Bill (CAB), Naveen announced that his party's opposed to the NRC.
"The BJD has been the most trusted non-NDA ally," said Sahu. "We have supported those Bills which suit the interest of the state and the people. We have also opposed many," Satpathy argued.
In his fifth innings, Naveen, in order to make governance people-centric and introduce transparency, has implemented the 'Mo Sarkar' initiative based on the '5T model' of governance. Some were not optimistic about it, though. "Twenty years is a long time. The CM could have done much better, at least, in improving governance across sectors. In this, he can be found wanting," rued a former IAS officer.