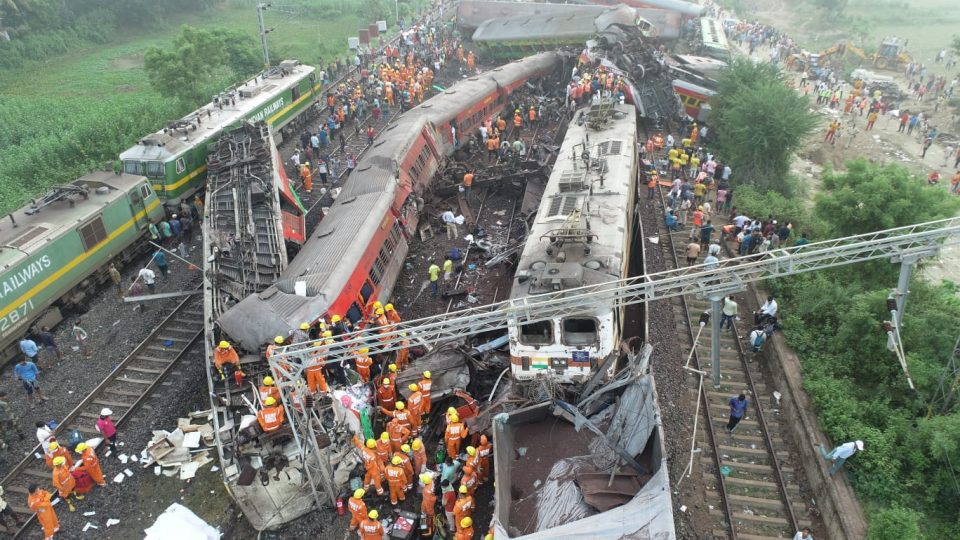 Rescuers try to raise buried coach at triple rail crash site as death toll reaches 238
Huge cranes and bulldozers have been brought in to extract a coach which has been buried by the impact of another wagon falling on it at the site of the horrific train tragedy in Odisha's Balasore district.
"Work is on to try and extricate that particular bogie and retrieve the dead in it. This will push up the death toll significantly," a state disaster relief officer said. Rescue workers wielding gas torches and electric cutters continue to pull out survivors and the dead from the mangled steel of three trains that derailed one on top of another in a horrific sequence, killing at least 238 people and injuring more than 900.
Also read: Train crash: For rescue workers, a night of blood, sweat and tears
Officials in Bhubaneswar said 200 ambulances, 50 buses, and 45 mobile health units were working at the accident site, besides 1,200 personnel. The bodies were being taken to the hospitals in all kinds of vehicles, including tractors. "Death toll in the Balasore train accident has risen to 238," Odisha Chief Secretary PK Jena told newspersons at the Odisha state secretariat in Bhubaneshwar on Saturday (June 3).
Fourth-deadliest crash

The train crash, the fourth-deadliest in India according to available records, happened near the Bahanaga Baazar station in Balasore district, about 250 km south of Kolkata and 170 km north of Bhubaneswar, around 7 pm on Friday (June 2), prompting the Railway Ministry to order a probe.
The inquiry into the train accident will be led by AM Chowdhary, Commissioner Railway Safety, South East Circle, said the Indian Railways in a statement. While it is not clear what caused the crash, sources indicate a possible signalling failure.
Gas cutters were used to extricate the bodies from under the derailed coaches. Disaster management personnel and firemen were busy at work trying to extricate bodies as dawn broke on this tiny way station on the east coast railway line. From a nearby hill, the accident site looked like as if a powerful whirlwind had thrown train coaches on top of each other, in a haphazard "wrathful" manner.
Also read: Triple train crash LIVE: Modi to visit Odisha; Railway Ministry says stage 1 relief work over
Railway tracks were almost destroyed at the spot as mangled coaches lay strewn all over, with some having mounted on another, while a few coaches turned turtle due to the impact. Closer to the ground, mangled steel and bloodied and disfigured bodies lay enmeshed with each other creating a grotesque sight.
Eyewitnesses recount horror

Pijush Poddar, a resident of Berhampore in West Bengal's Murshidabad district, was travelling to Tamil Nadu in the Coromandel Express to join work there when the accident happened. "We were jolted and suddenly saw the train bogie turn on one side. Many of us were thrown out of the compartment by the momentum of the derailment. When we managed to crawl out, we found bodies lying all around," he said.
Locals said they heard consecutive loud sounds, following which they rushed to the spot and found the derailed coaches, which were nothing but "a mangled heap of steel". "The local people really went out on a limb to help us. They not only helped in pulling out people but retrieved our luggage and got us water," Rupam Banerjee, one of the passengers, told reporters.
"One of the coaches was pushed into the ground," as another train's coach collapsed on top of it, passengers said. "Some of the scenes at the site were too gory to describe," said a passenger.
Hospital turns into war zone

Balasore district hospital looked like a war zone with the injured lying on stretchers in the corridor and rooms bursting at its seams with extra beds propped up.
Harried medical staff were seen trying to bring succour to patients, many of whom are from states other than Odisha and had difficulties in communicating. In all, some 526 railway accident victims have been admitted to this one single hospital.
Also read: Odisha's train crash: What exactly happened? Here are some details
Policemen and locals have been volunteering to donate blood at this and many hospitals through the night, said officials. More than 2,000 people gathered at the Balasore Medical College and Hospital in the night to help the injured, and many also donated blood, officials said.
The morgue at the hospital was a pile of white shrouded bodies, many of them yet to be identified as relatives are yet to make their way to the town with many train services cancelled or delayed due to the accident on a major railway trunk route.
State Special Relief Commissioner Satyabrata Sahoo said those injured in the accident were undergoing treatment in different hospitals. All government and private hospitals in the nearby districts, including the AIIMS at Bhubaneswar, are being used.
Railways announces ex-gratia

Odisha Chief Minister Naveen Patnaik declared one-day state mourning on Saturday (June 3) in the wake of the deadly triple-train crash.
Railway Minister Ashwini Vaishnaw reached the site in the morning as did Patnaik. The railways announced an ex-gratia of ₹10 lakh for the next of kin of the deceased, ₹2 lakh for those grievously injured, and ₹50,000 for those who got minor injuries.
Prime Minister Narendra Modi too expressed his distress over the accident, and announced an additional ex-gratia of ₹2 lakh for the next of kin of the deceased and ₹50,000 for the injured from the PM's National Relief Fund (PMNRF).
Also read: Odisha train tragedy exposes safety, fiscal issues, dipping revenue, rising debt
"Distressed by the train accident in Odisha. In this hour of grief, my thoughts are with the bereaved families. May the injured recover soon. Spoke to Railway Minister @AshwiniVaishnaw and took stock of the situation. Rescue ops are underway at the site of the mishap and all possible assistance is being given to those affected," he tweeted.
So far, 18 long-distance trains have been cancelled due to the accident, which happened on the Howrah-Chennai main line in the Kharagpur division of the South Eastern Railway.
The Odisha government issued helpline 06782-262286. The railway helplines are 033-26382217 (Howrah), 8972073925 (Kharagpur), 8249591559 (Balasore) and 044- 25330952 (Chennai).
(With agency inputs)