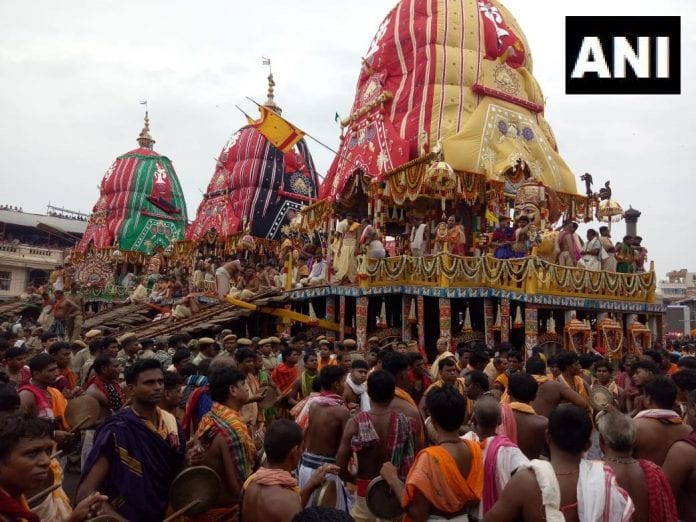 The Grand Road of Puri on Thursday (July 4) witnessed a sea of people, who congregated to participate in the famous Rath Yatra festival of Lord Jagannath, Lord Balabhadra and Devi Subhadra of the Srimandir.
The Pahandi (where the idols of the three deities are carried to the chariots) ritual of the holy trinity started in the morning and the deities as per tradition were carried to their decked up chariots by the 'daitapatis' (temple servitors who are said to be related to Lord Jagannath).
The ritual of 'chhera pahanra', where the Puri Gajapati (king) sweeps the chariots of the deities, will start as soon as the deities reach their chariots and are ready for 'darshan'. The Shri Jagannath Temple Administration has slotted the pulling of chariots at 4 pm.
Advertisement
The festival marks the annual sojourn of the holy trinity who visit their aunt's house Sri Gundicha Temple – a few yards away – and return home after a week. Their return journey called the Bahuda Yatra. Millions of devotees congregate on the day of Rath Yatra and Bahuda Yatra to pull the chariots of the lords which are taken in a procession.
Organising this year's Rath Yatra was a challenge for the district administration and the tourism department, with Puri town being one of the worst hit by Cyclone Fani that ravaged the state in May.
Twitter was flooded with Rath Yatra greetings on Thursday, with devotees posting pictures and live updates of the Pahandi rituals online.
Prime Minister Narendra Modi through a tweet conveyed his best wishes to everyone celebrating the festival.
Best wishes to everyone on the special occasion of the Rath Yatra.

We pray to Lord Jagannath and seek his blessings for the good health, happiness and prosperity of everyone.

Jai Jagannath. pic.twitter.com/l9v36YlUQ5

— Narendra Modi (@narendramodi) July 4, 2019
Celebrated sand artist Sudarshan Patnaik, in an early ritual, built sand sculptures of the deities on the Puri sea beach.
#JaiJagannath ….. Pray for peace, happiness and joy for everyone on #RathaJatra. My #SandArt for the pious occasion of Chariot Festival at #Puri, #Odisha. pic.twitter.com/wXPySIPOGp

— Sudarsan Pattnaik (@sudarsansand) July 4, 2019