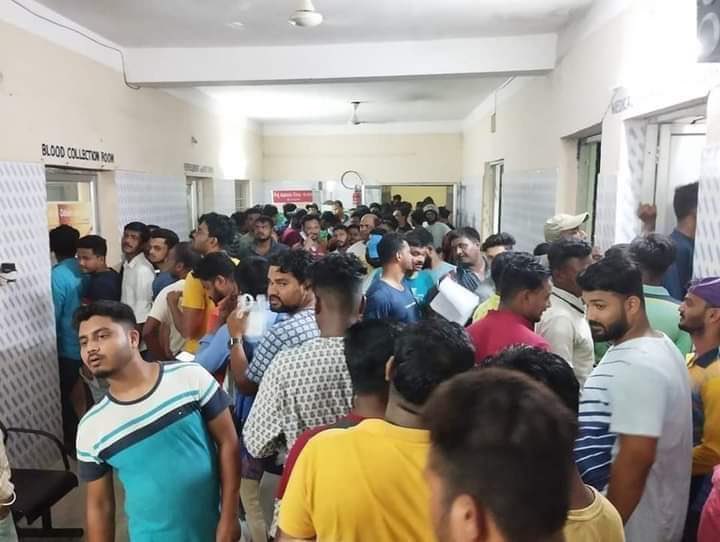 Odisha train disaster: When ordinary folks helped ease pain of survivors
Simple and ordinary people living near the Odisha rail disaster site turned angels as they rescued the injured from the trains, rushed many to hospitals and helped those who had lost their telephones to speak to their families.
The grisly accident involving three trains in Balasore district brought to the fore what human spirit is all about.
At least 261 people have been killed in the crash involving the Bengaluru-Howrah Superfast Express, the Shalimar-Chennai Central Coromandel Express and a goods train on Friday evening.
Ranajit Giri, Biprada Bag, Asha Behera and Ashok Bera, all residents of Bahanaga Bazaar station area in Balasore, were among the first to reach the site and get into impromptu escue work.
"I was at a nearby tea stall with my friends around 7 pm. Suddenly, I heard a loud sound followed by cries of people. We rushed to the spot and were taken aback at what we saw," Giri told a Bengali news channel.
"Without wasting time, we started rescuing the injured. We also informed police and railway officials," he said.
Ferrying wounded
Giri and his friends rescued at least 50 injured passengers and used their vehicles to ferry passengers to hospitals.
Some dazed survivors were looking for their near and dear ones but Bag said it was not possible to help them as it was too dark.
Ashok Bera, 60, rushed to a hospital to donate blood. But doctors politely turned him away in view of his age.
"I then asked my sons and relatives to reach the hospital and donate blood," he said.
Bera, however, didn't go away. He began talking to survivors and helping them connect with their families over the phone.
"Most survivors lost their mobiles and could not speak to their families to inform them about their condition. I helped them as much as I could," he told a Hindi news channel.
Kids minus parents
Asha Behera took care of two children whose parents were yet to be traced.
"I rescued this boy from the spot and brought him to the hospital. Here, I met a girl who could not locate her parents. We are trying to get in touch with their relatives," she told a news channel.
The train crash happened near the Bahanaga Baazar station in Balasore district, about 250 km south of Kolkata and 170 km north of Bhubaneswar, around 7 pm on Friday.
(With agency inputs)