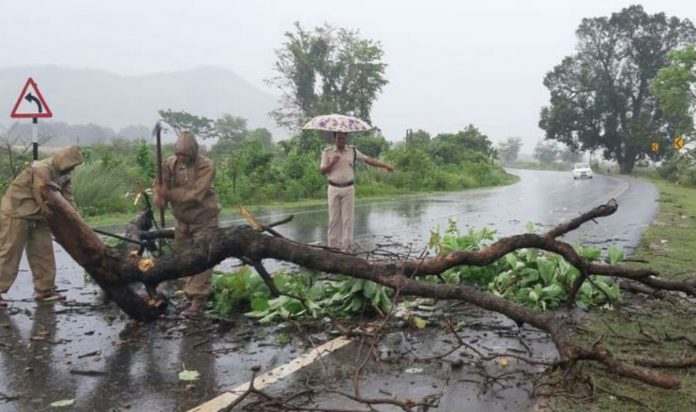 On May 3, when Cyclone Fani stormed into Odisha at a wind speed of 175-185 kmph, a group of 150 huddled together in two damp, dingy and dark rooms of a primary school in Raychakradharpur village in Satyabadi block of Puri district – for them a cyclone shelter. As the winds violently knocked on the windows and the doors, water kept gushing inside through the skylights and crevices on the windows. Women kept their children close, praying to God to keep them alive, while the men started sweeping away the water that amassed on the floor.
"We stood there for hours – hungry, tired and frightened for our lives until the storm subsided. There was water all over the floor and there were so many people in the two rooms and the adjoining verandah, that there was no space to sit. No one had food or a wink of sleep that night. The entire place was inundated with water and we were scared to step out even after the cyclone stopped," says Bhajaman Bhoi, a Dalit, who is still camped at the primary school with his family of seven.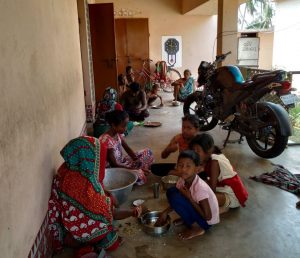 Families living in the school say they had to rely on the handful of 'chuda' (flattened rice) and 'mudhi' (puffed rice) or biscuits they had packed in a hurry before leaving their homes, until cooked food arrived at the shelter five days after the cyclone. The block administration, however, claims that cooked food was made available at the shelters, a day before the cyclone.
Advertisement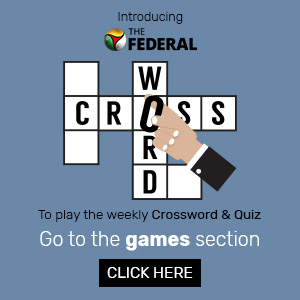 "We slept on an empty stomach for five days. No shops were open and no one wanted to give us anything on credit. A few good souls donated a few packets of biscuits. But when those ran out, the children started crying. I couldn't bring myself to telling them that they perhaps will have to stay hungry for many more days. I wanted to die that day," says Sashi Bhoi, a grandmother of two girls.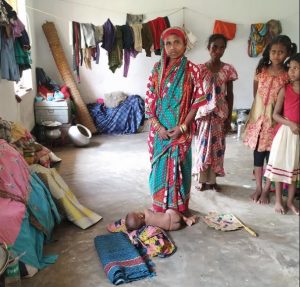 For Bhoi and several other Dalit families in the village, who have lost their 'kuccha' houses to the cyclone, the nightmare has just begun. With most of them being daily wagers or share croppers, livelihood post Fani is a prime concern. "There is nothing left in the fields. The Rabi crop is destroyed. We were yet to harvest our green gram and black gram crops, but they were washed away in the cyclone along with the vegetables that we grew," says Chandrasekhar Bhoi, another farmer from the Dalit community.
The Sakhigopal (another name for Satyabadi) area known for its massive stretches of coconut groves, a chief source of livelihood for the locals, has turned into a graveyard of coconut trees, mercilessly struck down by the cyclone.
"Apart from working in farmlands, we also harvest coconuts. But what is there to harvest now? Almost 70% of the coconut trees are gone. Earlier we used to earn at least Rs 200 per day, but now we are rendered jobless. The fields are swamped with water. They have to be dried out, ploughed and sowed before we could go back to normalcy. We will have to wait for the Kharif season post monsoon," Chandrasekhar, a father of two school-going children, says.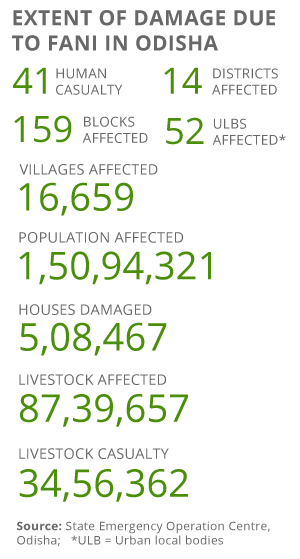 Even though the state government is providing a relief of 50 kg rice per family along with Rs 2,000 and tarpaulin sheets, the community is yet to get its fair share of relief.
Sashimani shows us a massive heap of hay and broken bamboos, remnants of what was her house. She rues that the tarpaulin sheet that the government has provided as relief isn't enough to shelter her family.
"It will be long before the government helps us repair our houses. The tarpaulin that we are getting isn't big enough to cover my broken house. How will I use it to shelter myself when it is eventually going to blow away and kill me in another storm? That's why we have come back to the school," says Dharama Bhoi, another resident.
According to government estimates, the block which accounts for 6 of the 64 deaths in the state due to the cyclone, is yet to complete its full damage assessment. "Initial estimates say almost 5,000 houses have been fully damaged and 10,000 partially damaged. Almost 10,548 hectares of crop has been affected," explains Kasturi Pradhan, the tehsildar of Satyabadi block. Free kitchens have been set up in 24 panchayats. Each panchayat has four to five cyclone shelters, she added.
"As per the government's rehabilitation plans, fully damaged houses (including pucca and kuccha) will be provided Rs 95,000, partially damaged (pucca) will get Rs 5,200 and those with minor damages will get Rs 3,200. The affected will also be covered under housing schemes," Pradhan says.
It may take several days or months for these plans to materialise. Until then the affected will suffer in silence.
"What has kept these people mum is their inability to voice their protest. Others will protest or stage a road roko, but these people won't. They are so forgotten and suppressed in the social scheme of things that neither they have the courage to walk to the BDO or the sarpanch office nor will they ask someone to help them protest," says a railway employee on condition of anonymity.
When saviours need to be saved

At a slight distance from Raychakradharpur is Banpal village in Balapur panchayat. The roads are covered with twisted electric poles, many of their thick wires hanging loose or lying unattended; uprooted trunks of mango and coconut trees, crumpled kiosks of shops and a mangled tractor or two. Stench of the ponds that dot the nooks and crannies of the panchayat is unbearable and their colour appears a sooty black. Some attribute the smell to dead fish and rotting carcasses of livestock and poultry killed in the cyclone.
The village is also home to Dillip Kumar Biswal, a 20-year-old who along with his partner holds a Limca Book of World Record for cycling a 1,200 km stretch between Berhampur to Bhubaneswar to create awareness towards the conservation of Olive Ridley Turtles. Dillip's house has been partially damaged and all his 15-member family's year's stock of grains spoilt by the rains.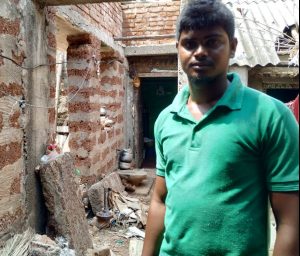 "When the asbestos of our two rooms blew off, we rushed to the other two concrete rooms across the courtyard. It was then when the attic collapsed. Luckily, no one was hurt. But we were terrified for the rest of the hours when the storm raged. The rooms with asbestos roofs were filled with water and mud from the walls and almost 20 quintals of paddy stored on the veranda was spoilt. It took us quite some time to regain composure and rebuild our house," says Dillip who is preparing for competitive exams after completing his bachelor's degree.
Villagers rued that it has been eight days since the cyclone hit them, but the revenue inspector sent an official to assess the situation only on May 12. "They send people when they know we would have waited for them and repaired our houses. That way they will be able to show less losses," says a resident.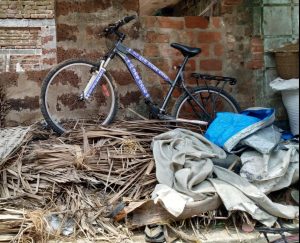 What has angered many villagers is the lack of uniformity in relief distribution. With the government providing cyclone relief package (50kg rice, Rs 2000 and tarpaulin sheet) to each family holding a ration card, many rued that the elderly are being chucked out of the plan and tagged along as dependents with their wards even if they have a separate ration card. There are others who say they haven't got any relief only because they don't have a ration card.
"Can you imagine when my brother's family next door gets relief, but my family goes hungry because we have not yet received our ration card? We have approached the sarpanch on this, but to no avail," says Birendra Parida, a resident.
When asked about a solution, the Sarpanch of Raichakradharpur village appeared clueless and finally said she hasn't got any instructions from her superiors. When approached, Kasturi Pradhan, the tehsildar of Satyabadi block said people, who do not have a ration card, will be provided relief soon. But, how and when are questions that remain unanswered.