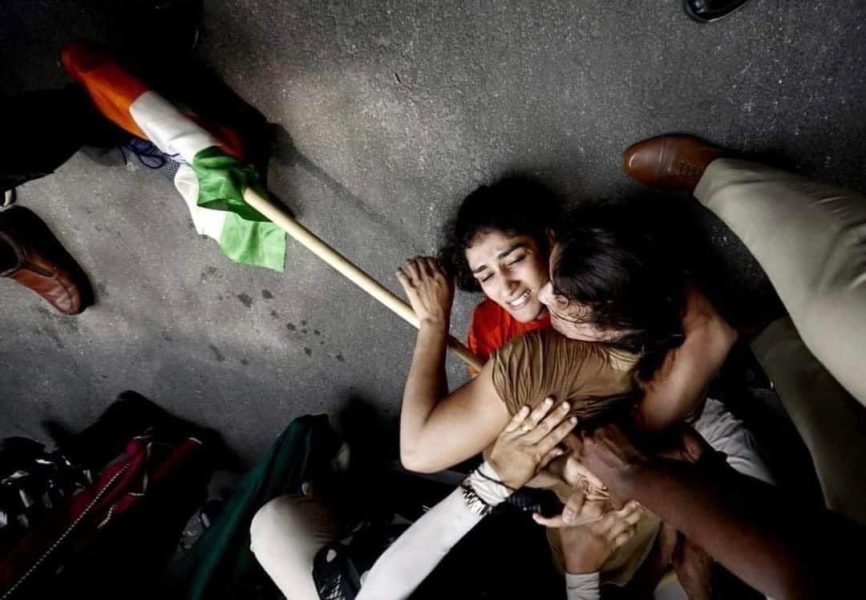 Wrestlers detained trying to march towards new Parliament building, protest site cleared
Delhi police on Sunday detained protesting wrestlers, including Vinesh Phogat, Sakshi Malik, and Bajrang Punia, while they were trying to march towards the new Parliament building.
The athletes had planned a 'Mahila Samman Mahapanchayat' (a women's large assembly) as part of their ongoing protest against the Wrestling Federation of India (WFI) chief, Brij Bhushan Sharan Singh.
Subsequently, the police also cleared the protest site at Jantar Mantar after the top wrestlers and their supporters were detained.
Also read: Thousands march to India Gate in support of protesting wrestlers
Singh, a BJP MP, has been accused by the wrestlers of sexually harassing several female athletes. These allegations have stirred a nationwide controversy, leading to widespread protests demanding his arrest.
This is how our champions are being treated. The world is watching us! #WrestlersProtest pic.twitter.com/rjrZvgAlSO

— Sakshee Malikkh (@SakshiMalik) May 28, 2023
Security stepped up

Delhi police had ramped up security measures at Jantar Mantar, the designated protest site located about two km from the Parliament building, ahead of the planned 'Mahapanchayat'. Despite the increased security, the wrestlers remained adamant about going forward with their protest.
The tension escalated when the wrestlers, led by Vinesh Phogat and her cousin sister Sangeeta Phogat, attempted to breach the security barricades. The clash was followed by shoving and pushing between the protesters and police officers.
#WATCH | Delhi: Security personnel stop & detain protesting wrestlers as they try to march towards the new Parliament from their site of protest at Jantar Mantar.

Wrestlers are trying to march towards the new Parliament as they want to hold a women's Maha Panchayat in front of… pic.twitter.com/3vfTNi0rXl

— ANI (@ANI) May 28, 2023
"All protesters were detained and forcefully boarded in buses by Police," said Dependra Pathak, Special Commissioner of Police, Law and Order. He added that the athletes were "detained for violating law and order", and assured that legal action would be taken "after an inquiry in due course of time".
Following the detentions, police officers proceeded to clear the protest site, which had been active since the wrestlers resumed their protest against Singh on April 23. The protesting athletes, which include Olympic medallists and Asian Games gold winners, have been unwavering in their demand for Singh's arrest. The use of force by the police, they insisted, would not deter them from carrying on with their peaceful protest and assembly.
Farmers led by Tikait denied entry
Scores of farmers led by BKU leader Rakesh Tikait were on Sunday stopped by the Delhi police at the Ghazipur border as they tried to enter the national capital to take part in a protest called by agitating wrestlers outside the new Parliament building.
VIDEO | Scuffle between farmer leaders and police at Ghazipur border. Delhi's borders have been barricaded in view of farmers and women coming to the national capital to attend the 'Mahila Samman Mahapanchayat' called by protesting wrestlers. pic.twitter.com/UnL1pxu8TB

— Press Trust of India (@PTI_News) May 28, 2023

"All others (farmers) have been stopped (by the police). We will sit here for now and decide what to do next," Tikait, who had spearheaded the anti-farm law protests, said after being stopped by the police at the heavily fortified Ghazipur border.
Heated arguments erupted between security personnel and farmers, who tried to break barricades to enter Delhi amid heavy police presence. A senior police officer said the Ghazipur border has now been closed as a precautionary measure to prevent the farmers' entry into the national capital.
Farmer leaders detained
Meanwhile, several farmer leaders in Haryana were detained as they proceeded towards Delhi with a large number of supporters for the "Mahila Mahapanchayat" called in support of the wrestlers protesting at Jantar Mantar, farmers outfit BKU (Charuni) claimed.
Security has been stepped up at Haryana's borders with Punjab and Delhi and barricades had been put up at many places along with heavy deployment of police personnel as farmers, mostly women, tried to move in groups towards the national capital. Large groups of farmers from Punjab were also moving towards Delhi. Police stopped hundreds of farmers at the Haryana-Punjab border near Ambala city in the morning.
VIDEO | Police removed tents and other installations set up by wrestlers at Jantar Mantar earlier today. pic.twitter.com/t8pFhW3dcN

— Press Trust of India (@PTI_News) May 28, 2023
In Kurukshetra, BKU (Charuni) chief Gurnam Singh Charuni was detained, a police official said. The outfit claimed that some other farmer leaders have been detained by the police in different parts of Haryana to prevent them from reaching Delhi. A large number of police personnel have been deployed in Sonipat, Jhajjar, Jind, Kurukshetra, Ambala, Sirsa and Gurugram districts and all vehicles entering Haryana were being thoroughly checked, officials said.
Thousands of police personnel were also deployed and multiple layers of barricades were put in place in the Lutyen's Delhi area on Sunday as part of the security arrangement for the inauguration of the new Parliament building and protesting wrestlers' Mahila Mahapanchayat. Police personnel have put up barricades at border points and are checking vehicles entering the national capital.
Also read: All of us ready for narco test, but telecast Singh's test live: Protesting wrestlers
A Khap Mahapanchayat held on May 21 in Rohtak had decided that the women supporting the protest against Wrestling Federation of India chief Brij Bhushan Sharan Singh will hold a panchayat before the new Parliament building on May 28.
Nod denied for temporary jail

Meanwhile, Delhi Mayor Shelly Oberoi on Sunday said no permission will be granted to convert an MCD school into a temporary jail.
The Delhi Police had sought permission to convert the Municipal Corporation of Delhi (MCD) school at Kanjhawala into a temporary jail in view of the wrestlers Mahila Maha Panchayat.
VIDEO | "We were marching peacefully but they forcefully dragged and detained us," says wrestler Sakshi Malik after being detained by police. pic.twitter.com/dUIsQQBaFO

— Press Trust of India (@PTI_News) May 28, 2023
"It has been brought to my notice that a letter has been sent by the Delhi Police to the MCD Deputy Commissioner (North) on 27.05.2023 asking to create a temporary jail in MC Primary Girls School, Kanjhawala Chowk, Old Bhawan on 28.05.2023," Oberoi said in an order issued on Sunday. It is hereby directed that "no permission will be granted", she said in the order.
The development comes on a day Prime Minister Narendra Modi inaugurated the new Parliament building. Ahead of the inauguration, the police had issued a traffic advisory that New Delhi district will be treated as a controlled area and entry of vehicles restricted.
This is Sakshi Malik. Olympics medalist, Padma Shri and Khel Ratna awardee. This is how she was dragged on the streets of Delhi today. #WrestlersProtest
(1/n) pic.twitter.com/ArKAmtMChS

— Swati Maliwal (@SwatiJaiHind) May 28, 2023
(With agency inputs)