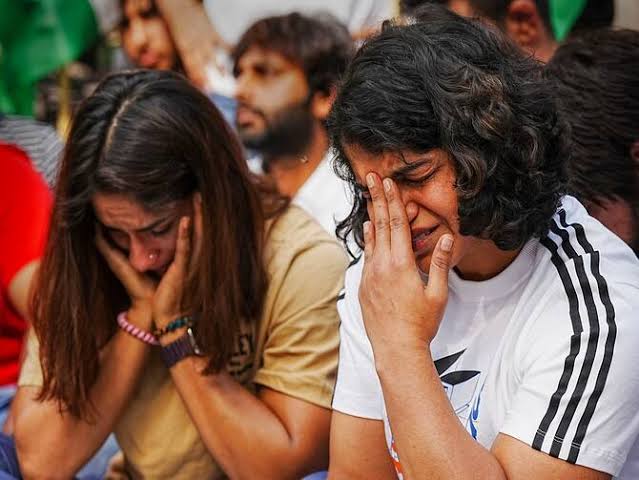 Wrestlers accuse WFI chief of intimidation, stalking, sexual harassment in two FIRs
Even as Wrestling Federation of India (WFI) chief and BJP MP Brij Bhushan Sharan Singh remains defiant, wrestlers have stepped forward and narrated their ordeal of enduring years of sexual harassment.
The two FIRs – one combining complaints of six wrestlers, and a separate one based on the complaint of a minor's father – were filed on April 28, while the written complaints were submitted on April 21. The wrestlers, who have been demanding the federation chief's removal and an overhaul of the wrestling body, accused him of intimidation and sexual harassment in the "most inappropriate and atrocious manner".
Also read: SKM urges President to issue directions to allow wrestlers to continue protest at Jantar Mantar
All the women athletes travelled in groups whenever they left their rooms to avoid running into the accused (Brij Bhushan Singh) alone, one of the complainants has claimed, adding that he singled out athletes from their groups and asked inappropriate personal questions they were uncomfortable answering.
"I was called by the accused (Singh) who pulled up my T-shirt, slid his hand down my stomach, and put his hand on my navel on the pretext of checking my breath," one of the complainants said. She also claimed that the BJP MP offered her an "unknown edible" not approved by her dietician or coach, saying it would be good for her health and performance.
Another complainant said when she suffered an injury during a competition abroad, Singh allegedly said the federation would bear the cost of her treatment if she gave in to his sexual advances. All the complainants have described a similar pattern of inappropriate touching and molestation.
One of the wrestlers has accused Singh of trying to bribe her by offering to buy her supplements which she may require as an athlete, in exchange for sexual favours. She also alleged that Singh hugged her forcefully when he made her talk to her parents on the phone. Another wrestler accused Singh of touching her buttock while posing for a team photograph.
Also read: Wrestlers' protest: Khap mahapanchayat begins in UP's Muzaffarnagar
Vinod Tomar, secretary of the federation, has also been accused by one of the wrestlers of forcing himself on her inside his Delhi office. Both the FIRs cite IPC Sections 354 (assault or criminal force to a woman with intent to outrage her modesty), 354A (sexual harassment), 354D (stalking) and 34 (common intention), which carry a jail term of one to three years. The FIR based on the complaint of a minor's father also invokes Section 10 of the Protection of Children from Sexual Offences Act (POCSO), which entails five to seven years of imprisonment.
On the other hand, Singh has denied all allegations of sexual misconduct. He issued a statement on Wednesday, once again refuting all charges. "If a single allegation against me is proven, I will hang myself. If you (wrestlers) have any evidence, present it to the Court, and I am ready to accept any punishment," he said.