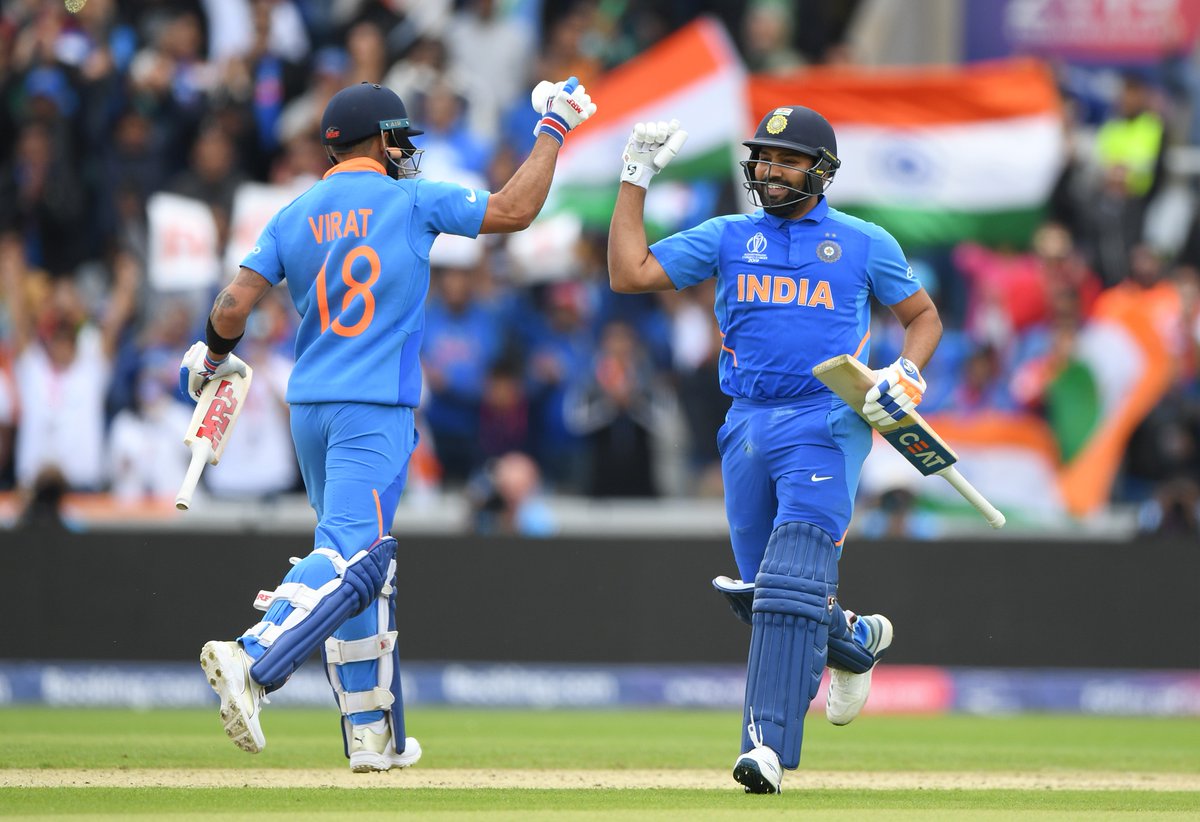 World Cup jinx remains as India beat Pakistan by 89 runs
India clinched an easy victory against Pakistan, defeating the rival-neighbours by 89 runs in a much-awaited high-profile match at the Old Trafford, Manchester on Sunday (June 16).
India vs Pakistan has long been the marquee match of cricketing history, with the two countries sharing a long and, at times, bitter rivalry. The two sides have had a back and forth win-loss ratio for their ODI face offs.
When it comes to World Cup, however, Pakistan is yet to register a win with India winning all of their previous face offs.
India came into the match high on the success of winning all their World Cup matches so far. Pakistan has lost two matches and had a washed out game which leaves them without the luxury of many points. They were desperate to try and win this one.
Virat Kohli played it cool and refused to be drawn into the hype surrounding the match. Coach Mickey Arthur, on the other hand, said that he challenged his team to rise, seize the day and be heroes.
The weather continued to be a downer for the 2019 World Cup, with the rain drizzling erratically through the day. The match was interrupted twice due showers and it also affected the overs.
Wasim Akram urged both sides to enjoy the game and not use it as an excuse to inflame the political relations between the two countries. Karachi-born Mohammad Bashir aka 'Chacha Chicago' flew in to Manchester from Chicago for the India-Pakistan match.
Chris Gayle joined in the fan frenzy, sharing a picture wearing the colors of both the nations on his official Instagram page. Sarfaraz Ahmed won the toss and elected to bowl first.
Mohammar Amir is currently in a phenomenal form, having picked his maiden five wickets against Australia. He currently has 10 wickets in 3 matches and is the leading wicket taker of the tournament. He got warned off for running on the pitch twice in three overs.
KL Rahul opened for India with Rohit Sharma. Indian openers played it cautious not going for the big hits straight away.
After a slow start, Rohit pumped up the score with some beautifully driven boundaries. His fruitful partnership with Rahul brings the Indian total to a 50 in 10 overs.
Rohit follows with a 50 of his own off 34 balls and the pressure was solely set on the Pakistan side. This is Rohit Sharma's 43rd ODI fifty and his sixth 50+ score in the World Cup. This 91 run opening wicket partnership is the highest for India against Pakistan.
Rahul sent Shadab into the covers, bringing up a 100 for India in 18 overs. This is a feat no Indian openers have accomplished in the previous six encounters with Pakistan. This partnership looked deadly and the opposing team had every reason to worry.
Pakistan stemmed the flood of runs for a while with the spinners bowling a barrage of dot balls. KL Rahul collected his third ODI 50 and his first one against Pakistan. The Rohit-Rahul partnership looked to be growing roots and Pakistan looked in desperate need of a wicket to stay in the game.
Wahab Riaz was the man to get the job done as he bowled a full ball outside the off stumps and Rahul got caught by Babar Azam at short cover. This was a major breakthrough for the Pakistan side as they broke up a solid partnership.
Rohit looked undaunted by the fall of his teammate and continued to hit the bowlers for repeated smash boundaries. Sharma brought up his 100 off 85 balls with an easy single and received a proud hug from team captain Kohli. Rohit has been in an incredible form this tournament.
India looked set for a 350 plus score with the relentless form they were displaying. They crossed the 200 mark with the able guidance of Rohit and Kohli.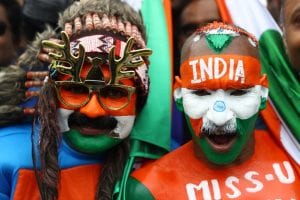 Just as things looked to be going India's way, Rohit Sharma got caught trying to scoop one over short fine leg. He looked furious with himself but that doesn't change the sublime innings he has just delivered. He walked back with 140 off 113 balls, a spectacular inning on any day of the week.
Rohit was earlier given two lifelines due to incredibly bad fielding goof ups on the part of Pakistan. For the first, Rohit miscalculated and went in for a second run. He would have been an easy run out if Zaman had thrown the ball towards Sarfaraz Ahmed behind the stumps. He threw the ball towards Rahul's end, however, who was within the crease.
There was still a slim chance to throw the ball back towards Sarfaraz but Wahab Riaz took too long to do so, allowing Rohit to get home safe. Sarfaraz's reaction was completely justified as he looked furious at this mix up. Pakistan missed another chance to send the opener back when they messed up a second run-out opportunity.
It was now on Kohli and Hardik to build on the excellent groundwork laid by Indian openers. Pandya, however, goofed up and gave Babar Azam a straightforward catch. Hardik departed for 26 off 19 balls.
Skipper Virat Kohli kept slogging forward and brought up his 51st ODI 50 with India at 286-3 in 44th over. A glimmer of hope for Pakistan as they picked up another wicket in the form of MS Dhoni for just one run.
The ever present threat of rain came to fruition and the field was cleared. Pakistan would chase 327 in 46 overs if the innings is curtailed. With a quick shower, rain gave way to a clearer sky however and the game resumed with 50 overs to be played.
Play resumed with Kohli going in for boundaries straight away. It was a smart play from the skipper with just a few balls to go. A bit of mix up as Amir played a pull shot and got a faint nick to the keeper. Kohli walked but reviews showed nothing on the ultra edge. The umpire too gave him a not out and the decision would have stayed through a Pakistan review. Kohli seemed pretty convinced as he walked off the field though.
India finished with a defendable 336/5 in 50 overs. It wasn't a meager score but it wasn't the 350+ India was hoping for either.The rain put on a brief appearance, striking fear of further match delay. The unpredictable English weather cleared up quick though with bright sunshine following. The weather is as much a player in these games as any team.
Imam opened for Pakistan with Bhuvneshwar leading the bowling attack. With a few back and forth spells with dots balls and boundaries, Bhuvneshwar Kumar walked off the field with an injury. This was a rough blow for the Indian bowling attack but Vijay Shankar refused to back down and trapped Imam dead in front on his first ball.
Babar got a few boundaries in but Pakistan remained 38/1 at the end of the first power play. Bhuvneshwar Kumar ruled out to return for the rest of the game as he had stiffness in his left hamstring.
A slow 50 came up for in 13 overs with Fakhar at 19 and Babar at 23. This partnership was a crucial one for Pakistan and they needed to retain it in order to keep the pressure low. Pakistan hauled in a good over with Fakhar and Barbar clinching 10 runs from the 16th over.
Fakhar avoided a close call and delivered the first six of the innings, getting to his half-century in 59 balls. He bounced off another boundary, bringing Pakistan to a 100 in 22nd overs. The required run rate has climbed over to eight per over by this stage.
The Fakhar-Babar partnership reached a 100 runs, with a big six from Barbar. This is the highest run partnership for Pakistan in a World Cup against India.
Kuldeep snatched away a speedy wicket. Barbar (48) bowled by Kuldeep with an elegant wrist spin. Pakistan 117/2. Not content with just one, Kuldeep went back to take out the steady Fakhar Zaman. Pakistan innings found itself floundering with 126/3.
Pandya came in to trample the Pakistan line up further. Mohammad Hafeez and Shoaib Malik dropped in quick succession. Malik's wicket at 0 was disheartening to say the least, as he was one of the veteran players on the team.
Pakistan was pretty much out of the reckoning by this point in the game. Imad Wasim and Sarfaraz Ahmed were on the defensive, just trying to protect the wickets.Shankar continued his rampage against Pakistan's batting order, removing team captain Sarfaraz. Pakistan unable to come up with any sort of defense at this time to stay in the game.
The sky went dark again and rain would soon follow suit. If the DLS method came into play, Pakistan was 65 runs behind the DLS at this time with 166/6.
It was just a formality at this point to resume play as Pakistan needed 139 in five overs. DLS method got into play to give Pakistan a target of 302 in 40 overs. The team stumbled through the overs, the target too unattainable for them to reach. Pakistan finished at 212/6 in 40 overs.
A dismal day for Pakistan as they are nowhere near the team that defeated England with a 300+ score. India, on the other hand, would be ecstatic to continue their undefeated reign in the tournament.