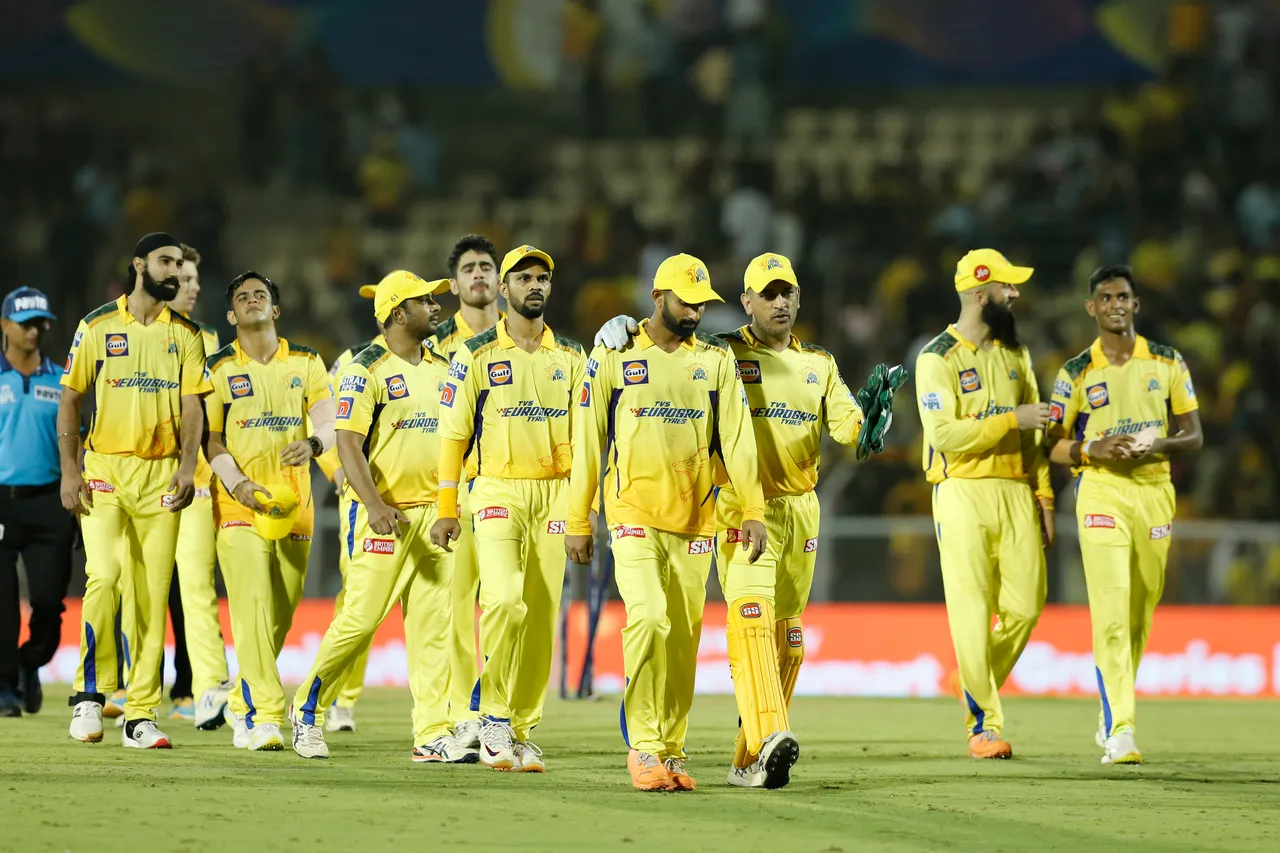 Why CSK failed to make IPL 2022 playoffs: Dhoni and Fleming answer
Four-time champion Chennai Super Kings (CSK) ended its forgettable IPL 2022 campaign with a loss to Rajasthan Royals (RR) on Friday night (May 20). After the game, captain MS Dhoni and coach Stephen Fleming spoke about what went wrong for them.
CSK managed to win only four of the 14 games this season and finished at the ninth position in the 10-team table with eight points.
It was a season where CSK had its share of issues with new captain Ravindra Jadeja giving up the leadership role after just eight games and subsequently ruled out of the tournament with an injury.
Also read: Dhoni to play IPL 2023
As Jadeja relinquished captaincy and Dhoni was back at the helm, it did not change much for the team. Another issue was Ambati Rayudu tweeting that this would be his last IPL season and minutes later deleting that post and the franchise confirming that he has not retired.
The team also did not have the services of key paceman Deepak Chahar, who was ruled out of the entire tournament due to an injury.
After signing off the tournament with yet another defeat, Dhoni on Friday said CSK could not do well as a team and it resulted in failing to make the playoffs.
"We have done well in patches but what is important is to keep doing well as a team. The crucial thing is whenever you get an opportunity, once you are in, you need to make the most of it whether you are a bowler or a batter and keep learning," Dhoni, who will play IPL 2023, said.
He emphasised on making a good comeback next year. "It's not a one-year tournament. You keep coming back year after year. So once you keep learning and once you mature, that's when you capitalise and be a big IPL player for the next 10-12 years. That's what you need from youngsters."
According to coach Fleming, the team was "not good enough" to win close games. "There was mixed success. We sort of stuttered our way through. We had a number of games that were close, but we were not good enough to get across the line… That's the normal story of the season where don't qualify."
Fleming said CSK suffered from "catastrophic success".
"When you start a new cycle and have a number of new players and a new dynamic in the team it can be testing. We suffered from catastrophic success so just trying to play the same way, continue from our last four years, which were very successful, is a real challenge," the New Zealander said.
He felt that not qualifying for the playoffs will act as a catalyst for next season. "We didn't have a couple of form players that could get us through those early days, get the win and the momentum going… We had the opportunity to do better than we did but the reality is we couldn't qualify for the semis and that will be the catalyst for next year."
Positives
Look at the positives from the season, both Dhoni and Fleming praised left-arm paceman Mukesh Choudhary, who was the team's joint leading wicket-taker with Dwayne Bravo (16 sticks each).
"I think he was excellent. A nervous start, but we stuck with him and we reaped the rewards towards the end. He just got better and better. Simarjeet (Singh) is also responding to the pressure. So, those two boys definitely were a positive," said Fleming.
Dhoni also spoke about pacemen Simarjeet Singh and Matheesha Pathirana, known as "Junior Lasith Malinga" because of his bowling action.
"Whatever games they have got, they have learned a lot from it. One of the biggest examples is Mukesh. He has played all the games but what is impressive is to see from the first game to the last game how he has improved, how he can bowl at the death," Dhoni said.
"Still what he will do is go back and learn out of the outings he has got. That's what we really want from players. Once they have got that experience, what is important from next year once they turn up from IPL is that they don't start from scratch again.
"That is what is needed from the youngsters and most of them have made the most of whatever chance they have got.
"Our Malinga (Pathirana), he's really good. It's difficult to pick him and I feel he will definitely contribute next year for us in a big way," he added.