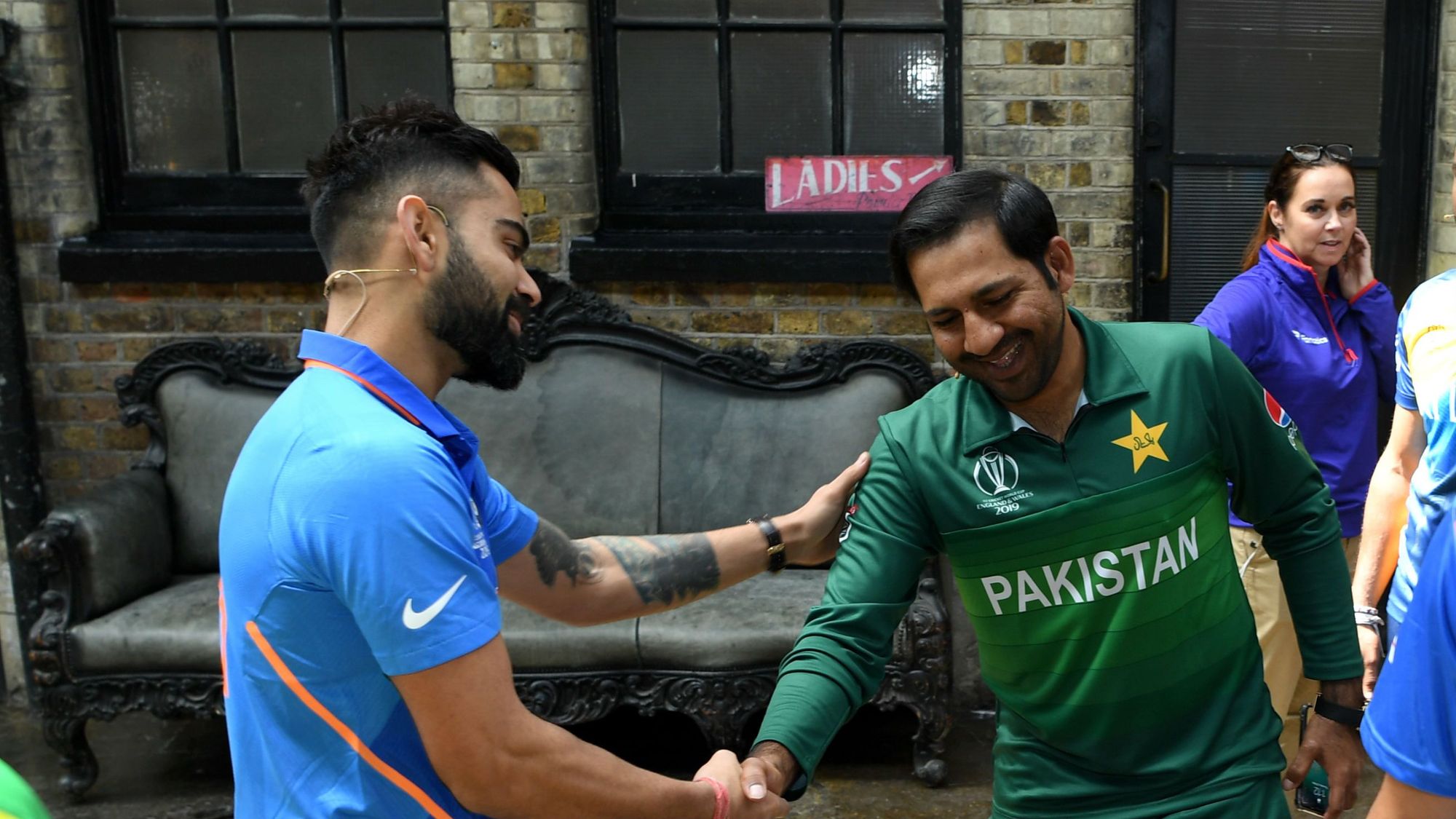 Virat Kohli vs Sarfaraz Ahmed: A tale of two captains
Virat Kohli and Sarfaraz Ahmed are captains of two of the most passionate and craziest cricketing countries. There are billions of fans and the pressure is on all the time. There is so much pressure that in a recent interview with ICC, Hardik Pandya cheekily said, "No pressure because only maybe 1.5 billion people are expecting that so no pressure at all."
However, these two captains will be leading their respective sides against each other for the first time in World Cup cricket. They've led in India-Pakistan matches before but those weren't World Cup encounters. Leading an Indian or a Pakistan cricket team isn't easy. There's pressure all around. Dealing with that is one of the biggest tasks while being the captain.
Both Kohli and Sarfaraz are two contrasting captains, whether on or off the field. They have different styles of dealing with pressure and their teams. Kohli comes across as this brash, bold and aggressive character who is in the face of the opposition all the time. He is charged up all the time and tries to lift his team every time they are down. On the other hand, Sarfaraz too is an animated character but he's more expressive with his team and wants things to be done his way. He doesn't hide his emotions when he's upset with his players and doesn't mind giving them a piece of his mind when things don't go according to plan on the field.
However, Kohli has found a lot more success when compared than Sarfaraz. He has led India in 70 ODIs so far and has a win percentage of 72.85 as India has suffered just 17 losses in comparison to the 53 wins (one tied and one no result). Meanwhile, Sarfaraz has led Pakistan to 22 ODI wins in a total of 43 matches (19 losses and two no results).
Under Kohli's captaincy, India has lost just two bilateral series' so far and that came in England last year and against Australia earlier this year. Meanwhile, there's been a lot riding on Pakistan skipper's shoulders. They haven't been in the best of forms and Sarfaraz has been copping most of the blows from all around. In fact, since the start of 2018, Pakistan have won just one ODI series, that was against Zimbabwe.
India has had a wonderful start to their 2019 World Cup campaign. They beat a couple of strong sides in their first two games – South Africa and Australia. In the past, Virat Kohli has been criticized quite a bit. However, this World Cup, he has been spot on with his tactics on the field and with the team combination and selection.
Over the years, one of his biggest strengths has been the presence of MS Dhoni behind the stumps which has allowed him to relax a touch. The presence of Rohit Sharma also eases things up a bit. Kohli never shies away from picking the brains of these two senior pros. In fact, during the latter stages of the game, Kohli loves fielding in the deep and it is MS Dhoni who often takes over.
It won't be any different in the game against Pakistan in Manchester. Kohli will back his plans – looks to hit Pakistan with swing and pace upfront (Bhuvneshwar Kumar and Jasprit Bumrah) before falling back to his wrist-spin weapons in Kuldeep Yadav and Yuzvendra Chahal. He will turn into the cheerleader as he often does, trying to get the team and the crowd going. Kohli simply loves watching the crowd get behind the team.
Meanwhile, Sarfaraz likes to control things mostly on his own. He tries to have multiple plans to fall back upon. He tries to observe and read the game closely from behind the stumps and make adjustments accordingly. He does have a couple of senior players around him, but unlike Kohli, he's hardly seen going to them for suggestions. Moreover, Pakistan has predictably had an unpredictable start to their 2019 campaign. They've won one, lost two and had one washout match.
Sarfaraz is proud of Pakistan's unpredictability and feels that every team is scared to face Pakistan because of that. He thinks that teams would be worried about which side Pakistan will turn up on that day. Meanwhile, Kohli wants India to be ruthless and get the job done every single time.
Thus, when Kohli's India and Sarfaraz's Pakistan square off against each other on Sunday (June 16) in Manchester, it's going to be a frenzied atmosphere. Both captains have played the rivalry and the pressure down but pressure will be unavoidable. Hence, all eyes will be on Kohli and Sarfaraz from the moment they step on to the field walking out for the toss. It's one match no team likes to lose. Moreover, this is a crucial juncture of the tournament. Pakistan need to get their campaign back on track while India will look to continue the momentum they have built.