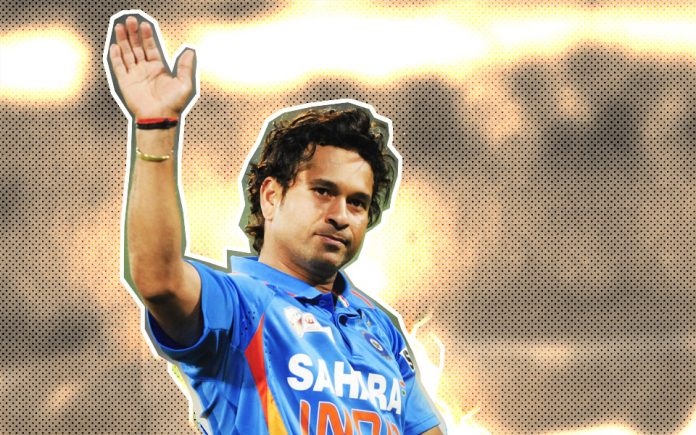 It has been more than five years since he hung his boots as a professional player across all formats of the game. Yet, stadiums across the country never fail to reverberate, "Sachin, Sachin!" when he is seen in the field or is flashed in an advertisement. Such is his fan-following. Almost every Indian kid who dreams of wearing the blue jersey someday idolises him.
Beneath his boyish smile and shy demeanour, the 'little master,' as he is fondly called, Sachin Ramesh Tendulkar left an aura behind the gentleman's game of cricket, that has been unparalleled. Fans are of many kinds. Some enjoy when their favourite players are on the field, some are fanatics, who religiously follow them online, try to imbibe what they preach et al. While this is quite common for current players, there are very few sportspersons who have an ardent fan following, years after their retirement.
Tendulkar fans believe that he is a man beyond the game. That is why, even after half a decade since his retirement, fans cherish him for the man he is, the game he played and for the legacy he has left behind.
For some of his fans, cricket meant Sachin, for some others, it his superhero cricketing skills. "It was when Sachin Tendulkar walked off the cricket field for one last time on November 16, 2013, I realised that cricket wouldn't mean the same to me, anymore. I grew up watching him play and I have never known a better sportsman than him. It's not just his talent that stood apart, it was also his temperament on and off the field. It continues to inspire me, even after his retirement," explains Keerthana M, a cricket enthusiast.
This Mumbai run-machine has a non-cricket fan base, who follow him for his simplicity off-field and his commitment to the game. 'I'm not a cricket fan by any length. But I've always adored Sachin, the person. Very few people showcase sincerity in what they do and Sachin is one of them. When you're very good at a game, people appreciate you. When you're above the game, by simply being a good person, you're loved. That is why Sachin and Dhoni are loved, explains a Sachin fan.
Sachin has several great innings to his credit. However, his knock right after the demise of his father spoke volumes on his commitment to the game. In 1999, during the World Cup, Sachin lost his father. He flew mid-series to be with his family and returned to the call of duty, within four days. The team had lost two matches, back-to-back during his absence and needed its talisman to win them matches, like he usually does. But this time, it was different. Fans and teammates did not want to add pressure to a batsman recuperating from a personal loss. Sachin joined the team for the match against Kenya and went on to score an unbeaten 140. Such was his love for the game and his commitment.
"The name Sachin brings a smile on my face, every single time. He is my superhero. During the 90s, he was the lone warrior in the Indian cricket team and their biggest identity. His ability to single-handedly win the game is one of the reasons why people celebrate him like a God. When he came back to play after his father's demise, I became his ardent devotee. In the 1999 WC match, he scores a century and looks at the sky, referring to his father. Can you imagine someone being back in business within four days after losing one's parent?' shares super-fan Vishakan S.
Arguably one of the greatest of all times to have played the game, Sachin Ramesh Tendulkar holds almost every batting record worth owning. He has scored the most runs and hundreds in test and one-day internationals and holds the record for scoring the most international runs, over 34,000! He is also the only man in international cricket with a hundred centuries. Someone quipped that Sachin holds the record for holding most batting records there is ever in existence. And they could not have been more right.
Amid unrealistic pressure to score runs, Sachin delivered, time and again. Playing the game for almost a quarter century, Sachin left a legacy that will remain untouched. That is why, even years after his retirement, Sachin remains to be the most worshipped cricketer in the world.
Here's wishing the 'master blaster' a very happy birthday!