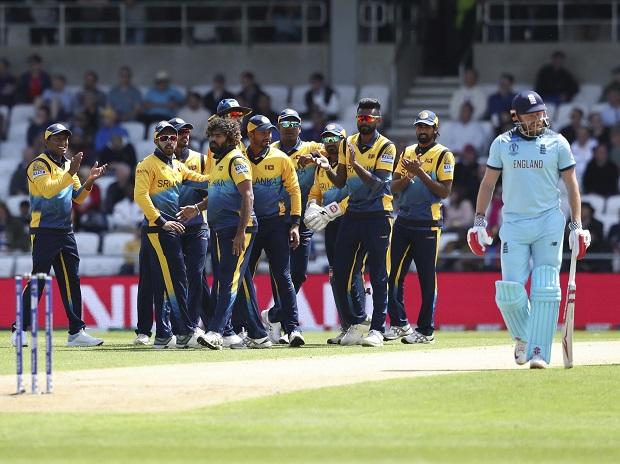 Sri Lanka makes England say we can't win all matches
Sri Lanka and England share a lot of history when it comes to the World Cup. Both the teams have crushed each other at one point or another.
Their rivalry, as it were, started in 1983 when England crushed Sri Lanka in their first ever match. England went toe to toe with Sri Lanka a total of nine times before the world cup 2019. The Englishmen had the upper hand in these confrontations as they defeated Sri Lanka five times out of their nine matches. Yet they had a lot to prove because Sri Lanka had a hattrick in the last three World Cup series with consecutive wins over England.
This match was the right opportunity for the Englishmen to avenge their past losses, especially the embarrassing loss they suffered in 2015 when Sri Lanka chased 309 runs and won by 9 wickets. There couldn't have been a better time for England to seize the moment as the team was riding high on the dominant victory over Afghanistan in their last match.
Walking into the match England was the obvious favorite. Sri Lanka needed to win to stay in the top 5 teams and England needed the win to tie with the Aussies at the top. Both the teams had a lot to prove not only for this series but their long-standing rivalry.
Sri Lanka won the toss and elected to bat first. Dimuth Karunaratne and Kusal Perera walked out to start the innings for their team. Their partnership barely had the chance to establish before England got two wickets in form of the Lankan openers. Dimuth was taken by Jofra Archer at 1 while Woakes delivered Perera's catch to Moeen Ali at 2 off 6 balls.
Avishka Fernando eased the pressure on his team by hitting off six boundaries and two sixes in quick succession. He was put up against two of the best fast bowlers in the world and thrashed them repeatedly to give his team a fighting chance after the quick fall of Karunaratne and Perera but his reign was short lived.
He departed at 49 off 39 after giving a catch to Rashid on a Mark Woods ball. This was a big setback for Sri Lanka who had been looking well on its way to a competitive score with the partnership between Kusal Mendis and Fernando.
Mendis and Mathews now had the uphill task of carrying their team to a defensible total as Sri Lanka floundered at 74/3 at the end of 15 overs.
The Lankans looked to be in a good form when Kusal Mendis got out on a bad shot at 46 off 68 and Jeevan Mendis gave a caught and ball to Adil Rashid on his first ball. Sri Lanka was now in trouble with 138/5 after 31 overs.
Angelo Mathews and Dhananjaya de Silva struggled under a high pressure situation but they harbored a steady partnership before Sri Lanka's run of bad luck caught up with them. England scored two wickets as Dhananjaya de Silva and Perera returned promptly to the pavilion. The Lankans were 197/6 at the end of 44 overs and it was difficult to see them crossing the 250+ mark at this point.
Udana came next, with a blink and miss cameo, scoring a boundary on the first ball and giving a catch to Root at mid-on, on the next. The fall of wickets seemed to have latched on to the Sri Lankan team as Mark Woods got Malinga out at 1 for 5.
Sri Lanka barely managed to avoid an all-out situation, finishing at 232/9 in 50 overs. Mathews was the only player from the team to get beyond the 50 run mark, scoring an 85 off 115 balls. For England, a target of 233 looked like something they could finish with overs to spare.
England opener Bairstow, however, decided to duck out in the very first over. The umpire gave it an out that was followed by a review. Malinga had provided a big opening for Sri Lanka to build their innings on.
James Vince and Joe Root tried to get a stable partnership going but Malinga struck again and Vince departed at 14 off 18 balls. The Sri Lanka bowling attack was very impressive today as they hooked constant wickets and didn't give too many runs away whilst.
The next to fall in England's wicket domino fall was team captain Eoin Morgan who struck out at 21 off 35 balls to a terrific bowl and catch by Udana.
Joe Root had provided some much needed stability to his team, bringing up his 5th World Cup 50 off 78 balls. Malinga didn't let the England side breathe a sigh of relief as he sent Root back for 57 off 89 balls.
Sri Lanka had to utilize a review to reverse the original decision of not out. Malinga didn't stop there though as he pinned Buttler in front of the stumps. He was given a lbw but decided to take a review that just cost England the wicket and the review. Buttler walked back at 10 off 9 balls. Malinga is now at the fifth spot in the World cup's history of most wickets taken.
Ben Stokes brought up his 50 but at this point of time England looked to be in serious jeopardy. The quick wickets of Afil Rashid and Woakes only added to England's troubles as they were 185/8 after 43 overs. Jofra Archer and Mark Wood soon joined in the list of crumbling wickets making an unprecedented Sri Lanka win official. This marked England's first defeat at Leeds after winning six consecutive ODIs here as they were all-out for 212 off 47 overs.
This was an amazing victory for the Sri Lankan side that has not had the best run at the World Cup this year. Player of the match, Lasit Malinga was vital in the team's victory today. England, on the other hand, would not be happy to have lost out on this one as their next matches are with Australia, New Zealand and India.
These teams have been doing exceptionally well and England would have their task cut out for them if they want to win. Sri Lanka has now moved up to 6 points and has the number 5 spot on the table with England at number 3 with 8 points.