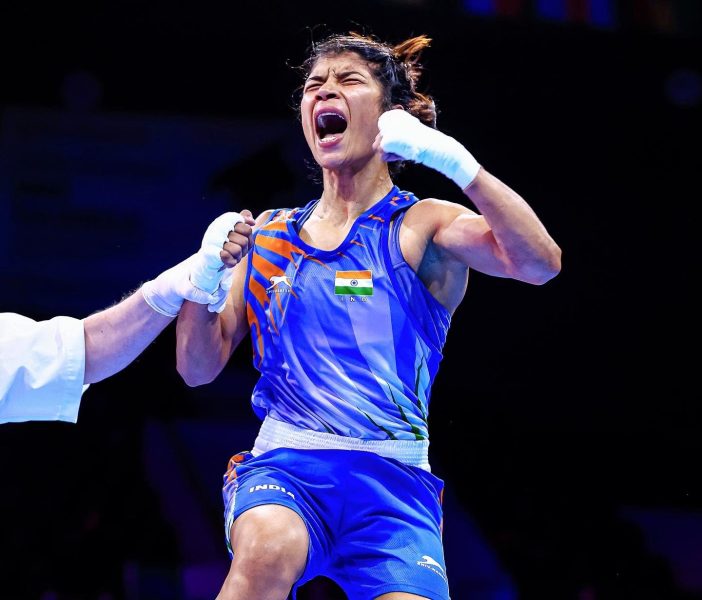 Nikhat Zareen: From challenging Mary Kom to becoming world champion
Nikhat Zareen, in 2019, wrote to the Union Sports Minister Kiren Rijiju requesting a "fair chance" to make a mark in boxing and bring "glory" to India, and that is what exactly she has done today – winning gold in the World Championships.
In Istanbul, Turkey, Zareen became only the fifth Indian woman to win the World Boxing Championships title. The others are Mary Kom (2005, 2006, 2008, 2010, 2018), Sarita Devi (2006), Jenny RL (2006) and Lekha KC (2006).
The ride to the top has not been smooth for Zareen, who will celebrate her 26th birthday next month – June 10.
In 2019, the legendary Mary asked "Who is Nikhat Zareen, I don't know her", and today, she, the whole of India and the boxing world know who Zareen is.
BREAKING RECORDS JUST LIKE THAT! 🤩@nikhat_zareen becomes the 1️⃣st 🇮🇳 apart from Mary Kom to have won gold at the boxing world championships in the last 14 years 👏

So proud of you champ! 🙌@AjaySingh_SG #ibawwchs2022#IstanbulBoxing#PunchMeinHaiDum#Boxing pic.twitter.com/7b57lKkJHc

— Boxing Federation (@BFI_official) May 19, 2022
The controversy
Three years ago, Zareen took to Twitter to ask Sports Minister Rijiju for a "fair chance" to compete in the trials for the 2020 Tokyo Olympics qualifiers. The Boxing Federation of India (BFI) had chosen Mary without trials and Zareen protested this and requested a trial against her.
"I am writing to you as a sportswoman trying to make her mark in sport and bring India glory on the international stage," she wrote in a letter to Rijiju in October 2019.
"I have been inspired by Mary Kom since I was a teenager. The best way I can do justice to this inspiration was to strive to be as great a boxer as her. And Mary Kom is too big a legend in sport to need to hide from competition and not actually defend her Olympic qualification. After all, 23-time gold medallist Michael Phelps had to requalify every time for the Olympics, the rest of us must do the same… Sir, I look for no favours. Just fair play," she added.
The Sports Minister did not interfere in selection matters but the issue was taken up by the BFI and the trial was conducted with Mary winning the lopsided bout. However, this was not a setback for Zareen as she is shining today three years after the bitter battle on and off the boxing ring.
All I want is a fair chance.If I'm not given the opporunity to compete what am I training for. Sports is about FairPlay & I dont want to loose faith in my country.Jai Hind @KirenRijiju @RijijuOffice #AjaySingh @Media_SAI @DGSAI @BFI_official @kishanreddybjp @PMOIndia #TopsAthlete pic.twitter.com/t1ie62tMJy

— Nikhat Zareen (@nikhat_zareen) October 17, 2019
Early struggles, resistance from family
Athletics was the first sport Zareen took up and she was good in sprint. And, when she wanted to take up boxing as a teenager, she faced resistance from her family and relatives. Her boxing career began in 2010.
Zareen, who hails from Nizamabad, Telangana, took up the sport after coming to know that there were no women boxers during the Urban Games being hosted in her city when she, as a 13-year-old, had gone out for a stroll with her father Mohammad Jameel Ahmed, according to a 2013 report in The Times of India.
Back then, Zareen had posed a question to her father as to why there were no girl boxers in the Urban Games and his reply was that they did not have "enough strength". This made her to take up the sport. "It was then I decided what I had to do and I told my father that I want to show people that a girl could box too," she told the newspaper in 2013.
"In a Muslim family, they believe girls should not be given the liberty to go out. Our relatives admonish my father, 'Jawaan ladki ko kahan bahar bhej rahe ho?' (Why are you sending a grown-up girl out)," she had recalled.
In Nizamabad, when she picked up the boxing gloves, she was the only girl and faced taunts, and jibes from boys but that did not pull her down, the report said.
After the start in her hometown, she was enrolled at the Sports Authority of India (SAI) in Visakhapatnam and trained under Dronacharya awardee IV Rao. Later, she was declared as the 'golden best boxer' at the Erode Nationals in 2010, the report said.
She also won the gold medal at the junior women's national boxing championship in Punjab in 2011, bronze in sub-junior nationals in West Bengal in 2012, and gold in senior (elite) nationals in 2015 in Assam.
According to a Sportstar report, as a child, Zareen used to fight with neighbour's children and they used to complain to her mother. "Every day, the neighbours would complain — 'Jameel, your daughter is fighting with our children. Jameel, your daughter is climbing our guava trees. Jameel, your daughter is stealing our mangoes,'" Jameel recalled.
On the big stage
Her breakthrough on the international stage came when she won the gold in the flyweight division at the 2011 Women's Junior and Youth World Boxing Championships in Turkey. Then she bagged a silver medal at the 2013 Youth World Boxing Championships in Bulgaria.
In 2018, she defeated world champion Aitbayeva Liliya at an AIBA event in Belgrade, and the following year she grabbed a silver medal at the Thailand Open Championships.
In 2019, she bagged the bronze medal in the flyweight category at the Asian Championships in Bangkok, Thailand.
𝟐𝟎𝟐𝟐 𝐖𝐎𝐑𝐋𝐃 𝐂𝐇𝐀𝐌𝐏𝐈𝐎𝐍! 🥇

It's finally here. The culmination of years of hardwork and perseverance. India, this one's for you. We did it, together🔥#WorldBoxingChampionship#IBAWWC2022 🥊🥇🇮🇳 pic.twitter.com/JK5yhxblTy

— Nikhat Zareen (@nikhat_zareen) May 20, 2022
Career-threatening injury
Zareen overcame a career-threatening shoulder injury, which kept her out of the ring for a year and saw her miss all the big-ticket events like the Commonwealth Games, Asiad and World Championships in 2018.
"In 2017, I dislocated my shoulder, I had to go under surgery and then I didn't take part in any competition for a year. I came back in 2018 but I wasn't at my peak so I missed the big tournaments CWG, Asiad and World Championships.
"But I didn't give up and after the comeback in 2019 haven't looked back. I have taken all competitions as an opportunity and I believed in myself, because of that here I'm today," she told PTI after winning the World Championships gold in Istanbul.
Zareen will now prepare for the Commonwealth Games trial for which she will have to drop her weight and come down to 50kgs. "In the Commonwealth Games there's a 50kg division, I will prepare for that now."
A Salman Khan fan
According to Zareen's father, she is Bollywood actor Salman Khan's fan.
"She loves films. She thinks she's a good actor too. When she did an ad shoot recently with cricketer KL Rahul for Adidas, the ad-makers said she was a natural. She is very good at imitation. She picks things up very well," Jameel was quoted as saying by Sportstar.
"She is a huge fan of actor Salman Khan. She'll copy his style and his attitude. She insists that one day Salman Khan will call her and she'll go and visit him," he added.
According to her father, she likes biryani. "For the last 2-3 years, she has missed her favourite biryani and nihari," he told Indian Express.
Zareen is the third daughter of Jameel and Parveen Sultana, and today they are very proud of what she has achieved. Zareen's two elder sisters are doctors and her younger sibling is a badminton player.
The world champion boxer's next big target will be to qualify and bag a medal at the 2024 Paris Olympics.
The road to @Paris2024 begins⏱

🎯One Aim-🥇 #MissionParis2024#Paris2024 #Olympics pic.twitter.com/3Iw3xdxDnw

— Nikhat Zareen (@nikhat_zareen) August 8, 2021