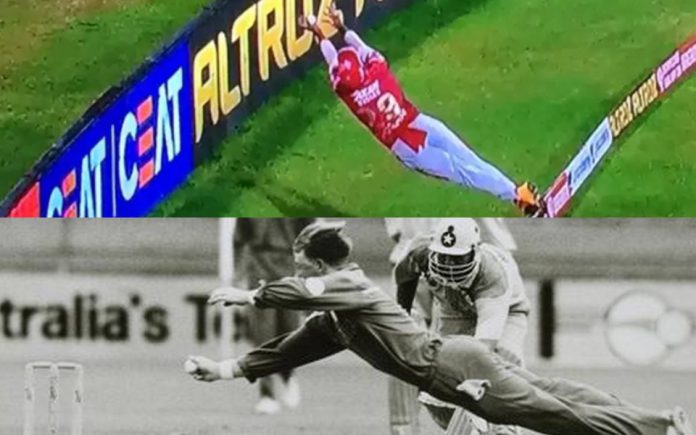 An airborne Jonty Rhodes, his body parallel to the ground, his outstretched right hand clutching the ball, homing in on the stumps is cricket's most iconic 'fielding image'. Spectacularly captured by The Hindu's VV Krishnan during the 1992 World Cup, the South African's magical run out of Inzamam-ul-Haq triggered a paradigm shift in the manner in which fielding began to be viewed within the cricketing landscape.
It was not as if Rhodes was the first brilliant fielder. Colin Bland, his fellow South African, is acknowledged to be among the very best of all time by those who have played with and against him, while England's Derek Randall and India's Tiger Pataudi, despite the loss of sight in one eye, were electric across the turf and stood out at a time when fielding was considered no more than a necessary evil.
What Rhodes did, though, was elevate the profile of a discipline hitherto playing second fiddle to batting and bowling. Krishnan's picture complemented television images of the flying Protean, not just making Rhodes a household name but also inspiring young kids to emulate his acrobatics. Among the first to win man of the match awards for his fielding alone, Rhodes did more for that skill-set than anyone before him, in the pre-live television age.
More than 28 years since the Rhodes run-out which revolutionised cricket, the sport now has another, equally breathtaking iconic image. And how appropriate that in this effort too, there is the Rhodes hand, if only in a secondary capacity.
Bare facts first. Sanju Samson was taking the Kings XI Punjab bowling apart in Sharjah like only he can in the IPL. Even a rare mistimed pull seemed comfortably headed over the long-on rope when, out of nowhere, Nicholas Pooran surfaced. Arching his body and defying gravity, Pooran dived forwards – with his back to the playing field – to grab the ball with both hands, well aware that he was seconds away from conceding a six, what with the earth beyond the boundary rapidly reeling him in.
In a scarcely believable sequence of events, he twisted mid-air and back-handed the ball onto the field of play, a nanosecond before touching the ground, thus downgrading a certain six to just two runs. That he had managed to work out all possibilities in his head in tiny fractions of a second while contorting his body and finding himself six feet beyond the boundary rope, and found the wherewithal to successfully execute what appeared a fanciful plan, was beyond outlandish.
Oh, and did we tell you that by specialization, Pooran is a wicket-keeper? That prowling the outfield isn't exactly his strongest suit?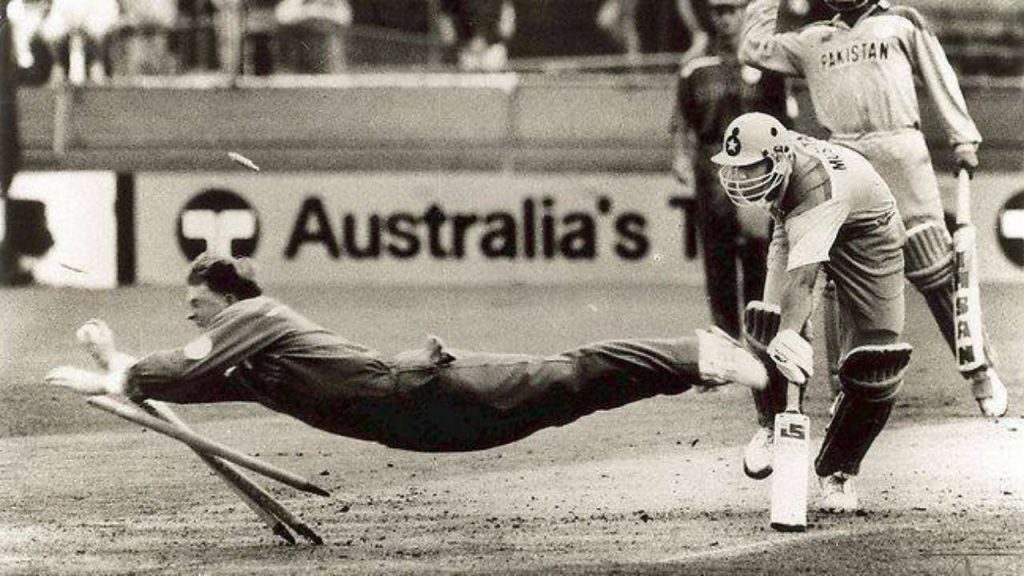 The Rhodes link, you ask? As stupefied as anyone else who had witnessed this wondrous exhibition of athleticism and quick thinking, the Kings XI fielding coach was desperately trying to stop his jaw from dropping to the ground. Over the past month, Rhodes has been engaged in numerous fielding sessions with Pooran, but not even in his wildest dreams would he have bargained for the miracle that unfolded in front of his eyes.
"Really is NO question about it being THE best save, EVER," Rhodes tweeted after the match last Sunday, still trying to wrap his head around the dramatic turn of events. "Fantastic work by @nicholas_47."
Pooran's is the latest, and by far the most special, addition to an expanding list of fielding incandescence whose genesis lies in the T20 revolution. That doesn't mean fielders were slouches in the pre-T20 era – after all, Rhodes retired from the game long before the 20-over slap-dash came into being – but the perception of fielding as a game-changer began to take deeper root as cricket's most condensed format graduated from a hit-and-giggle exercise to its most attractive advertisement.
With matches often being decided by such slender margins as one run, players started to buy into the concept of a run saved being a run scored. Sliding stops, already in vogue, were accompanied by tandem efforts – one player would run the ball down and flick it back to another, who would then rifle the throw in. Fielders started playing tag-team in the outfield; when they weren't catching the ball inside the field, tossing it up in the air realizing that momentum would carry them over the rope, and nonchalantly walking back in to gobble it up, they were finding ways of lobbing the ball to an equally situationally-aware compatriot who had made the sprint from a different fielding position for this very eventuality.
None of this happens by accident, or by chance. Gone are the days when fielding sessions involved only a multitude of high or flat catches, and balls hammered along the ground to help hone ground-fielding skills. Especially but not exclusively ahead of and during T20 competitions, players assiduously practice boundary-line catching, and variants of the Pooran prototype. They do so not for a laugh or a lark, but with utmost seriousness, alive to the fact that an isolated slice of brilliance at an opportune moment could inexorably change the outcome of a match.
So often and with so much intensity do they polish these extraordinary routines that when similar opportunities present itself in a match, instincts take over. Muscle memory sweeps aside potential doubts and hesitancy, which largely explains the poetry in motion Pooran was in Sharjah the other night.
Twenty20 cricket has infused significant modifications to the DNA of cricket as it existed. Yes, the art of batting time in a Test match is rapidly disappearing, as is the exhilarating theatre of a high-quality spinner slowly setting up and luring a top-class batsman to his doom. But more and more Tests are ending decisively, which isn't the worst development.
T20's greatest contribution to the sport has been mightily enhanced fitness levels, which in turn has facilitated the unchecked upsurge in fielding standards. Hard as it might seem now to imagine, don't bet against a repeat of Pooran's stunts in the near future.