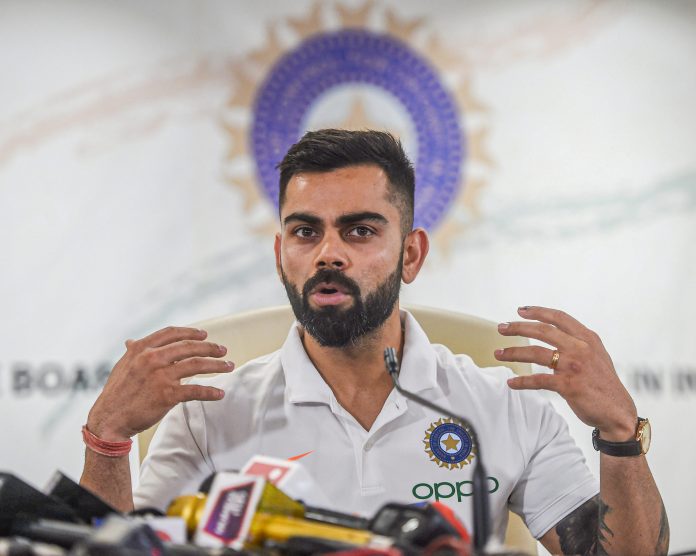 India skipper Virat Kohli on May 21 said the upcoming World Cup will be the most challenging of all the three he has played so far. As the Indian cricket team is set to leave for the United Kingdom on Wednesday (May 22) with sights on regaining the most coveted trophy in international cricket — the World Cup — India skipper Virat Kohli and coach Ravi Shastri addressed the media in in Mumbai on Tuesday.
Speaking at the press meet, Kohli said handling pressure is the most important thing in the World Cup and not necessarily the conditions. "All our bowlers are fresh, no one looks fatigued," he said.
"The only expectation we have is to play really good cricket, and that's why the results have followed. We just expect ourselves to play the best cricket we can in every game," he added.
WATCH: Virat Kohli and Ravi Shastri address the media before leaving for England #WorldCup https://t.co/KRfX78P6l1

— ANI (@ANI) May 21, 2019
The MSK Prasad-led selection panel announced a 15-man Indian squad for the 2019 World Cup almost a month ago.
On playing Pakistan, Kohli said, "If we keep focusing individually on every team, we won't be able to focus on our campaign. Preparations wont be any different, we have to just focus on our quality and intensity irrespective of the opposition. That's what we will be looking to do here."
Commenting on MS Dhoni and his rapport with Kohli, coach Shastri said, "Dhoni is someone who'll be right there. His communication with Virat has been fantastic. No one better than him when it comes to keeping. Great to see the way he was moving in this IPL. He will be a big player in this World Cup."
"His [Dhoni] relation with Kohli is great, he has shown that he is still the best in this format of the game, Shastri added.