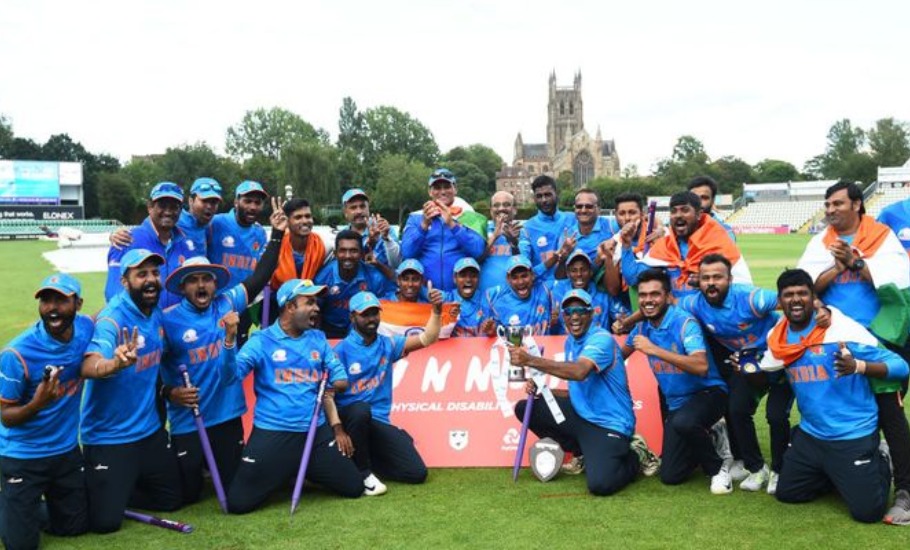 Not many people knew that an Indian Cricket Team for the physically challenged existed until last year when they won a World Disability Series in England. India remained unbeaten throughout the six-nation tournament, including the warm-up games. In the final, they beat hosts England by 36 runs.
This came days after the main Indian cricket team led by Virat Kohli had lost in the semi-final of 2019 World Cup.
The BCCI, which does not fund the team, recently awarded them a cash prize of ₹65 lakhs.
Advertisement
The team is funded and managed by the All India Cricket Association for the Physically Challenged, which was founded by former India captain Ajit Wadekar, whose birth anniversary was observed on April 1.
At present, cricket for the physically challenged in India has state level tournaments as well as open trials which lead to the selection for the national team.
The selection panel comprises of former Ranji Trophy cricketers Deepak Jadhav, Prasad Desai, Nitin Bhosle, Baba Bhusad and Brijesh Solkar. The team is guided by Karsan Ghavri and Umesh Kulkarni, both of whom have played for the Indian Cricket Team.
Related news: Challenged physically, financially: Team India eye BCCI support to keep winning

"We have various selection venues and the players are selected only on merit and nothing else," says Ghavri, who coached Saurashtra to their maiden Ranji Trophy title last week.
To be able to represent India, each player needs to show a disability certificate from the Ministry of Health. However, the acceptable level of disability differs from country to country. Cricketers from India and Pakistan need to have at least 40% disability, whereas for England, it is only 15%.
As physically challenged cricket allows substitute runners, two players from the team are chosen for this.
"Captain Vikrant Keni and batsman Ravindra Sante are usually the designated runners in the team," says Amogh Pandit, the team trainer.
Training sessions – approach and adaptability
For Pandit, who has trained teams for Under-19, IPL and Ranji Trophy for over two decades, working with the physically challenged team hasn't been too challenging.
"I had never trained a disabled team until 2019. But there is not much difference. They have to fight a little bit harder than able cricketers, to bowl fast, to hit a six, or to run after a ball," he explains.
Pandit doesn't believe in segregating regular players and disabled players. "I tell them we do not consider you as a different cricketer. There is no fundamental difference in training. Player without leg cannot squat, so he will do one legged squats or lunges to make up for that. Anybody whose lower body is fine will do squats, the only difference being that any exercise related to a particular deformity will be adapted."
If push-up becomes difficult for anyone without an arm, he will do one-hand wall push-up. If he can adapt, he will do one-hand push-ups on the floor. Each activity depends on how much a player can take.
Since the leading arm generates pace for a fast bowler, if a bowler doesn't have an arm, his torso and legs are strengthened.
"A lot more effort is required for the bowler in focussing his energies on the torso and the legs to make up for the lack of velocity generated through the leading arm," he says, adding that this is not a problem for spinners.
Meet the team
The current Indian team comprises urban and rural dwellers from modest backgrounds.
Vikrant Keni
A skilled operator in a textile company in Palghar, Maharashtra, captain Vikrant Keni was born with polio in his right hand. The 33-year-old has been playing for the Indian team since 2012 and led the team for the first time at the World Series.
"I took off from work for close to 40 days to represent India in the World Series," he says. Keni chose to become a left-hand batsman and left-arm spinner due to deformity in his right hand.
Kunal Phanase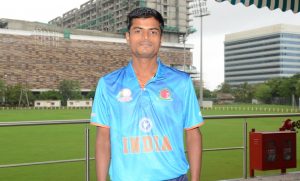 Kunal Phanase, a right-hand opener, works as a customer service associate at Amazon. The Man of the Match in the World Series final has a deformity in his left leg due to a surgery done on his left hip in childhood.
In 2012, Maharashtra Cricket Association did a selection trial for the physically challenged state team, and it is from there that Kunal's journey to the Indian team began. The 25-year-old uses a substitute runner while batting.
Wasim Iqbal Khan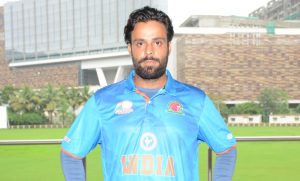 Wasim Iqbal Khan, a top-order right-handed batsman and son of a Kashmiri farmer, suffered a fracture on his right leg while playing cricket in 1998. He was just nine years old then.
Two unsuccessful surgeries later, his leg had to be amputated but that did not deter his ambition. A match-winning 43-ball 69 in India's win over Pakistan in the World Series saw Wasim storm to limelight.
The 26-year-old electrical engineering graduate is happy to have contributed to his family income with the prize money awarded by BCCI recently.
Tushar Paul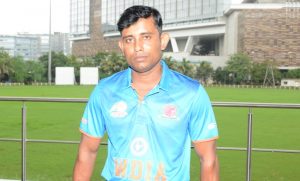 A teacher in a Kolkata school and father of a nine-year-old, Tushar Paul lost his right leg in a road accident in 1993. His right leg had to be amputated below the knee.
"I could afford to play only because I have a teaching job," he says. "I used to feel sad seeing my friends play cricket so I used an artificial limb to play."
Tushar has been playing physically handicapped cricket since 2013, and hopes that the Indian team, which won the inaugural World Series, can take this form of cricket to new heights just like Kapil Dev's team did in 1983.
"We can do everything a normal person can. Initially, when I wanted to play normal cricket, people didn't let me. Now I play for India."
Tushar, like Kunal, needs a substitute runner. "He doesn't wear prosthetics," says Pandit. "He wears Jaipur legs — artificial legs strapped round the amputated leg which bites into skin and causes difficulty in running."
Ravindra Gopinath Sante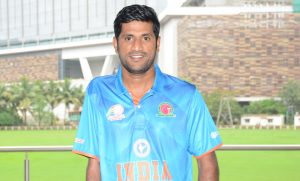 A bachelor of commerce and a Railways employee, Mumbai's Ravindra Gopinath Sante was six months old when he was given a wrong injection for fever which incapacitated his right hand.
The middle-order batsman thus chose to bat with his left hand. Sante has been playing for India for the past six years and began his journey from a selection trial in Mumbai.
Suganesh Mahendaran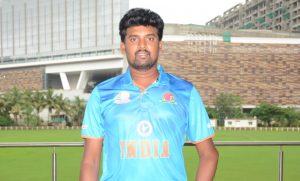 "I live for cricket, nothing else," says Suganesh Mahendaran, a right-handed all-rounder, who lost his left hand in a bike accident in 2012. "I believe disability is only in the mind, I don't feel it when I play."
The 30-year-old has been a regular member of the Tamil Nadu physically challenged team and has also been selected to play in the Tamil Nadu Premier League for the Salem Spartans. Before meeting with the accident, he played mainstream district-level cricket in Tamil Nadu.
Debabrata Roy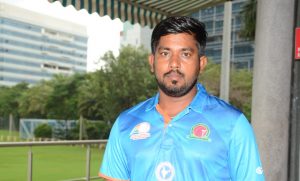 Among the senior members in the team, wicketkeeper-batsman Debabrata Roy, with over two decades' experience, is a guiding light.
Roy developed an ankle deformity soon after birth. Having lost his father and having only basic education on his resume, he is hopeful that the state governments will give jobs to Indian team's players.
Anshul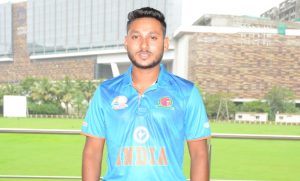 Son of a cook at AIIMS, the batting allrounder Anshul fell off a cycle in 2013 which caused tubercular arthritis.
"I underwent an operation in AIIMS because of an infection in my hips due to the fall from the cycle. After that I was able to play but I still cannot run or walk as fast as others because of hip pain."
The 26-year-old has played most of the big leagues in Delhi District Cricket Association and plays physically challenged cricket only when they have camps.
Anshul hopes that he can give a better life to his middle-class parents if the BCCI starts paying the team. "They did award us cash prize but I wish they recognise us under their jurisdiction soon."
Ramesh Naidu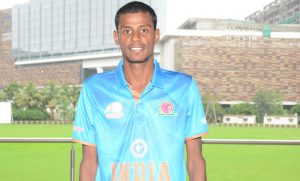 An MTech student at IIT Madras, Ramesh was faced with the congenital absence of fingers in both his hands and the toe of his right leg by birth.
The right-arm leg break bowler says he holds the ball like normal leg spinners, "but I use my thumb and index finger for better grip. When I bat, I try to hold the bat with the thumb alone. It is a bit difficult but I have become used to it now."
The 24-year-old was scouted by the Indian team at a Tamil Nadu Cricket Association tournament and wishes to contribute to his family income with the little money he earns from cricket and is grateful for the IIT scholarship.
"My father works as a driver in Vijaya Medical Centre. I couldn't have been able to afford IIT if not for a scholarship I was awarded."
Jithendra Vaddi Nagaraju
Son of a daily wage labourer, Jithendra Vaddi Nagaraju did his BCom from Christ College in Bangalore. When he was a year old, Jithendra was bitten by a snake on his right hand, and what followed were three surgeries. Although his hand wasn't amputated, it never functioned to its full capacity ever again.
"The poison had spread to my shoulders, but my parents didn't want them to cut my hand. So they removed the poison from my body surgically over a period of three months," he recalls. "I still manage to do everything with my right hand, including playing. My hands and shoulders would pain a lot when I used to bowl three to four overs early in my career, but slowly I learnt to live with the pain."
The 24-year-old right-handed all-rounder has played for Rahul Dravid's second division team, from which he got selected in the handicapped team in 2014. After returning from England, Jithendra quit his job at Hewlett Packard and joined Padukone and Dravid Centre for Sports and Excellence as a cricket coach.
Mandeep Singh Sran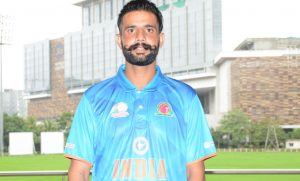 Son of a farmer in Punjab, Mandeep took his studies as seriously as he took cricket. With a BA degree and a diploma in computer engineering, the 26-year-old is now one of the frontline fast bowlers in the Indian team.
"I used to play for my school and then got selected for state camp in 2007. But on the very day that I got selected for the camp, a chaff-cutter claimed my left arm," recalls Mandeep. "Even when I was in the ambulance, I kept thinking that cricket is over for me now. I was at home for six months till I recovered. I was a wicketkeeper batsman before the accident, but switched to fast bowling later on. I bowl with my right hand."
Gurjant Singh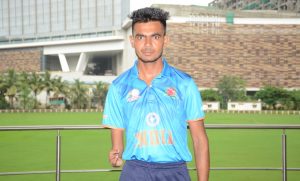 The left-arm fast bowler, much like most of his teammates, comes from a modest family. Son of a security guard in Qatar, Gurjant has a club hand by birth and it was only in 2013 when he started playing with the leather ball.
Gurudas Raut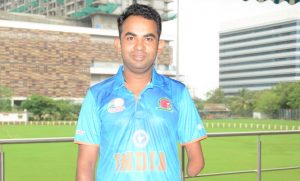 Gurdas Raut, the 30-year-old right-handed all-rounder, was born without a left arm below his elbow. "I have been playing cricket for the past 12-13 years, and have represented India for the last nine years and also captained in a few series," he says.
Currently working at the Air Force HQ Maintenance Command in Nagpur, Raut had clean bowled Sachin Tendulkar in a net session in 2012, and remembers it as the best moment of his life.
Even without one hand, Raut is able to play the cover drive effortlessly.
"This defies biomechanics," says Pandit. "Because the nature of the cover drive is that if there is no top hand guiding the bat, the ball scoops up in the air. But Gurudas has perfected this shot with one hand. His drives are along the ground even though there is no top hand. His torso and his legs come into the picture to make up for the hand. He focuses on his power behind rotating the torso and the legs when hitting the shot. Like Malcolm Marshall had played with only the bottom hand. He had lost use of the left hand."
Pandit also explains that playing the pull shot with one hand is difficult. So when bowlers bowl short balls at Raut, he can only defend.
Anish Rajan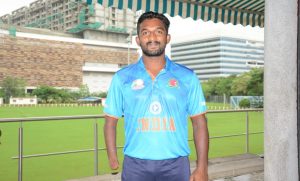 A mechanical engineer from Kerala, Anish Rajan was born without a right arm and so, chose to bowl left-arm. The World Series marked the 30-year-old's India debut. "I played for India for the first time in the World Series and luckily we won. My father is a farmer and mother is a national savings agent," Anish says.  He continues to play for a Kochi club where he began his career.
Amir Hassan Rather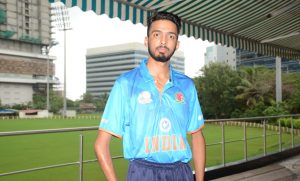 The youngest team member, the 20-year-old left arm pacer from Kashmir's Baramulla district was four months old when a fire at home burnt right hand's fingers.
The fingers had to be amputated due to the infection from the burn. "So I switched to bowling left arm. I can bowl at 130 kmph and have been playing for India for two years," he says.