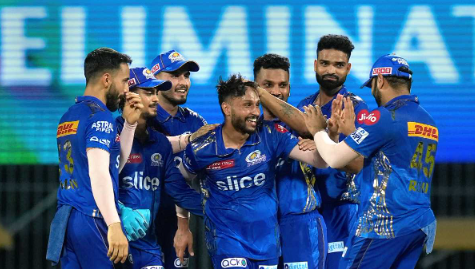 Until the beginning of this month, not many people beyond Uttarakhand and Mumbai Indians but heavily invested in Indian cricket had heard of Akash Madhwal. In the space of 24 days and seven games, the 29-year-old from Roorkee has made the aficionados sit up and take notice with one stirring display after another in Season 16 of the Indian Premier League.
What are the odds that a relative unknown would be the toast of a franchise that boasts, among others, Rohit Sharma, Suryakumar Yadav, Ishan Kishan and Cameron Green? And yet, here is Madhwal today, the joint-owner of the best figures by an Indian (alongside Anil Kumble) in the IPL, following his jaw-dropping spell of five for five in 3.3 overs in Wednesday's Eliminator against Lucknow Super Giants, the first playoff five-for in the 16-year history of the IPL.
A shining example
Madhwal is another shining example of the robust talent-scouting mechanism Mumbai have pieced together. It's the same mechanism that has given Indian cricket such outstanding talents as Jasprit Bumrah, Hardik Pandya and Ishan Kishan. Only time will tell if Madhwal, by no means a spring chicken, makes it to the national set-up, let alone remains a part of it for any length of time. But already, he has fired a shot for the underdog and stands out as a shining example of the virtues of following one's passion, no matter how fraught with risk that might be.
A chemical engineer by education, Madhwal gave up a secure job to dip his feet in the uncertain world of cricket with only his tennis-ball exploits to fall back on. A late bloomer if ever there was one, he was fortunate to play representative cricket for Uttarakhand in 2018 after it gained first-class recognition, dipping into his tennis-ball upbringing and a mastery of the yorker to catch the eye of the men who matter.
A season's stint with Royal Challengers Bangalore as net bowler later translated to a similar status with Mumbai Indians before he was drafted into the squad late last season, when Suryakumar was ruled out with a broken finger. Having already had a first-hand look at what he brought to the table, Rohit and the management group earmarked a first-team position for him in 2023, and when that opportunity finally presented itself eight games into a floundering campaign, Madhwal was ready.
Also read: IPL 2023 | Eliminator: Akash (5/5) bowls MI to big win; LSG knocked out
Spirit dampener for LSG
He didn't make an immediate impact, but the faith of the think-tank would soon be vindicated. A gradual rise in confidence manifested itself in a four-wicket haul in the must-win final league clash against Sunrisers Hyderabad last Sunday, but he went several better on Wednesday, killing off the Lucknow chase even before it had started.
Lucknow came into the contest believing they were the favourites. Not only had they won all three previous clashes against the five-time champions, they were also riding the crest of a three-match winning streak that had landed them a playoff spot. They were convinced they had momentum on their side and that, despite Mumbai's propensity to rise to the occasion, they had what it took to get past the Eliminator and set up a tilt at Gujarat Titans in Qualifier 2 in a battle that would have pitted the Pandya brothers against each other. Madhwal emphatically played party-pooper, drawing confidence from his own skills and the weight of 182 runs on the board to fashion a commanding 81-run win for the Mumbai franchise.
The MA Chidambaram Stadium wasn't exactly bursting at the seams in the first match this season where home team Chennai Super Kings weren't in action, but more than 30,000 fans, most of them unabashedly pro-Mumbai Indians, turned up in the hope of watching a contest of equals. They got their money's worth, without a doubt. There was no significant contribution from Rohit and no blazing pyrotechnics from Kishan, but Green warmed the cockles with a blistering 41 and Suryakumar had them eating out of his hand with a typically marauding 33.
Against the backdrop of a tense must-win scenario where there was no second choice for the vanquished, there runs were as priceless as gold dust. Bolstered further by cameos from the returning Tilak Varma, him of the most promising future, and Nehal Wadhera, whose introduction as Impact Player at the expense of a potential bowling option was a move Mumbai felt imperative, Rohit's side amassed 182 for eight, more than par for the course and worth many more given that it was a knockout game.
What turned the game around
Mumbai's bowling has been a ragtag collection this season with Bumrah, Jhye Richardson and Jofra Archer all AWOL. To compound their woes, they were coming off a miserable fielding display against Sunrisers Hyderabad on Sunday, so even though they could exert scoreboard pressure, there was no guarantee for success if they weren't on top of their game. After all, Lucknow boasted such electric stroke-makers as Kyle Mayers, Marcus Stoinis and Nicholas Pooran, who fear neither conditions nor the strength of the opposition bowling. Mumbai had to be on top of their game, otherwise it could be curtains.
Early wickets for Madhwal and Chris Jordan pegged Lucknow back, but when Wadhera put down Stoinis at deep cover with the batsman on only four, it appeared as if the butter-fingers syndrome was sweeping through the Mumbai ranks. Stoinis took that dropped catch as the harbinger of a fresh lease of life and broke loose with a string of boundaries so that at 68 for two in eight overs, Lucknow were well placed for a frontal assault.
In a swift and decisive passage of play that began with the ninth-over dismissal of Pandya and only ended when Mohsin Khan was cleaned up to give Madhwal his fifth wicket of the night, Lucknow lost eight for 33 in 50 deliveries. It was scarcely believable, this spectacular implosion of epic proportions. Madhwal was the chief destroyer, picking up four of the last seven wickets to fall – the other three were run-out victims as dismissals of varying degrees of hilarity emanated – in a fantastic burst of fast bowling marked by an awareness of what he could do and, more importantly, the wisdom to understand what he could not.
Podcast | Eliminator review: Akash's record 5/5, MI's win, and 15 minutes of 'madness'
The endearingly affable Madhwal kept crediting (Rohit) bhai for all his end-over exploits, and while Rohit might have done his bit and more, this night was about Madhwal, and Madhwal alone. Five wickets in 3.3 overs is unreal, almost ridiculous. But it's also all too real if you answer to the name of Akash Madhwal, right-arm fast and living out his fashion. Anil Kumble, you are in pretty good company.