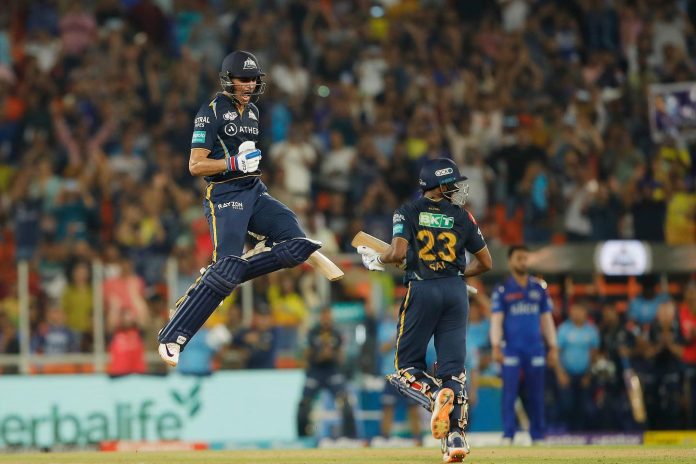 It's incredible to imagine that 2023 is just five months old, and Shubman Gill already has eight representative hundreds – five for the country and three for Gujarat Titans, in the Indian Premier League.
The last of those centuries came on a memorable Friday night in front of more than 75,000 screaming fans at the Narendra Modi Stadium, an innings of subliminal brilliance that eclipsed everything that followed in Qualifier 2.
The Ahmedabad fans' delight at watching a second hundred at this venue from their new favourite son spilled over when the home team brushed aside Mumbai Indians by 62 runs, setting up a blockbuster Sunday finale against Mahendra Singh Dhoni's Chennai Super Kings. The teams have split their two matches this season, and so only a brave man will hazard a guess at the outcome of the title clash.
Gujarat have established the well-founded reputation of an exceptional chasing side that's not always comfortable setting a target. That they twice failed to defend reasonable totals in their own backyard lent further weight to that truism, but on Friday, they went a fair distance towards convincing themselves, as much as anyone else, that they can be an outstanding team batting first too. Of course, it helped that they had 233 on the board, a total that pretty much guarantees victory nine times out of ten. Unfortunately for Mumbai, this wasn't that tenth instance.
Sky dazzles again, but
Suryakumar Yadav lit up the night with a typically blazing knock that was spectacular while it lasted – it had to last twice as long for Mumbai to conjure a mini-miracle – and Mohit Sharma, not brought on until the 15th over of the Mumbai chase, finished with five for 10, but they were both put to shade by the electric batsmanship of Gill, the former Under-19 star who is totally at home at the next higher level. Even as early as in 2021, on his Test debut in Australia, he had shown glimpses of his ridiculous talent, but it's really in the last six months that he has taken his game to an elevated plane.
Also Read: IPL 2023: Gritty story of CSK bouncing back from last year's debacle, with Dhoni's deft moves
His first Test hundred, in Bangladesh last December, seems to have opened the floodgates, for it's after that that the big scores have cascaded with astonishing regularity. Gill made a double-hundred against New Zealand in January when he embarked on a run of three centuries in four ODIs, following it up with a first T20I hundred, also against New Zealand, at the start of February and rounding off the sequence with his first home Test ton, at this same ground against Australia in March.
Orange cap in pocket already
In a classic example of making a good thing count, Gill has been relentless in pursuing runs in the IPL. With one game left in the tournament, he is assured of the Orange Cap – his 851 runs is 121 ahead of nearest competitor Faf du Plessis, whose Royal Challengers Bangalore are no longer in contention. Only Virat Kohli (973) and Jos Buttler (863) have more single-season tallies in the history of the competition.
That his runs have come at a strike rate of 156.43 means Gill hasn't just been an accumulator but a pacy one at that. Always a boundary-hitter given his impeccable placement and the innate gift of finding gaps, Gill has taken his power game to new heights; he has 33 sixes to go with 78 fours this season, and on Friday alone, he smashed 10 sixes, sending the hapless Mumbai bowlers on a hiding to nothing.
The 23-year-old transcends the ordinary, elevating batsmanship to a fine art as he cuts a dashing, still, rakish figure at the batting crease. Movements are minimal and organised, and there is no premeditation to his batting. Suryakumar will walk across or back away to unsettle bowlers, then use his versatility to play the inside-out cover-drive or the unique scoop-pull, but Gill is a purist, batting within the contours of the coaching manual and making his strong technical base and an understanding of his own game work for him.
Also Read: IPL 2023: Inconsistency, banking on batting troika, middle order woes did RCB in, again
When he chips down the track, for instance, he does so with supreme confidence, getting close enough to the ball to get under it but not so close as to not be able to swing his arms freely. When he goes down on his knee to sweep or slog-sweep, it's only after he has sussed up length accurately and therefore is in little danger of a top edge. They say of great batsmen that they seem to have that extra fraction of a second than the very good ones; it will be premature to label Gill 'great', but if he continues to progress along these lines, it boggles the mind to imagine exactly what dizzying heights he will touch.
'My best innings in IPL'
The Gill masterclass, which he termed his 'best innings in the IPL, for sure', might not have been had Tim David latched on to a difficult but hardly impossible catch when the batsman was only 30. We might have had a different tale had that chance been accepted, but as the moment passed and Gill went into overdrive with three sixes in one Akash Madwal over – five for five on Wednesday night seemed a lifetime back for the Mumbai paceman – the balance of power tilted visibly, inexorably.
Gill's 129, off just 60 deliveries, meant Gujarat had 233 reasons to be optimistic of making their second final in a row. Their cause was undoubtedly assisted by the concussion that prevented Ishan Kishan from batting, Rohit Sharma's 11th dismissal in the Powerplay in 16 knocks this season, and the forearm injury to Cameron Green that temporarily forced him to retire hurt. That meant, for all of Suryakumar's daredevilry, only one team was in the contest.
Just how deep the riches run in the Gujarat ranks became evident with Mohit, their sixth specialist bowling option, wasn't called on until late in the piece. In the matter of five deliveries, the former Indian medium-pacer, an acclaimed death-overs specialist with his changes of pace, had settled the issue emphatically.
Suryakumar and Kishan's concussion sub, Vishnu Vinod, were consumed in his first over and the dim light at the end of a long, foreboding tunnel went out for Rohit's lads. The rest was a formality as Gill, perched in the dugout with a constant smile plastered on his face, waited for the final bell so that he could soak in the plaudits of teammate and opponent alike.