In cricket lore, India's victory at Brisbane would someday be hailed as the sport's equivalent of the Battle of Thermopylae fought not by 300 but just 11 bruised and battered men.
Before the match began, who would have had the audacity to imagine a team struggling to put together 11 fit players could win the Test on a ground whose name the Aussie captain had the hubris to invoke as a threat to India. An honourable defeat would have been understandable, a draw cause for ordering a barrel of champagne. But even a diehard Mungerilal (if you remember your TV) would have dared not dream of a victory.
From the day it was hurled in the final session of the fourth Test match, Tim Paine's "can't-wait-to-see-you-at-Gabba" dare to Ravichandran Ashwin, indeed sounded scary. In 32 years, Australia had not lost a single Test at the Gabba. In three decades, legends such as Wasim Akram, Brian Lara, Sachin Tendulkar, Graeme Smith, Alastair Cook had banged their heads against fortress Gabba, only to go home without opening up even a crack in the Aussie bastion.
Advertisement
Yet, a team with a combined bowling experience of just four tests, helmed by a stand-in captain, comprising players who were travelling with the side only to throw balls in the nets, and powered by a chirpy, cheeky batsman on the cusp of being remembered as a failed prodigy, beat Australia in their own backyard.
Related news | As India trump Aus, best tribute lies in not missing Kohli
Context, don't forget the context. Six of the Indian frontline players were missing, sidelined mostly by injuries sustained while battling in a gruelling series. Twenty players — that's almost two teams — had to be drafted in as the war progressed. If this series were played in pre-corona times, when teams travelled with just 14-16 players, perhaps some of the commentators would have been forced to come out of retirement and play for India.
But, amidst this carnage, chopping and changing, gloom and doom after the agony in Adelaide, one thing remained constant–courage. India remained a study in fearlessness, an exercise in unwavering belief, an advertisement for resurrection that would inspire even a phoenix.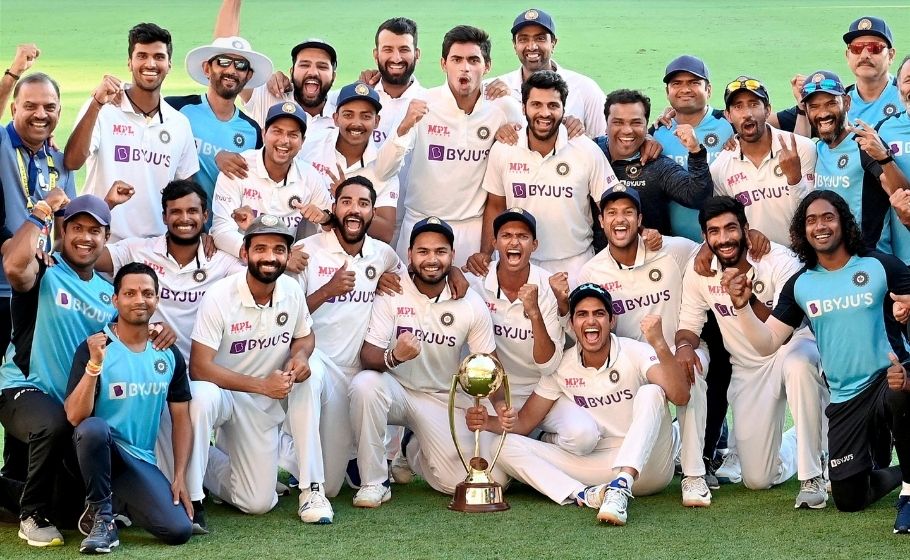 Picture for a moment the brave Cheteshwar Pujara holding his end up on the final day at the Gabba. An hour before lunch, Pat Cummins morphed into a Xerxes with a leather ball and kept hurling it at Pujara's head. The ball hit Pujara's helmet thrice, shoulders and chest six times and almost took off his left hand. But, after each and every one of these balls, Pujara got right behind the line of the ball, stood up tall, conveying to the bowler that he is ready for every grenade in Cummins' arsenal. His resilience alone, if not the number of balls he faced, ground the Aussies to dust.
Bow your head to Mohammad Siraj, the young man on whom was thrust the role of being the leader of the Indian bowling attack in just his second match. Just before the series, Siraj's father died. But the young man — the highest wicket-taker for India — decided to stay back and battle for his country.
Cast your mind back to that unsung hero Hanuma Vihari, who, along with an equally battered and bruised Ravichandran Ashwin, batted for four hours with a torn hamstring to pull off the equivalent of the Battle of Dunkirk, the Indian team's safe retreat from Sydney.
Related news | India's 3-wkt win in 4th Test propels 2-1 series victory against Aus
Doff your hat to Rishabh Pant, who, just a month ago appeared on the cusp of being forgotten as a has-been, having surrendered his spot in the shorter format and having been made an apprentice to Wriddhiman Saha in the Tests. Three months ago, Pant was a subject of memes for his inability to not score the single required for his side in the IPL. By Tuesday,  he had emerged as a scourge of the Aussies, making them spread the field and bowl wide outside the leg stump to stop his counter-attack. In 2019, the Aussies had nightmares of Ben Stokes ploughing through them like a terrier on a chicken farm. This year they would see Pant taking their Lyons to slaughter in their dreams.
And finally, hail the new star on the horizon, Shubman Gill, the lad whose family shifted from their farm in west Punjab to Chandigarh just to make him pursue his cricket team. Shubman, whose name literally means the auspicious man, will be to this decade what Virat Kohli, MS Dhoni and Sachin Tendulkar were to the three previous decades. His backfoot punches through covers, pulls through midwicket and on-drives will mesmerise fans across the world. He may be just out of his teens, but, like Tendulkar, Shubman will soon become the pivot of Indian batting.
The presence of so many stars, of course, did not take the shine off other players. If ever there was a series where every player put up his hand for the fight, this was it. Cometh the hour, cometh a new man was the theme of the Indian season this year with every player conjuring either an audacious act with the bat, or pulling off a heist with the ball. Together, they formed a Sparta-style phalanx where everyone had a simple warcry: all for one, one for all.
At Gabba, we saw the brave new India — a side that would neither break nor bend under pressure but go for the opponent's jugular. A side that, when dared to come to Gabba, would not just go there but blast its walls out. We saw the inauguration of a team that won't be content with just saving a Test even when it is all that is required to win a series. At Gabba, we saw young, fearless men who would always go for the all-or-nothing option — ah! the audacity of youth — and come back home billionaires. It is indeed a shubh beginning.
Even Leonidas would have been inspired.