ICC Cricket World Cup: Ahmedabad to host Oct 15 India-Pak match, Nov 19 finale
The world's largest cricket stadium will play host to the big-ticket World Cup group match between India and Pakistan on October 15. The gargantuan venue in Ahmedabad will also stage the grand finale on November 19, the ICC announced on Tuesday.
The tournament will commence on October 5 with a match between defending champions England and runners-up New Zealand at the Narendra Modi Stadium in Ahmedabad. This stadium has a seating capacity of 1,32,000 spectators, making it the largest in the world, surpassing the iconic Melbourne Cricket Ground (MCG) by 32,000 seats.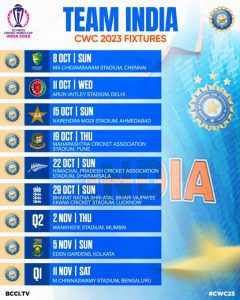 The two semifinals of the World Cup will be held at Mumba's Wankhede Stadium and Kolkata's Eden Gardens, both renowned venues with a rich cricketing history, on November 15 and 16, respectively.
North-East to host World Cup match for first time
The ICC marked the 100-day countdown to the ODI showpiece by announcing that India will kick off their campaign against Australia on October 8 in Chennai. This edition of the World Cup will also see Guwahati in northeastern India hosting matches, marking the first time the tournament has reached that region. In total, there will be 12 venues, including Hyderabad, Ahmedabad, Dharamsala, Delhi, Chennai, Lucknow, Pune, Bengaluru, Mumbai, and Kolkata, hosting matches during the tournament proper.
Also read | ICC Men's Cricket World Cup 2023: Schedule, venues of 'biggest WC ever'
Warm-up games will be held in Guwahati, Thiruvananthapuram, and Hyderabad from September 29 to October 3. The details and finalization of venues were discussed with the hosting associations before the official announcement on Tuesday. The Wankhede Stadium previously hosted the final of the 2011 World Cup, where India, led by Mahendra Singh Dhoni, emerged as champions after defeating Sri Lanka. The Eden Gardens hosted the summit showdown between Australia and England in the 1987 edition, which Australia won.
Pakistan request declined
Pakistan had requested a change in venue for their match against India, suggesting Chennai, Bengaluru, or Kolkata, but the BCCI and ICC rejected the proposal. This year's World Cup will feature 10 teams.
As hosts, India has qualified directly, along with Afghanistan, Australia, England, Bangladesh, New Zealand, Pakistan, and South Africa through the 2020-2023 ICC Cricket World Cup Super League.
The remaining two teams will qualify through the ongoing World Cup Qualifiers in Zimbabwe. The Qualifiers involve Sri Lanka, the West Indies, Ireland, Nepal, the Netherlands, Oman, Scotland, the UAE, the USA, and the host country, Zimbabwe.
During the World Cup in India, the 10 participating teams will face each other once in a round-robin league, resulting in a total of 45 matches. The semifinals and the final will follow the league stage.
(With agency inputs)