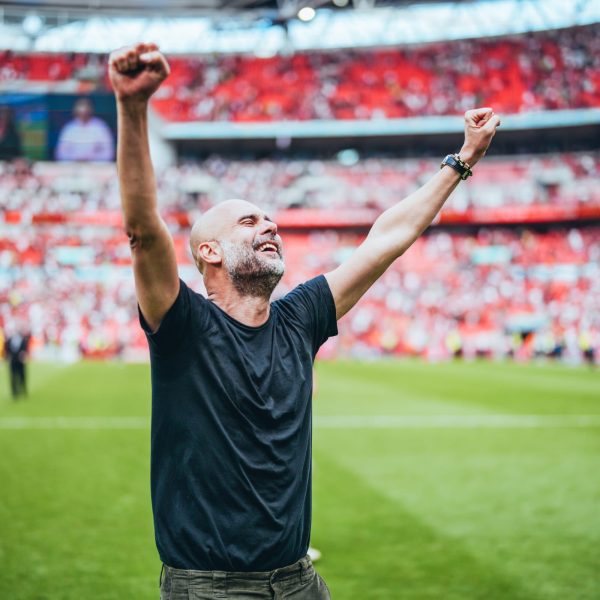 Mastering the half space: How Pep Guardiola adapts with contrasting Leagues
It's exactly 14 years and 14 days since Pep Guardiola first won the UEFA Champions League at Rome beating Sir Alex Ferguson's Manchester United. They defeated the English masters 2-0 with a clinical performance, with goals from Samuel Etoo and Lionel Messi coming from the right and left sides of the box, respectively.
The intense match was remembered for nothing but the tactical brilliance of Josep Guardiola Sala aka Pep. Minutes before the start of the match he convened the players in the locker room in front of a screen to show something special. It was a 7- minute video, with visuals of their journey towards the final intercut with scenes and background score from Russel Crowe starrer Hollywood period drama, Gladiator.
Also read: Pep Guardiola extends Manchester City contract until 2025
Inspiring team talk
"We didn't know what was happening; we went inside and there was a screen and Pep asked us to stand in front of it and we waited. With the music of Gladiator, we saw the whole journey to the final; the sad moments, the good moments, the struggles. It was so powerful… I would say also it was too powerful! After the video he said, "Guys, at the end of the game I want people to say we can play football. Have a good game." This is how Thierry Henry recalled that day.
What kind of a football manager or coach for that matter would take his entire squad to watch a video – even if it was tailor made for them – just before a crucial European final? Pep Guardiola was that kind of a manager and he still is.  By winning the 2009 UCL, Pep completed his first treble as a coach. Barcelona had already won La Liga, Copa Del Ray before coming to Rome. As Graham hunter puts it, it's a statement of greatness to begin one's reign which he is continuing after 14 years.
During this period, he managed three teams that differ entirely on their footballing philosophies.  Barcelona, which he still considers himself a fan of,  Bayern Munich, a club that had nothing in parallel with Pep's football aesthetics and finally the Manchester City, a club he has transformed to one of his own.
In the last 14 years Pep Guardiola's won one more UCL title with Barca in 2011, became runner-up in 2021 with City before losing in the semifinals six times with three of these teams.
Also read: Man United is finally coming says City boss Pep Guardiola
Massive transformation
Between the first triumph in 2009 and 2023, his game has gone through tremendous transformation with only the basic idea of taking the ball and passing it, which he inherits from the legendary Johan Cruyff. It required technical proficiency and a strong desire to possess the ball. The homegrown Barca boys from La Masia were trained in that style from a young age as if they cannot envision anything other than taking the ball and passing it.
"In Real Madrid or PL teams you are entitled to clear the ball as a defender, but in Barcelona you do not have that freedom. No defender can just clear the ball, they should stop, take control of the ball, dribble and make the right pass," Xavi Hernandez, Barca's present coach and Pep's protégé goes nostalgic reminiscing the period.
Ronaldinho was the most important player on the pitch when Barcelona used a 4-3-3 under Frank Rijkaard. But Guardiola shook it down hard showing the door to Ronaldinho to begin with and Samuel Etoo, the very next season. Guardiola introduced a more disciplined team, prioritising ball possession and Leo Messi was his man for the job, along with Xavi and Andres Iniesta. No wonder the style tiki-taka became the most effective style of football in the second decade of this century.
It's a unique philosophy, and that's why it's so difficult for new players to adapt to it. "It might look easy, but it takes years of practice," felt Lionel Messi.
Also read: Champions League: Haaland fires Manchester City into semis vs Real Madrid
Master strategist
"It was more the style of play I had to adapt with. Staying on the line to free Andres, make the run, knowing that nine out of ten you will not get the ball. But if you don't make the run, Andres does not get the ball. For every move he makes on the pitch he had a reason," says Thierry Henry.
The kids he knew in and out from La Massia were the real strength of Pep in Barcelona, but in Bayern Munich things were entirely different. Physicality and defensive sturdiness were constantly on Guardiola's adversary's side as the rivalry with Jose Mourinho played out on and off the pitch. But once landed in Germany he had to adapt to the character of the league. He had to create tactics that suited to the more physical German players of the likes of Bastian Schweinsteiger to Thomas Muller.
Pep started with a 4-1-4-1 formation, with Tiago Alcantara serving as the pivot supporting Franck Ribery, Toni Kroos, Mario Götze, Thomas Müller and Arjen Robben. With Philipp Lahm and Bastian Schweinsteiger offering tactical flexibility in front of the defence he switched to a more compact 4-2-3-1 towards the end of his tenure with Bayern. He simply did not try to upload his Spanish strategy everywhere he had gone.
"A great coach quickly knows who can do what and who his central player will be. He then communicates to each player their strengths and their weaknesses, along with those of the others. He works on the role of each individual every single day. Guardiola does this with a passion I have never experienced in anyone else," observes Philip Lahm who played under Pep for three seasons.
Also read: How Erik ten Hag turned the tables for Manchester United after Ronaldo's exit
No looking back
This season, Manchester City led all teams in the top five leagues in Europe in both wins and goals scored. After setting foot in the English Premier League Pep has not looked back. Before this year's UCL, he had won two FA Cups, four League Cups, and five Premier League championships. Additionally, he guided City to their first-ever Champions League final in 2021 and a domestic treble in 2019, elating the club into an entirely new level.
Since moving to Manchester, Pep Guardiola's approach to the game has drastically changed. Keeping the basic passing and possessing game plan, his football is more direct with City. Ilkay Gundogan's first minute strike against Manchester United in the FA cup goal could speak in volumes about this change. Even though one can see his special liking for the Manchester United club, his three matches against them with three different teams, are worth analysing.
Barca's two matches in 2009 and 2011 had that link up play between Messi, Iniesta and Xavi as a signature. But Bayern's 2013-14 quarter final match was fought with an entirely different tactic with Mandzukic, Muller and Arjen Robben scoring. Latest of his United clash proved out to be the most spectacular with Gundogan scoring in the opening minute, from a long ball from the goalkeeper, which was unthinkable for the Pep of Barcelona. There is one nature of his game which never changed, he always made the wide players wait or run for nothing, creating space for the inner one to operate. The half space remains his forte, and this is why players like Messi, Iniesta, De Bruyne and Gundogan remain his darlings.
He speaks in at least four or five different European languages, demonstrating his aptitude for learning new languages quickly. He also studies sporting environments. This is how he was able to adjust to various leagues and produce amazing results.