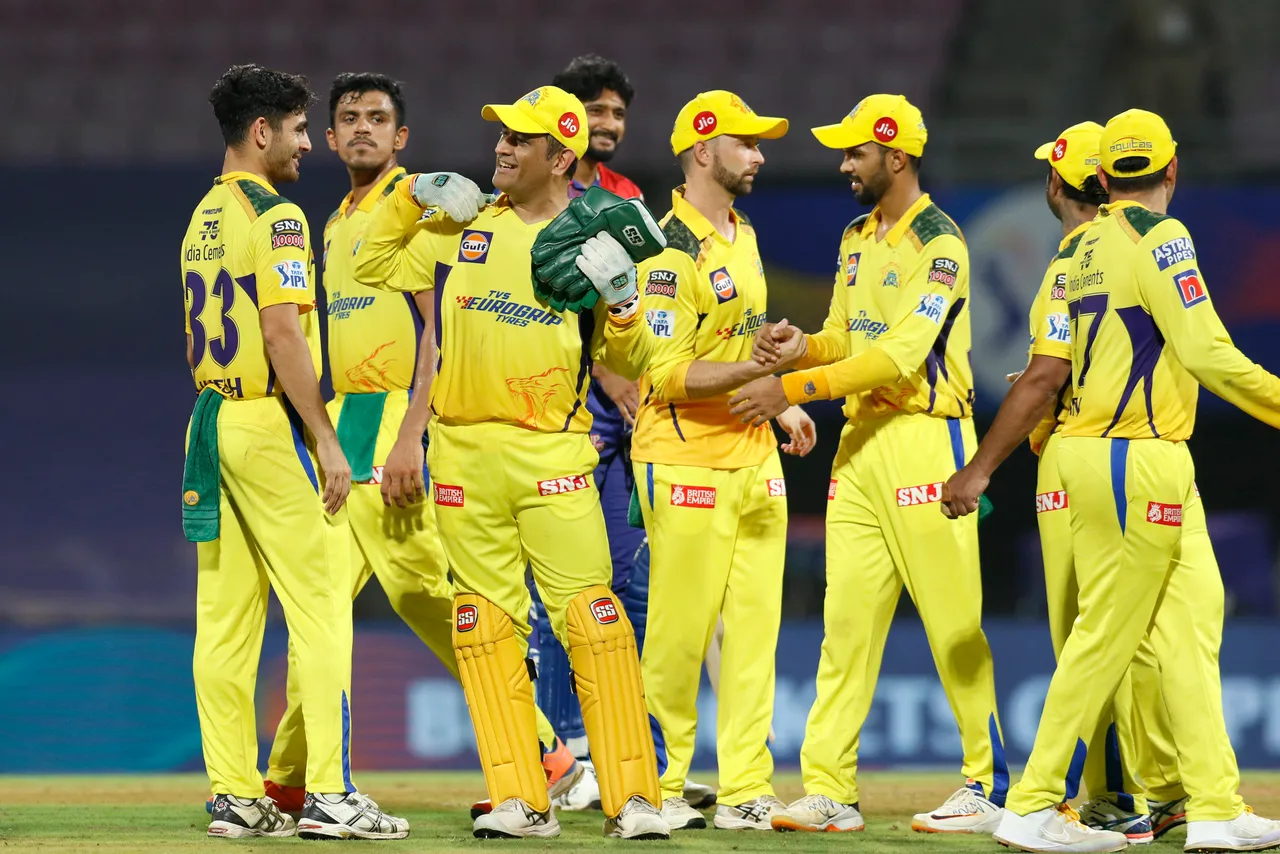 How CSK can make IPL playoffs and what Dhoni said about it
Defending champion Chennai Super Kings (CSK) remained in the hunt for a playoff berth in the ongoing IPL after registering a massive 91-run victory over Delhi Capitals (DC) on Sunday night (May 9). And, when captain MS Dhoni was asked about the team's playoff chances, here is what he said.
Speaking at the post-match presentation ceremony at Navi Mumbai's D Y Patil Stadium, Dhoni said the team has to write its own fortune and added that he was not a big fan of maths.
Also read: Conway credits Dhoni for big score against DC, shares CSK captain's advice
"One at a time is good enough. I am not a big fan of maths. Even at school, I was not good at maths. You write your own fortune. What is important is (that you) always have to be (at) your best. There is no point thinking about this (other) team needs to beat some other team. It just puts added pressure," Dhoni said when asked about CSK's playoff chances.
He added, "Just turn up for your games, plan well, execute your plans, look to win the game, and enjoy the rest of the IPL matches. You don't want to be under pressure when two other franchises are playing. Enjoy the IPL, it is good."
Also read: Umran Malik bowls second-fastest ball in IPL history
Dhoni, who returned as CSK captain after eight games into the season following new skipper Ravindra Jadeja relinquishing the role, said if the team doesn't make the playoffs, it is not the end of the world.
"If it happens, it happens, but what is more important is to make the most of the three [remaining] games. See what are the combinations we can feature in what positions. And start planning for the next year. If we qualify for the playoffs, it is very good. But if not, it's not the end of the world," he said.
Also read: IPL's longest six hitters
How CSK can make playoffs
CSK is currently at the eighth position in the league table with eight points from 11 games. It has to play three more matches – against Mumbai Indians (MI) on (May 12), Gujarat Titans (GT) on May 15, and Rajasthan Royals (RR) on May 20.
First, CSK needs to win all these three contests to have a hope of progressing to the playoffs. That will take the points tally to 14. But still it may not be enough to qualify because other teams' results should also go in CSK's favour.
Already, Lucknow Super Giants (LSG) and Gujarat occupy the top two slots in the table with 16 points each. The next two on the table, Rajasthan and Royal Challengers Bangalore (RCB) both have 14 points apiece.
For CSK's chances to brighten, Lucknow has to win all its remaining three games, and Gujarat has to beat Bangalore, and lose the other two (versus LSG and CSK). RCB has to lose both its remaining matches. In such a scenario Gujarat will reach a maximum of 18 points and if LSG wins all three, it will have 22.
Then, CSK has to beat the third-placed RR and hope its opposition defeats Delhi Capitals and loses to LSG. Then RR will have 16 points. In that case, RR ends third behind LSG and GT, if all the above scenarios work.
Then, it will be left for CSK to fight it out for the fourth slot with RCB, DC, Sunrisers Hyderabad (SRH), Punjab Kings (PBKS) and Kolkata Knight Riders (KKR). SRH, PBKS and KKR have to lose two or more of their remaining three matches which will keep them to 14 points or less.
Five-time champion Mumbai Indians (MI) is the only team which is already eliminated from the competition, being 10th and last with four points from 10 games.
There are a lot of ifs and buts for CSK to make the playoffs and even if it is tied on 14 points, then net run rate comes into play. So, first it needs to win three and wait and watch other results.