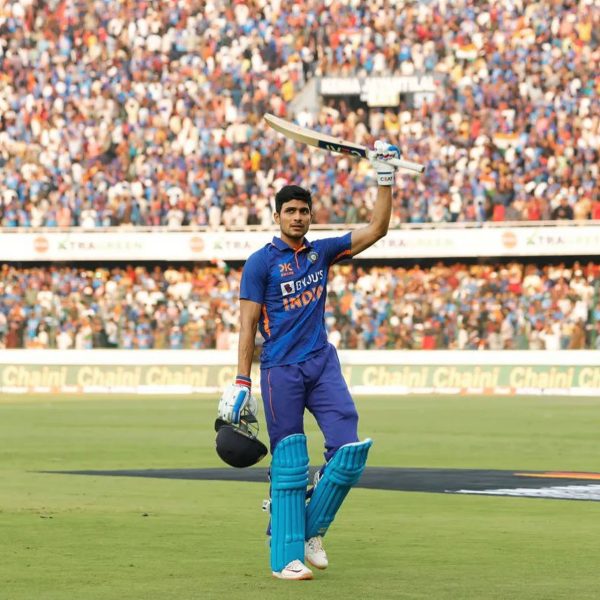 Gill's stunning 200: Sublime Gill unleashes his inner beast
With Gill and Ishan Kishan coming of age, the future of India's batting appears to be in safe hands, even as the seniors seem to be getting into twilight zone
When Sachin Tendulkar squeezed out a single behind point off Charl Langeveldt on February 24, 2010 in Gwalior, he became the first male player to score a double hundred in a One-Day International. That game against South Africa was ODI No. 2962.
Wednesday night's encounter at the Rajiv Gandhi International Cricket Stadium in Hyderabad, featuring India and the No. 1 ODI team in the world currently, New Zealand, was ODI No. 4507. This match heralded the 10th double ton in men's 50-over internationals, Shubman Gill becoming the youngest batsman, at 23 years and 132 days, to accomplish that monumental feat.
Interestingly, the man he replaced at the top of the age chart is another Indian; last month, Ishan Kishan grabbed that record with his 210 against Bangladesh, aged 24 years and 145 days.
Also Read: Its an abuse to domestic cricket: Venkatesh Prasad takes aim at selectors for ignoring Sarfaraz
Double centurions in ODI cricket are getting younger, empirical evidence suggests. It also shows that Indians have hegemony on double hundreds – of the ten 200-plus knocks in one-dayers, seven have emanated from the blades of Indian batsmen, current skipper Rohit Sharma alone accounting for three. Virender Sehwag rounds off the list of Indians, with Chris Gayle, Martin Guptill and Fakhar Zaman – all opening the batting, like the five Indians – forming the elite club of ODI double centurions.
Like Sunil Gavaskar's conquest of Mt 10K (10,000 runs) in Test cricket opened the floodgates in 1987, Tendulkar's foray into uncharted territory reiterated to batsmen that if they played deep into the innings and paced themselves well enough, a double hundred in 50-over cricket wasn't in the realm of the impossible.
But where Tendulkar received more than adequate support – Dinesh Karthik slammed 79 and Mahendra Singh Dhoni blazed to an unbeaten 68 in just 35 deliveries as India finished on 401 for three – Gill ploughed pretty much a lone furrow.
Also Read: FIR lodged over indecent remarks on cricketers' daughters
India's tally of 349 for eight against New Zealand on Wednesday is the lowest completed innings featuring a double century. Rohit's 34 was the next highest contribution, which merely served to highlight how dominant Gill was throughout his stint. Each time he looked to cut loose, India lost a wicket. Each time he aspired to shed the shackles, he had to revisit his thinking because he was running out of partners and India had a reasonably longish 'tail'.
He had to be both the anchor and the principal run-maker, a daunting task for even the most accomplished, let alone a young lad playing only his 19th ODI. Yet, Gill handled that onerous dual responsibility with tremendous aplomb, showcasing a maturity and composure that belied his age and shepherding the innings with an iron hand that was in stark contrast to the silken smooth touch he showed with the bat.
Also Read: Shubman Gill hits 208; breaks Virat Kohli's record in 1st ODI against NZ
An artificial cloud had been thrust over Gill's head at the start of the month, ahead of India's ODI campaign against Sri Lanka. Much was made outside the team set-up of the decision to play him as Rohit's partner instead of Kishan, who warmed the bench in India's first match since his 210. The populist notion was that it was ludicrous to leave out a double centurion, but the team management plumped for the more consistent man, convinced that one swallow does not a summer make.
It's questionable if Gill felt any pressure going into the Sri Lanka series, but if he did, it didn't show. With efforts of 70, 21 and 113, he silenced most doubters, though it was obvious that he was far from satisfied, that he felt he had missed more than one chance to make his form really count.
Supremely Fit
That determination manifested itself in no uncertain terms on a warm Wednesday. Gill was all or nothing for the first 10 overs – at the end of the Powerplay, he was on 21 off 30 deliveries, with five fours and just one single. As his innings progressed, he began to rotate the strike more and, amazingly, the deeper he batted, the faster he ran between the wickets, reiterating the value of supreme fitness that keeps out the fatigue and, therefore questionable decision-making.
For the majority of his knock, he eschewed risks, cut out the frills and yet scored rapidly enough in a tribute to the wide array of his strokes and the ability to both work out and find the gaps. Gill isn't quite the 360-degree player that Suryakumar Yadav is, but his orthodoxy isn't without virtue. He is particularly strong off the back foot with a penchant for the cut and the pull, and while the latter was on full regal show as New Zealand's bowlers tested out the bounce in the Uppal surface, Gill unfurled the other weapons at his disposal.
Peach cover drives competed for aesthetic luminescence with wristy whip drives that wowed a crowd that, until then, had eyes and throats only for Virat Kohli and Suryakumar. And once he was finally given the license to go full throttle in the last three overs, Gill moved up the gears with subliminal grace, revealing a power-packed mien hitherto well concealed.
Also Read: Explained: What is Dexa Scan test for Indian cricket players?
Six sixes in 10 deliveries in a manic passage of play might suggest a brutal annihilation, but this was anything but. Gill caressed the ball to long distances, hardly hitting the ball in anger and yet sending it soaring 90 metres. With the grace of a ballerina and the balance of a trapeze artist, he reduced New Zealand's best to blundering novices. The last in a hat-trick of sixes, off the express Lockie Ferguson, finally unlocked his inner beast as he celebrated getting to 200 with an intensity bordering on the angry, but he quickly regained his equanimity and pulled out the smile that has endeared him to millions.
Gill didn't need this monumental 208 to put the Gill vs Kishan debate to bed, but now that he has gotten this far and has had a taste of what it feels like to go big, it's unlikely he will rest on past laurels. That doesn't necessarily mean he will join Rohit immediately as the only multiple double centurions in ODIs, but that's not really what the team is looking for from him. If he can continue to be Gill, languid and relaxed and pleasing and prolific, especially prolific, that will do quite nicely. Another double would merely be the icing on the cake.