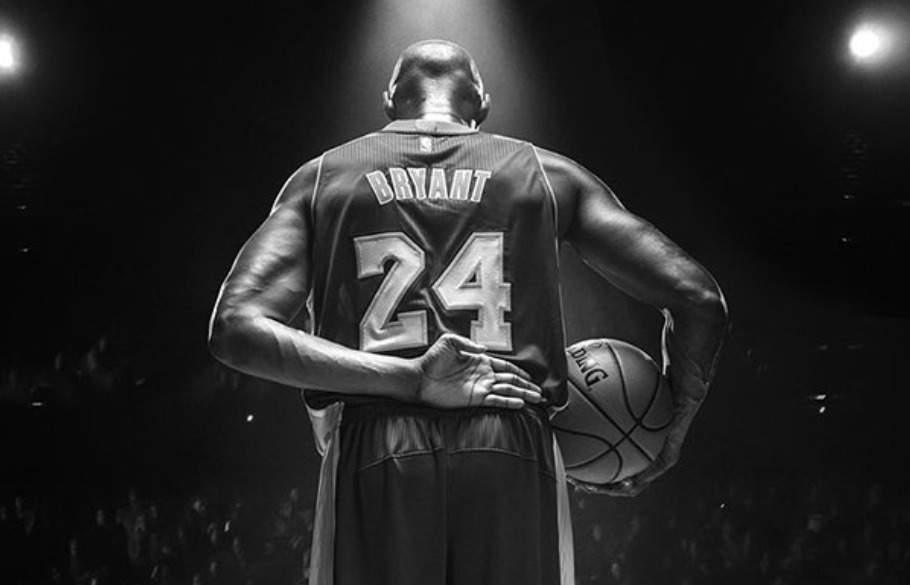 From big bro to mentor, NBA legend Kobe Bryant was more than a player
NBA star Kobe Bryant left behind a legacy that has influenced the newest generation of league talent, his counterparts, and fans worldwide as condolences pour in from sporting fraternity mourning the legend's untimely death.
Kobe Bryant used ferocious competitiveness and uncanny shooting touch to become an NBA icon, leaving behind a legacy that has inspired the next generation of league talent, counterparts, and fans alike.
From his 81-point game, the second-best scoring performance in NBA history, to five NBA titles in 20 years of dazzling performances with the Los Angeles Lakers, Bryant delivered a relentless attitude that attracted a global following before his untimely death on Sunday (January 26) at the age of 41, in a helicopter crash.
Also read: NBA legend Kobe Bryant, daughter Gianna killed in helicopter crash
However, Bryant was more than just a legendary basketball player. For tennis star Naomi Osaka he was her 'Big Bro' who helped several players including world number two Novak Djokovic and former world number one Maria Sharapova to get through their difficult times.
Players from the sports fraternity on Monday (January 27) took to Twitter to express their grief and condole the basketball star's death.
My heart truly mourns over the news today. Kobe was a great mentor and friend to me. You and your daughter will live forever in our hearts. There are not enough words to express my deepest sympathies to the Bryants and every family suffering from this tragedy. RIP my friend pic.twitter.com/VRmgaOaITT

— Novak Djokovic (@DjokerNole) January 27, 2020
I can't. pic.twitter.com/Vc3dJZztYS

— NaomiOsaka大坂なおみ (@naomiosaka) January 27, 2020
Kobe and Gigi? This is incredibly difficult to process. I will never forget your generosity, and the time you set aside in some of my most difficult moments. I am forever grateful. My heart is with you and your beautiful family. pic.twitter.com/rnGI8o1p5L

— Maria Sharapova (@MariaSharapova) January 26, 2020
Bryant sparked the US Olympic team to gold medals at the 2008 Beijing and 2012 London Olympics and became a global celebrity as much for his personality as his playmaking.
Bryant's fierceness was legendary and led him to nickname himself the 'Black Mamba' for his ability to strike quickly with deadly scoring accuracy.
Nick Kyrgios wore a Lakers No. 8 jersey to honor Kobe Bryant ahead of a fourth-round match against Rafael Nadal at the Australian Open.
Missed the warm-up?@NickKyrgios paid homage to the late Kobe Bryant 8⃣?#AO2020 | #AusOpen pic.twitter.com/kTKniTJykw

— #AusOpen (@AustralianOpen) January 27, 2020
The 15-year-old Coco Gauff had Bryants numbers 8 and 24, along with the inscription "Mamba Mentality," on her shoes in a doubles match at Melbourne Park.
Kyrgios, a big NBA fan who often wears basketball jerseys while practicing, wore a Bryant jersey from the locker room, through the corridor of champions, and into the warm-up on Rod Laver Arena. He took it off before play began against top-ranked Nadal.
Fans in the crowd wore Bryant jerseys with the numbers 8 or 24. Australian Open organizers also played a short video tribute to Bryant ahead of the match, one of the most anticipated encounters in the two-week, season-opening major.
Caty McNally and Coco Gauff both wrote inscriptions on their tennis shoes for their match. Other players were affected by the news.
— Coco Gauff (@CocoGauff) January 27, 2020
"It was really tough this morning. You know, is the first thing, you know, when I woke up, bunch of messages. Definitely when I found out that, I was really, really sad, because it was someone that for sure I was looking up growing up and someone very special. "To be honest with you, really devastated by that, because it means quite a lot for me. All my thoughts and prayers for his family," 10th-seeded Gael Monfils said after his loss to Dominic Thiem.
The Mamba was not just an inspiration for tennis stars but also motivated cricketers such as Indian skipper Virat Kohli, Australian legend Shane Warne, India's head coach Ravi Shastri and the legendary Vivian Richards, and Sachin Tendulkar.
A true legend of the sporting world!

Rest In Peace dear Kobe and his daughter. May the family have immense strength to overcome this sad time. #RIPLegend pic.twitter.com/N8WDGZCHK1

— Sir Vivian Richards (@ivivianrichards) January 26, 2020
Like everyone, I'm stunned, shocked and saddened to hear the horrific news about Kobe Bryant and his 13 year old daughter who died in a helicopter crash. Thoughts are with his family and loved ones at this extremely sad time ! #RIPKobeBryant

— Shane Warne (@ShaneWarne) January 26, 2020
Absolutely devastated by the tragic news of Kobe Bryant and his daughter. My heartfelt condolences to his family, friends and fans across the globe #KobeBryantRIP #KobeForever #Kobe pic.twitter.com/gPQcfDehUl

— Ravi Shastri (@RaviShastriOfc) January 27, 2020
Saddened to hear about the tragic demise of Kobe Bryant, his daughter Gianna & others on-board the helicopter.
My condolences to his family, friends and fans across the world. #KobeBryant pic.twitter.com/N8B4Tcr4KU

— Sachin Tendulkar (@sachin_rt) January 27, 2020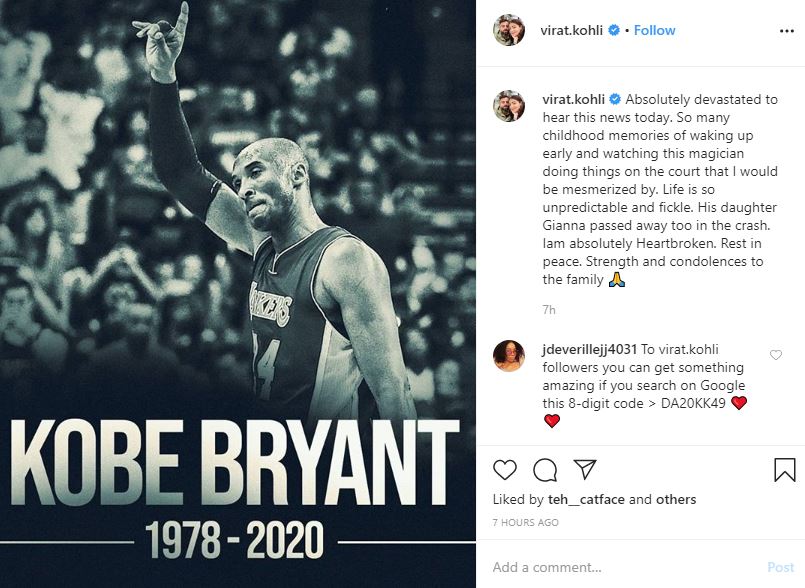 Others who expressed their grief included Indian spinner Ravichandran Ashwin and former Sri Lanka captain Mahela Jayawardene.
Bryant's laser-like focus and sublime skills were remembered by NBA colleagues, fans and athletes he inspired as they absorbed the shock of his death.
"For 20 seasons, Kobe showed us what is possible when remarkable talent blends with an absolute devotion to winning," NBA Commissioner Adam Silver said in a statement on Twitter.
NBA Commissioner Adam Silver issued the following statement today regarding the passing of Kobe Bryant pic.twitter.com/P88GwIwmYV

— NBA (@NBA) January 26, 2020
"He was one of the most extraordinary players in the history of our game with accomplishments that are legendary … but he will be remembered most for inspiring people around the world to pick up a basketball and compete to the very best of their ability."
Six-time NBA champion Michael Jordan mourned Bryant's death by saying the Los Angeles Lakers icon was "like a little brother" to him.
"I am in shock over the tragic news of Kobe's and Gianna's passing," said Jordan, counted among the greatest basketball players in history.
"Words can't describe the pain I'm feeling. I loved Kobe – he was like a little brother to me. We used to talk often and I will miss those conversations very much. He was a fierce competitor, one of the greats of the game and a creative force. Kobe was also an amazing dad who loved his family deeply – and took great pride in his daughter's love for the game of basketball," he said.
Some say Bryant saved the best for the last, scoring a league season-high of 60 points against Utah in his final NBA game in 2016, becoming the oldest player in league history to crack that milestone at age 37.
"I love everything about this game," Bryant famously said. "For me, it's not a part of life, it is life, and it's a part of me."
In all, Bryant finished with 33,643 points, 7,047 rebounds and 6,306 assists over 1,346 career NBA games. He was an 18-time NBA All-Star, the 2008 NBA Most Valuable Player, the NBA Finals 2009 and 2010 NBA MVP and matched a record as a four-time NBA All-Star Game MVP.
(With inputs from agencies)