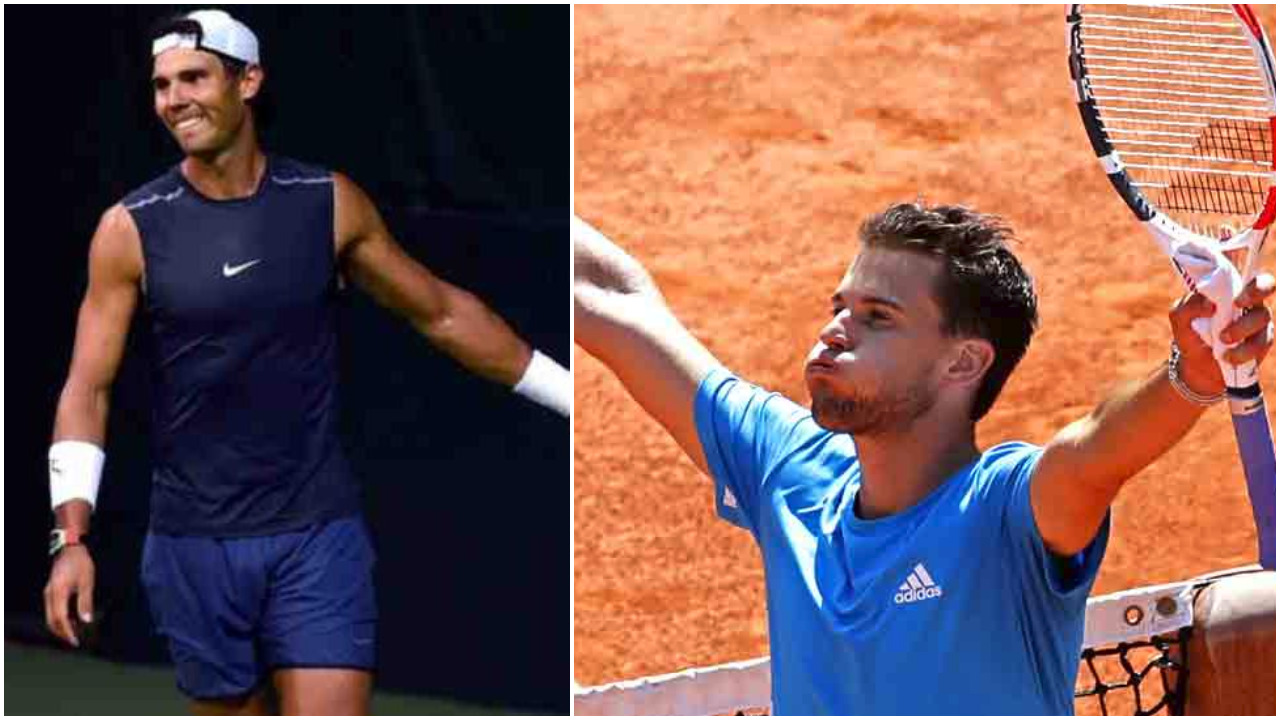 French Open 2019: Can Dominic Thiem stop Rafael Nadal?
The one question that was hanging over the men's section this fortnight at Roland Garros was: can anyone prevent a Novak Djokovic vs Rafael Nadal final?
Dominic Thiem answered with a resounding yes. In a semi-final played over two days that lasted for over four hours, fourth-seeded Thiem outlasted World No. 1 Djokovic 6-2, 3-6, 7-5, 5-7, 7-5. The 25-year-old Austrian put an end to Djokovic's hopes of a "Djoker Slam 2.0" and ended his major match-winning streak at 26.
Thiem's reward is a rematch of last year's final against 11-time French Open champion Rafael Nadal on Sunday (June 9). Nadal is aiming for an unprecedented 12th title on his beloved clay. No other man has captured more than eight trophies at a single major, the closest anyone comes is Roger Federer, who has eight Wimbledon crowns.
While Nadal wrapped up his semi-final win over Federer comfortably in straight sets by Friday afternoon, Thiem will have less than 24 hours to recover from his five-set battle against Djokovic. The rainy, blustery conditions in Paris have wreaked havoc on the scheduling since Wednesday, and as a result, Thiem will be forced to play for four straight days in his quest for a first ever major title.
To reach the final, Thiem has had to navigate one of the toughest draws among the male players — in the first week, he needed four sets to get through his first three rounds. In the Round of 16, he handily beat 14th seed Gael Monfils for a loss of just 10 games and in his quarter-final, Thiem cruised past 10th seed Karen Khachanov 6-2, 6-4, 6-2. Second seed Nadal has barely broken a sweat on his way to a 12th Roland Garros final. He has dropped just one set so far — against 27th seed David Goffin in the third round. Nadal has spent 13 hours and 24 minutes on court so far this fortnight, whereas Thiem needed 15 hours and 25 minutes to reach the final. Nadal will be well rested ahead of the final on Sunday, not that he needs any extra advantage.
The Spaniard is entering the championship match with a 92-2 record at this event. He has perhaps been even more impressive in finals at Roland Garros, winning all 11 he has played. Such is his dominance that he never even been pushed to five sets in those 11 finals.
Thiem has already been on the receiving end of a Roland Garros finals loss to Nadal. In 2018, he lost 6-4, 6-3, 6-2. Nadal leads the overall head-to-head against Thiem 8-4 and all four of Thiem's wins have come on clay. Their most recent match was won by Thiem 6-4, 6-4 when he defeated Nadal in the Barcelona Open semi-final. But when it comes to a best-of-five-sets match, the Austrian has never been able to conquer Nadal. Their last meeting at a Grand Slam was at the US Open in 2018 and Thiem pushed Nadal to the brink of defeat before the Mallorcan survived an epic battle 0-6, 6-4, 7-5, 6-7(4), 7-6(5) in four hours and 49 minutes.
Nadal and Thiem's rivalry started in 2014 when the two clashed in the fourth round of Roland Garros. Since that match, the two have faced off twice more in Paris and all three matches have resulted in straight-set victories for Nadal. The Austrian is a much different player compared to even a year ago, but so is Nadal. Both men have consistently raised their levels during the clay-court season.
In 2019, Thiem added former player Nicolas Massu to his coaching staff and there have been noticeable improvements in his game. He won the biggest title of his career in March his year at the ATP Masters 1000 event in Indian Wells. Thiem has added a lethal backhand slice to his armour and he constantly troubled Djokovic with it in their semi-final.
Nadal, at the age of 33, is also still constantly working on his game. His crosscourt backhand has more bite than before and he has made up for a relatively mediocre clay-court season (only one title in four events) by making small adjustments to get better with every round at the French Open.
A win on Sunday will ensure an 18th Grand Slam title for Nadal, putting him just two behind Federer's tally of 20. If Thiem claims his first major, he will end a streak of nine consecutive Grand Slam titles won by Djokovic (3), Federer (3) and Nadal (3). Thiem has rightfully earned the moniker of the "Prince of Clay" but can he go a step further and achieve the toughest task in sport — defeat the King of Clay in a Roland Garros final? He will need to throw the kitchen sink and then some on Sunday to even come close.