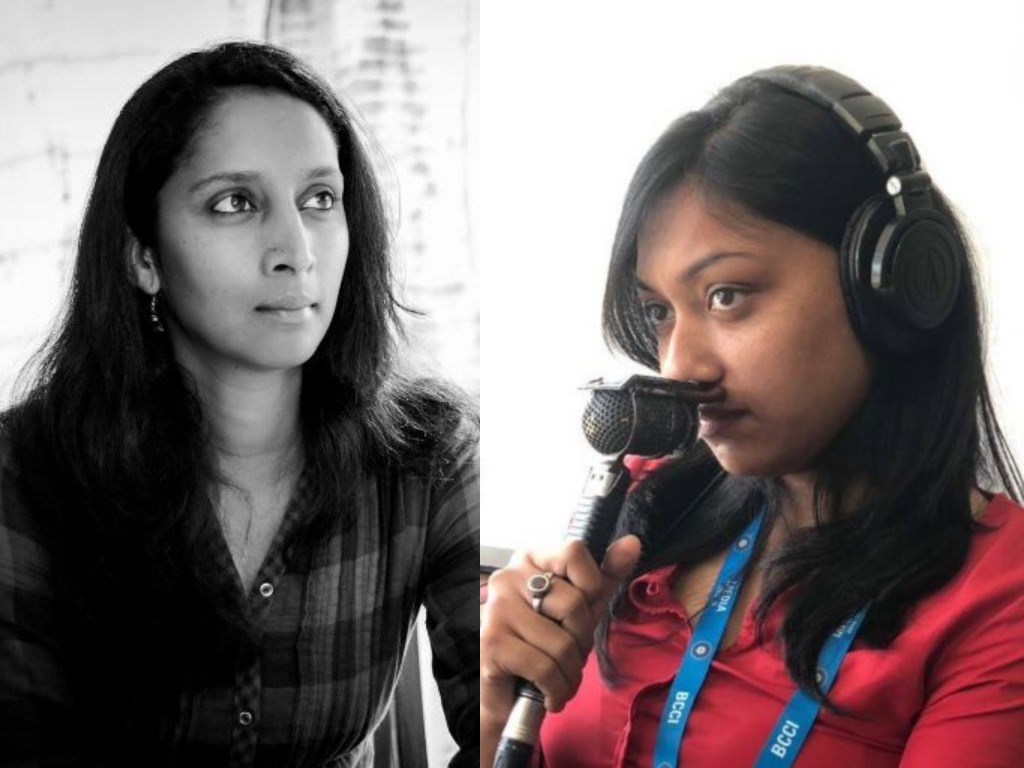 Female commentators: A voice which connects TV to audience
New voices in the gentleman's game has given more colour to a sport, which has a religious following in India. Female commentators Snehal Pradhan and Annesha Ghosh, are part of the changes which cricket is undergoing to adapt and repackage.
"Commentators are story-tellers of an unscripted story. So, a lot depends on how the story pans out," says former Indian-cricketer turned commentator Snehal Pradhan. Sports journalist Annesha Ghosh, however, says, "It's easier for a layman to put faces to names and names to faces. Commentary with or without theatrics would define if one is a novice viewer or fan of the game."
Following are the excerpts from the interaction:
The ICC World Cup 2019 was a game changer where three women joined the 24-member commentary team. An industry which was usually male-dominated saw former cricketers Isa Guha, Melanie Jones and Alison Mitchell taking charge.
People have doubts as to what are the probable rules for selection of commentators.
Annesha: There are no rules prescribed by the BCCI or ICC for commentators, however, it's always better to have knowledge and experience of the game to become a good commentator. Even the most sought after names like Harsha Bhogle, played cricket, but only till the university level, on-field experience is important but not necessary.
Snehal: there are two types of commentators – callers and experts. Callers are those who have knowledge of the game and the skill of questioning. Experts are analysts and former cricketers. Different roles demand different skills. There are no rules or criterion for the selection of commentators, but former players do have an advantage given that they've played the game. Here, people like Harsha Bhogle become the minority.
Recently, the cricket boards had clarified that they have no role in the selection of commentators, so who selects them for a particular match?
Annesha: Broadcasters like Fox and Star Sports have made a conscious effort to ensure that there is no discrimination between male and female anchors or commentators. Talent, understanding of the game and flow of language play a major role in becoming a good commentator.
Snehal: Usually the official broadcaster has the power to select the commentary panel, but ICC and BCCI do have a say in the decision for World Cups and domestic cricket respectively. But luck too is important to enter this industry. Luck matters the most. Somehow, people who got opportunities were in the right place at the right time, since this industry doesn't have much openings and exposure. In India, former cricketers are given more chances due to experience.
Is commentating is as exciting as playing on the field? What are the challenges a commentator faces?
Annesha: It's easier for a layman to put faces to names and names to faces. Commentary with or without theatrics would define if one is a novice viewer or fan of the game. So a commentator is required to do her/his homework. Though, silly banter and experiences add a new dimension to the game, I'm not a fan of the heavily used sports jargon. Simplified commentary is important to understand the nuances of the game better and can create a liking for the game among viewers. I prefer more understated and explanatory content rather than being bombarded with heavy cricket words. I would love to hear what Melanie Jones was thinking while facing her Ashes rivals while commentating in an Ashes game, but not over-doing it is the challenge.
Snehal: Commentators are story-tellers and the story is unscripted. So, a lot depends on how the story pans out. That's how we define the atmosphere in the commentary box during a live match. Environment in the box depends on how the game progresses, speaking about related things can energise a dull game for the audience but keeping the commentary light hearted is a good challenge.
People say they've learnt a lot about the game by listening to commentary. How important do you think commentary is for educating the beginner audience?
Annesha: The present commentary takes the viewers knowledge of the game for granted, assuming that the viewer has a certain degree of idea of the sport. Commentators should take a minute or two to explain the nuances. Although, there should be some self-learning by the audience too. It is important for a commentator to know his audience and keep the non-cricket background audience in mind while doing commentary.
Snehal: I'm a commentator and I feel that the Indian cricket fan is in general is a very well aware section and that's one of the reasons why broadcasters such as Star Sports have slightly more in-depth commentary, however, knowing the audience is important which can be done by getting an audience analysis before the start of the game. Being a commentator is as big a responsibility as being a player or a coach and I feel it's an honour to be the voice that connects television to the people.