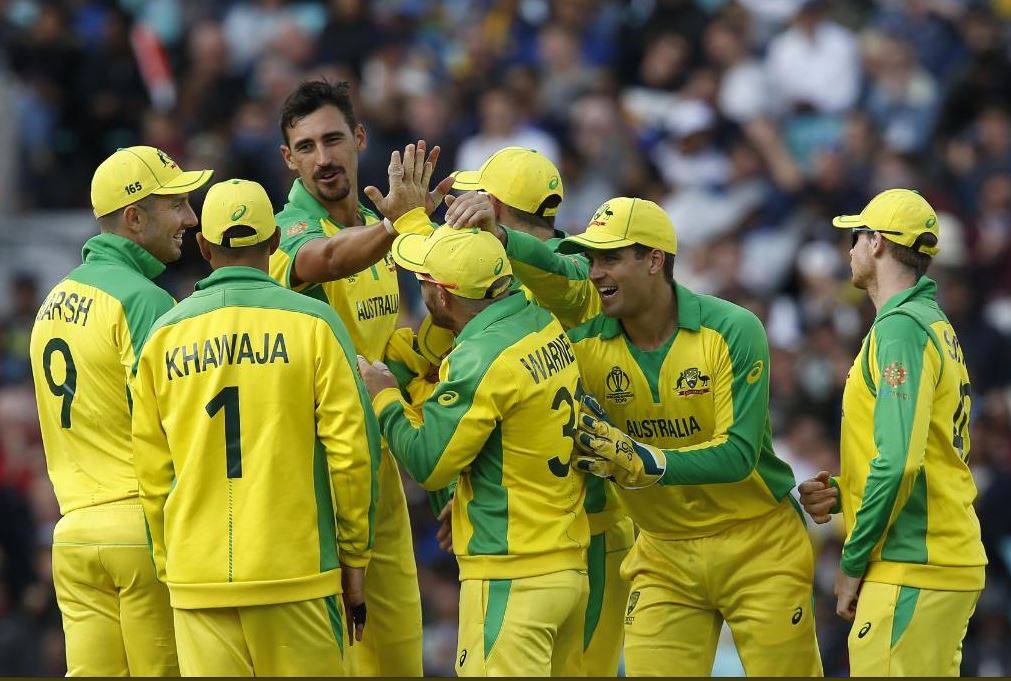 World Cup 2019: Australia reaches semis, defeats England by 64 runs
Australia became the first team to lock down a place in the semi-finals, defeating England by 64 runs. Australia now reigns at the top of the table with 12 points. They have suffered just one loss so far against India and continued their spectacular run with a determined win in the match.
England had a surprise loss against Sri Lanka and they could not shake off the effects of the defeat to snag a victory against Australia. They are just one point ahead of Bangladesh with 8 points and a win today would have really helped them towards securing a spot in the semi-finals. Going forward, if they win just one of their remaining three matches, they should ensure a semi-final spot barring any major upsets.
England won the toss and elected to bowl first declaring that the pitch would produce seam movement in the hot but overcast weather conditions.
Australian captain Aaron Finch opened with David Warner to make a 123 run opening stand before the partnership was brought to an end. After surviving an early LBW review, Finch went on to hit a 100 off 116 balls that included 11 fours and 2 sixes. David Warner backed up his captain's score with a nice 53 off 61 balls.
Also read: World Cup 2019: Another 'must-win' for Pakistan against New Zealand
A feat that was, unfortunately, met with crowd boos instead of cheers. It was a fantastic start for Australia but they could not build upon the momentum and the breakthrough finally came for England with Warner's wicket who struck Moeen Ali to deliver a catch to Joe Root. Ben Stokes then ensured that the second wicket stand was not as successful as the first and captured Usman Khwaja's wicket at 23 off 29 balls. Australia was 185/2 by the end of the 36th over.
The skipper gave away his wicket on a clumsy pull shot that landed in the hands of Woakes. Glenn Maxwell went for only 12 on a short ball from Mark Wood. Marcus Stoinis was run out at 8 after Smith and Stoinis found themselves on the same end. Smith faced further jeers as Woakes removed him for 38. Pat Cummings faced just four balls before departing for 1.
Alex Carey put up 38 off 27 balls to add to the total. The rapid fall of wickets ensured that Australia stayed within the 300 run mark and England was given a target of 286 to pursue.
James Vince and Jonny Bairstow opened for England. Behrendorff proclaimed Australia's intentions to take no prisoners by bowling James Vince for a duck with the innings second ball. This was a big enough setback for the team to face but there were bigger disasters in store for them. In form batsman, Joe Root, who has provided quite a few essential knocks for the team, got LBW off Micthell Starc for just 8 off 9 balls.
Also read: World Cup 2019: India to play four matches in 10 days
Team captain Eoin Morgan could not contribute much to save his team from a defeat as Starc took his wicket at 4 off 7 balls. Jonny Bairstow then fell victim to Behrendorff at 27 off 39 balls. At 13.5 overs, England was looking desperate for stable innings with 53/4 on the scoreboard. Australia had done a brilliant job taking constant wickets and not giving batsmen time to settle down on the pitch.
Stoinis took his sole wicket of the game in the form of Jos Buttler who went out at 25 off 27 balls.
Ben Stokes was the only man from the England side to cross over a 50. He put in an 89 off 115 balls that provided the structure to stay in the game. It was too bad England could not follow up on it and crumbled against Australia's impressive bowling attack. Starc took his 3rd wicket of the game sending Stokes back with a brilliant Yorker. Stokes put in his best effort but with little support from his team couldn't quite carry the team to victory.
Starc and Behrendorff then ran a rampage through the remaining England line up. They made quick work of Moeen Ali (6), Chris Woakes (26), Jofra Archer (1) and Adil Rashid (25).
Also watch: World Cup 2019: DLS and DRS method decoded
Australia secured a sixth win from seven games dismissing England for 221 inside 45 overs. It was a terrible showing from England who seemed to have lost their momentum in the series. Their batting line up crumbled like a house of cards in front of a disciplined Australian bowling attack. Jason Behrendorff took 5 wickets in the match with Mitchell Starc close behind at 4.
England would now look to make an essential comeback in their upcoming matches against India and New Zealand if they intend on qualifying for the semi-finals. Australia, on the other hand, can rest easy knowing they are through to the semi-finals without a doubt.