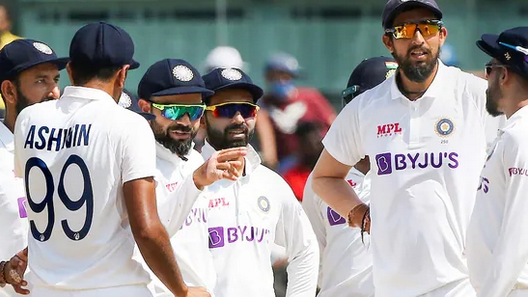 The fifth Test between India and England was cancelled hours before toss on Friday, amid a chaotic turn of events.
The ECB's statement announcing the cancellation changed from "unable to field a team and will instead forfeit the match" to "regrettably unable to field a team". The BCCI later said both boards will work towards "finding a window to reschedule this Test match".
Indian coach Ravi Shastri tested COVID positive on the final day of the fourth Test at The Oval, and bowling coach Bharat Arun and field coach R Sridhar went into isolation with Shastri. The panic grew further on Wednesday, when physio Yogesh Parmar tested positive.
Advertisement
Also read: Indian coach Ravi Shastri tests COVID-positive, isolated with 3 others
The initial statement issued by the ECB categorically mentioned the word "forfeit" but that was later omitted from a revised media release.
"Due to fears of a further increase in the number of COVID cases inside the camp, India are regrettably unable to field a team," read the revised statement. 
It is learnt that, led by skipper Virat Kohli, who voiced his apprehension strongly, the players, late on Thursday, got into a huddle and couldn't be convinced by the BCCI brass to play the game. The BCCI issued a statement of its own, hoping that the match could be rescheduled sometime later.
"In lieu of the strong relationship between BCCI and ECB, the BCCI has offered to ECB a rescheduling of the cancelled Test match. Both the boards will work towards finding a window to reschedule this Test match," BCCI secretary Jay Shah said. 
A COVID-related quarantine would have meant missing out on IPL matches, starting September 19. The players are also awaiting reports of a fresh round of tests.
"Following ongoing conversations with the BCCI, the ECB can confirm that the fifth LV= Insurance Test between England and India Men due to start today at Emirates Old Trafford, will be cancelled," the ECB stated. "We send our sincere apologies to fans and partners for this news, which we know will cause immense disappointment and inconvenience to many."
Also read: How a frenzied Kohli paid back Barmy Army in their own coin
India are 2-1 ahead and have not been declared winners of the series because there is a chance of the fifth Test being played in July next year when the team visit for a six-match white-ball series. 
Ever since the Indian players refused to play despite testing negative on Thursday, there have been continuous back-channel talks between the two boards.
"The BCCI and ECB held several rounds of discussion to find a way to play the Test match. However, the outbreak of COVID-19 in the Indian team contingent forced the decision of calling off the Old Trafford Test match," Shah said. 
"The BCCI has always maintained that the safety and well-being of the players is of paramount importance and there will be no compromise on that aspect."