Afghanistan vs England was always going to be a David vs Goliath match. The England team is an odd on favorite to win the world cup and has just lost one of their four matches so far. Afghanistan, on contrary, has yet to win a match in the tournament. At this point, a win was crucial for Afghanistan just to save face.
England, however, was having none of it though. They played a dominant innings, putting up a monstrous total of 397/6.
The team won the toss and elected to bat. Vince and Bairstow came on field to open with this being Vince's World Cup debut. England got a good opening rhythm going but the Afghanistan bowling and fielding left a lot to be desired in terms of fighting spirit as they gave easy runs and left out catches.
The bowlers tried to stall England onslaught by getting James Vince's wicket and sending the opener home for 26 but Bairstow and Root kept the bowlers on their heels. Jonny Bairstow scored a quick half-century bringing the England total to 106/1 in 20 overs. This is Bairstow's 11th half-century and his 2nd 50 of the world cup, the first being against Bangladesh.
The batting partnership was starting look deadly with 100+ runs scored when Gulbadin Naib took Bairstow off the table at 90. It was a crucial break for the Afghanistan team.
To their dismay, however, that Eoin Morgan was up next and it was to be his day in a big way. Morgan spun circles around the bowling attack and hit 17 sixes breaking the records of Rohit Sharma, Chris Gayle and AB de Villiers. Each of them had hit 16 sixes in an innings to top the chart.
Morgan also hit 4 boundaries, in addition to his 17 fabulous sixes scoring an unprecedented 118 of the big shots. Afganistan's quality spinner, Rashid Khan, had a dismal day against Morgan and gave away 110 runs in 9 overs.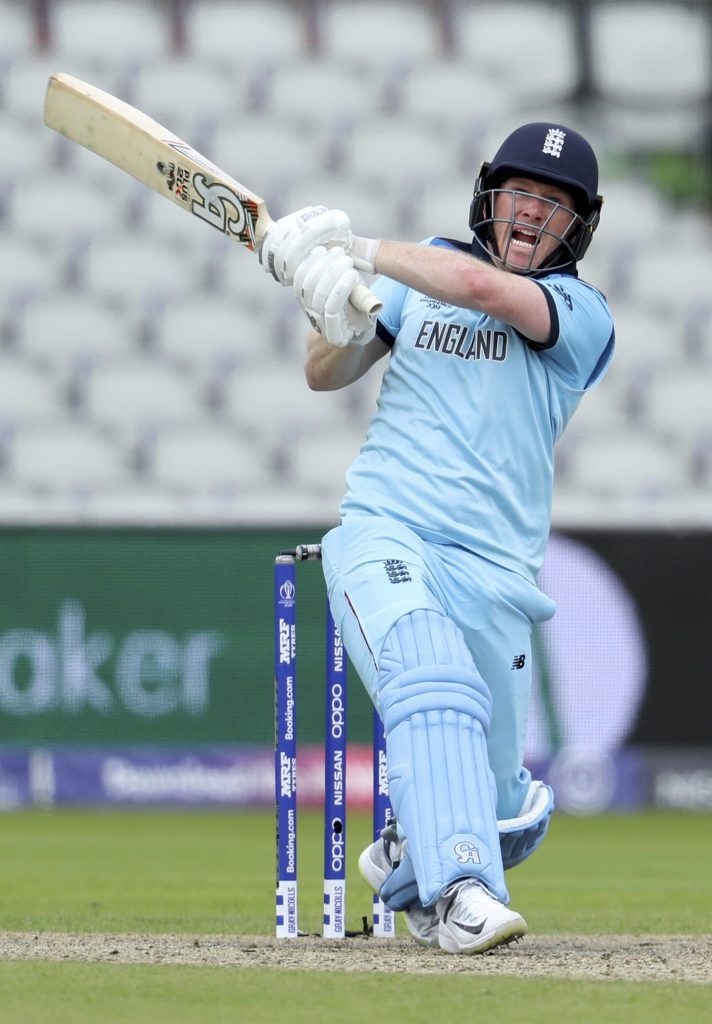 Root continued his quality form and contributed a half-century in the 33rd over of the game. This marked his 32nd 50 and the 4th 50+ score of World Cup 2019.
Dawat Zardan made a fatal mistake from Afghanistan's perspective when he dropped Eoin Morgan off Rashid Khan. Morgan would go on to make them regret this fumble by bringing up his 13th ODI century in just 57 balls in the 43rd over, taking England past the 300 mark comfortably. They looked set to cross over 400 at this point.
In an effort that was too little too late, skipper Gulbadin Naib nicked the wicket of Joe Root at 88. Jos Buttler was dismissed by Dawlat Zadran next for 2. The damage had already been done though and Moeen Ali hit a quick boundary and two sixes to wrap things up for England at an unbelievable 397/6. This was England's highest score in a World Cup match.
Afghanistan had been set a target that would seem impossible for any team to chase, no matter how strong their batting order.
Noor Ali Zardan and Gulbadin Naib opened the innings for their team. Before they could settle in though, Jofra Archer took an early wicket of Noor Ali for 0.
Gulbadin and Rahman tried their best to keep the innings from falling apart after an early wicket. Afghanistan fans heaved a sigh of relief when Jonny Bairstow dropped an easy catch to give Rahman a lifeline at 6. Chris Woakes, however, did not look pleased with the misfield.
Skipper Nair looked to make a comeback in the game with a few boundaries and a six, edging Afghanistan close to a 50. They come up with 48 runs in 10 overs which would not be a bad start on any other day. Mark Woods soon broke up the budding partnership as he got rid of skipper Naib for 37. This 48 run partnership was the highest 2nd wicket partnership for Afghanistan in World Cup.
Rahman Shah tried to keep the score rising with a huge six, his first of the innings. The run rate had gone over 10 by this time though and the little resistance that Afghanistan could muster wouldn't be enough. With 20 overs gone, the team was floundering at 86/2. They needed 312 runs in 30 overs to win.
To make matters worse, settled batsman Rahmat Shah gave a wicket to Adil Rashid at 46. This was his highest World Cup score to date. Afghanistan looked on the brink of defeat as they went 7 overs without a single boundary being scored and the runs coming solely from running between the wickets.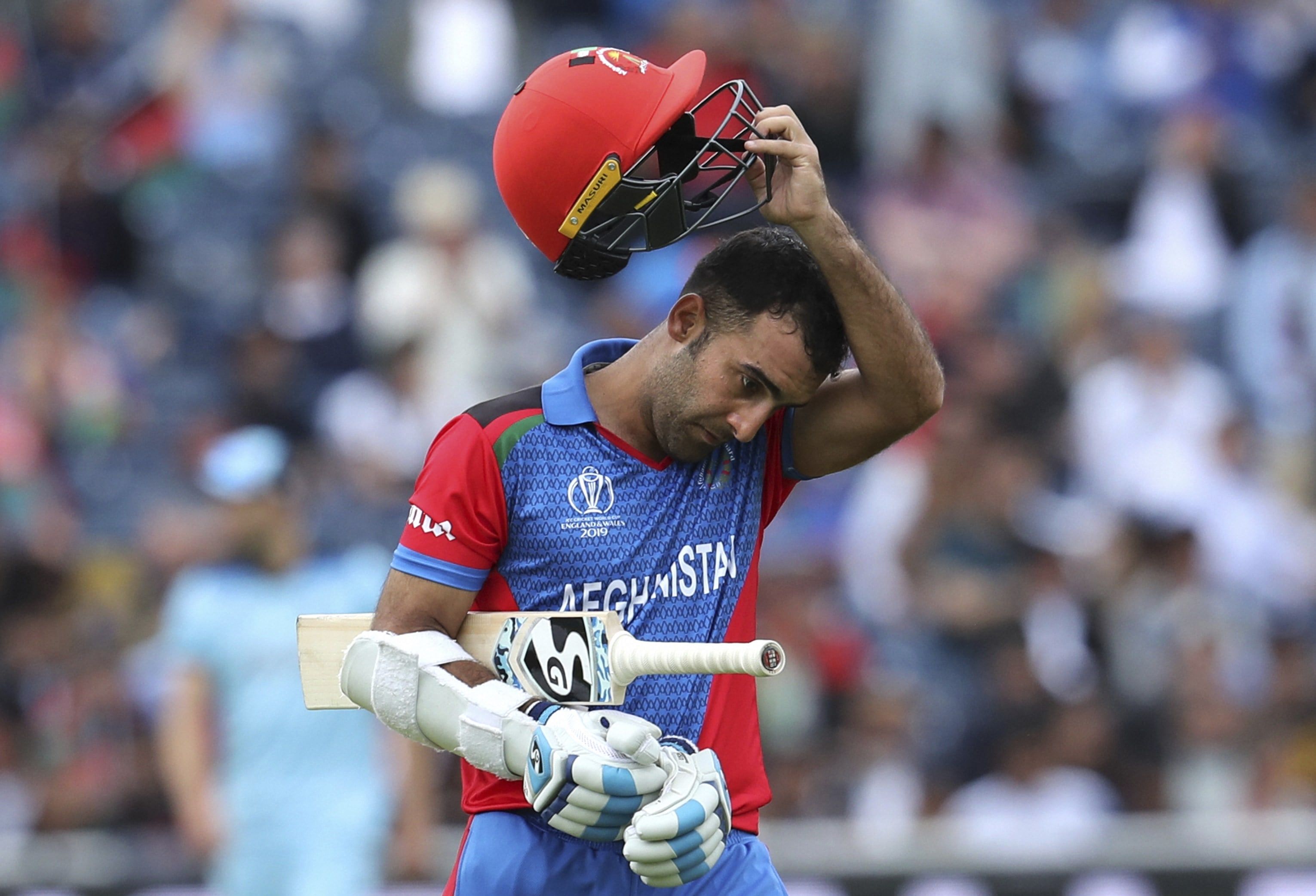 Afghanistan got a big scare when Hashmatullah got hit on the helmet by a Mark Wood ball. Joe Root looked to be wincing in sympathy for the batsman as medical staff converged to check on the player. Hashmatullah came back with a vengeance though and hit Mark Wook for a boundary and a six. Asghar Afghan got into the moment too and hit Adil Rashid for six. Hashmatullah got his second 50 in the tournament off 68 balls with a stylish boundary. It wasn't going to help his team win the match but the fighting spirit displayed by the batsman was admirable.
Mohammad Nabi struck out at 9 on a delivery by Adil Rashid. The ball was taken by Ben Stokes in a brilliant bit of fielding. The faintest of Afghan hopes were crushed when Hashmatullah returned to the pavilion at 76. It was a good effort but it had been England's day through and through. The experience difference between the two teams was painfully obvious.
Najibullah Zardan joined Hashmatullah for 15 giving Mark Woods his wicket of the day. It was just a waiting game by now to see if Afghanistan would play out the 50 overs.
Jonny Bairstow finally came through after dropping two catches and pounced the ball for Rashid Khan's wicket. Archer walloped a bouncer to Alikhil that crashed into his helmet on the last ball.
For this match atleast, Goliath convincingly beat David. England won the match, as was clear when they put up such a massive total. Afghanistan put up a good fight by scoring 247/8 in 50 overs but this was a score above their reach.
England now leads the table with 8 points while Afghanistan has failed to add any to its credit.
Also read: World Cup 2019: Jason Roy ruled out for the next two matches