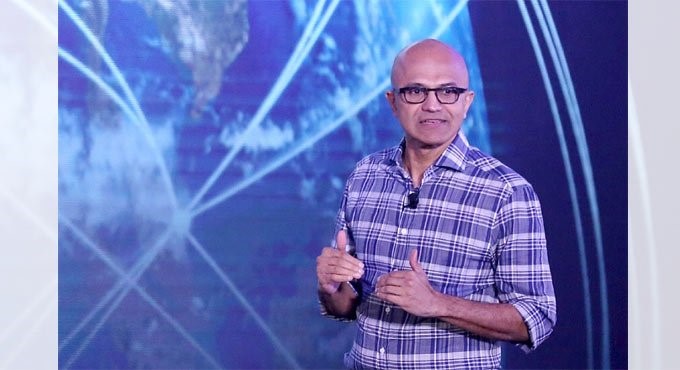 Desi tech leaders in US invest $120 million in American version of IPL
Indian-American business leaders including Microsoft CEO Satya Nadella and Adobe CEO Shantanu Narayen have invested $120 million in an IPL-style franchise Twenty20 cricket league set to be launched in the US in 2023.
Major League Cricket (MLC) announced in a press release that it has completed an initial close of a $44 million Series A and A1 Fundraising Round led by a group of "America's most successful and respected business leaders".
Also read: SRK follows Ambani, Adani to buy team in UAE T20 league
With an additional commitment of $76 million in further fundraising over the next 12 months in place, MLC plans to deploy more than $120 million to launch the country's first-ever professional Twenty20 cricket league and open a new era for the world's second most popular sport in the United States, it added.
The Shah Rukh Khan-led Knight Riders Group, the owners of IPL franchise Kolkata Knight Riders (KKR), the Trinbago Knight Riders (TKR) in the Caribbean Premier League (CPL), is one of the founding promoters of MLC. In April, the group said it is building a stadium in Los Angeles in partnership with MLC.
"Our investment in MLC in America, is based on our belief in the exciting future of cricket in the USA and is well aligned to our strategy of establishing Knight Riders as a global brand in T20 cricket. Plans to build a world class cricket stadium in the greater Los Angeles area is exciting for us and MLC. This will no doubt have a transformational impact on one of the world's most iconic metropolitan areas," Shah Rukh had said.
🚨🇺🇸UPDATE: @MLCricket and the Knight Riders Group are joining hands to build a world class cricket venue in the Greater Los Angeles metropolitan area in #USA. More details inside: https://t.co/PenIvm1Udl#BuildAmericanCricket #MLC #Cricket pic.twitter.com/oHAFP0GJ73

— KolkataKnightRiders (@KKRiders) April 29, 2022
According to MLC, "Investment in MLC will transform U.S. cricket landscape and fund the construction of world-class cricket stadia and training centres nationwide."
"The significant funding committed by an outstanding group of investors will allow Major League Cricket to build first-class facilities and accelerate the sport's development across the country, bringing world-class professional cricket to the world's largest sports market," said Sameer Mehta and Vijay Srinivasan, co-founders, MLC.
"This investor group comprises leading business executives and successful tech entrepreneurs who have led some of the world's most prominent companies. They bring tremendous experience and expertise in support of MLC's plans to launch a transformative Twenty20 league and establish America as one of the world's leading homes for international cricket events," they added.
According to the organisers of the six-franchise league, the $120 million investment into MLC will primarily be dedicated to building premier cricket-specific stadia and training centres to "develop a new generation of American star cricketers".
"This unprecedented infrastructure investment will transform the landscape for professional cricket and enable the United States to host global events over the next decade and beyond," they said.
Investor groups for the Series A and A1 Fundraising Round, which includes MLC's seed funding round, were led by Nadella and Soma Somasegar (Managing Director, Madrona Venture Group), Anand Rajaraman and Venky Harinarayan (Founding Partners at Milliways Ventures and Rocketship VC), Sanjay Govil (Founder and Chairman of Infinite Computer Solutions and CEO, Zyter), Anurag Jain (Managing Partner of Perot Jain, LP, Chairman of Access Healthcare) and Ross Perot Jr. (Chairman, The Perot Group), Tanweer Ahmed (CEO, PAK Foods, CEO, OUR Energy and Owner of Prairie View Cricket Complex), and the Baheti Family (Owners of YASH Technologies).
Additional Series A Round investors include Troy Detrick (Founder of Canyon Oak Ventures), Mihir Worah (Former Chief Investment Officer, PIMCO), Preetish Nijhawan (Co-founder, Akamai and Co-Founder and GP of Cervin Ventures), Manish Parikh (Co-founder and CEO, Icon Systems Inc), Vikram Ramani (CTO Banking, FIS Global), Sankar Kaliaperumal (Managing Director, Accenture), Dhigha Sekaran (Director at Meta and former Microsoft Executive), Shantanu Narayen (Chairman and CEO, Adobe), Singh Capital Partners (Family Office), Stuart Giles (Co-founder, ICON Group), Samir Bodas (Co-founder and CEO, ICertis), and Sanjay Parthasarathy (Chief Product Officer, Avalara; Former Microsoft executive).
MLC is exclusively sanctioned by USA Cricket. It says it is focused on staging world-class T20 cricket for American cricket fans and MLC will feature top players from around the globe and provide a stage for domestic cricketers to showcase their talents to a global audience.
The league will feature teams in major cities across the US, deploying the highest quality international talent playing alongside the best domestic players in the United States.
As the ICC's member body for the United States, USA Cricket has selected MLC as its exclusive partner for the development of a professional Twenty20 cricket league.
MLC will also provide support for both the USA's Men's and Women's teams, with the goal of elevating them to the highest level of international competition.
In 2024, the USA will co-host the ICC Men's T20 World Cup alongside the West Indies.
Here is the full investor list of MLC.
| | |
| --- | --- |
| Aditya Agarwal | Ex-Facebook and Dropbox CTO |
| Amish Mehta | Founder of SQN Investors |
| Amit Singhal | Former Senior Vice President at Google and Head of Google's Search team |
| Anand Rajaraman | Founding Partner at Milliways Ventures and Rocketship VC |
| Anurag Jain | Chairman of Access Healthcare, Co-Founder of Perot Jain, L.P. |
| Aravind Melligeri | Chairman & CEO of Aequs and founder of QuEST Global Services |
| Ashok Krishnamurthi | Managing Partner, GreatPoint Ventures and Founder of CAPP Medical and Xsigo. Former EVP at Juniper Networks. |
| The Baheti Family | Owners of YASH Technologies |
| Divesh Makan | Founder at ICONIQ Capital |
| Harsh Shroff | Quantitative Trader |
| Mayank Upadhyay | Distinguished Engineer, Google |
| Neeraj Arora | Former Chief Business Officer at Whatsapp |
| Raju Reddy | Founder and former CEO of Sierra Atlantic |
| Rishi Chandra | VP/GM of Google Nest |
| Rohyt Belani | Co-Founder and CEO, COFENSE |
| Ross Perot Jr. | Chairman of The Perot Group and Hillwood, Co-Founder of Perot Jain, L.P. |
| Sanjay Govil | Chairman of Infinite Computer Solutions and CEO of Zyter, Inc |
| Sanjeev Rao | Private Wealth Manager |
| Satya Nadella | CEO of Microsoft, part owner of Seattle Sounders |
| Shantanu Narayen | Chairman and CEO of Adobe |
| Shashin Shah | Founder, Think Investments and Director, Dream 11 |
| Soma Somasegar | MD of Madrona Venture Group, former Microsoft SVP, part owner of Seattle Sounders |
| Sravish Sridhar | Founder/CEO of Kintent and Angel Investor |
| Subrah Iyar | Founder of Webex, Founder and CEO of Moxtra |
| Troy Detrick | Founder of Canyon Oak Ventures and Commercial Real Estate Investor |
| Venky Harinarayan | Founding Partner at Milliways Ventures and Rocketship VC |
| Venu Palaparthi | CCO + Head of Regulatory Affairs at DASH |
| Vijay Shekhar Sharma | Founder and CEO of Paytm |
| Ram Varadarajan | Founder and CEO, Acalvio |