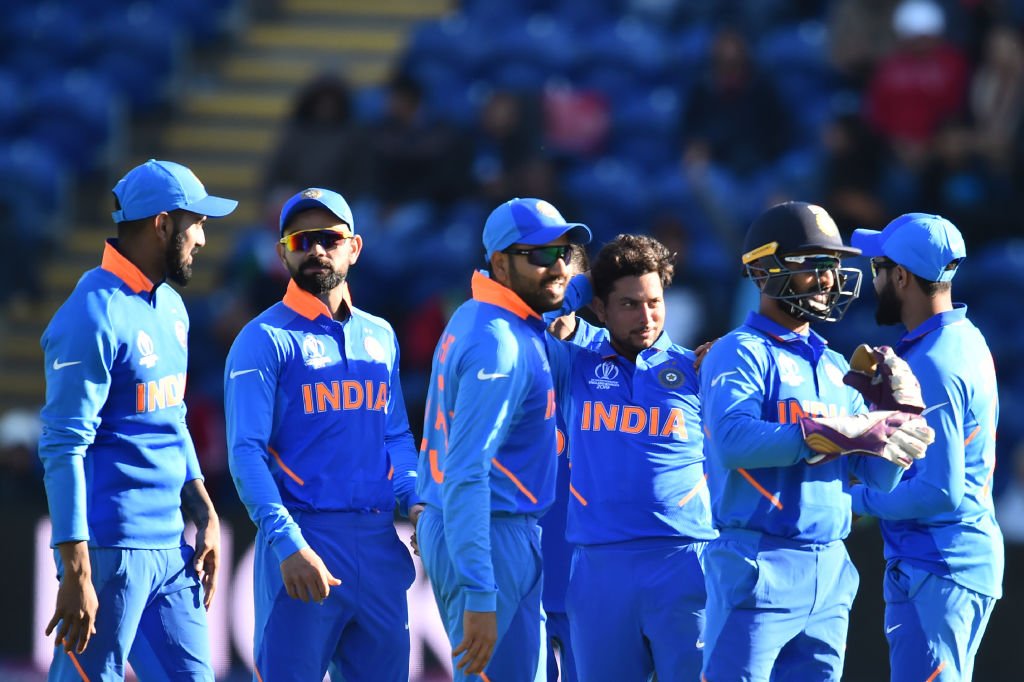 Cricket World Cup: Takeaways from India's warm-up games
The warm-up games are done and dusted and the dress rehearsals are over. India had a dampening start to their World Cup campaign as they lost their first warm-up game against New Zealand. The Kiwi pacers exploited the conditions beautifully as they exposed India's old woes against the moving ball once again. All India could manage was 179 and New Zealand chased it down without too much fuss.
However, India have been one of the most consistent teams in 50-over cricket. In fact, they have a win-loss ratio of 2.074 since the 2015 World Cup which is the second best.
Hence, it was no surprise to see them bounce back and beat Bangladesh in the second warm-up game. The 'Men in Blue' comprehensively beat Bangladesh to get some momentum behind them ahead of the main tournament. There were a few takeaways for Virat Kohli and his men from these warm-up matches.
So, the No. 4 debate is settled?
One of the biggest mysteries surrounding Indian cricket has been the No. 4 spot in the Indian ODI team. Since the last World Cup in 2015, no player has managed to stick on and cement his spot. As many as 12 players have batted at the coveted No. 4 spot in the last four years for 'Men in Blue'. It seems like they've been searching for a consistent and a solid No. 4 for eternity now.
For the better part of India's lead-up to the World Cup, it was Ambati Rayudu who played at that spot. However, poor form led to his axing. When the World Cup squad was announced, MSK Prasad voted for Vijay Shankar and it was his ability to contribute in all three facets of the game that tilted the balance in his favour. But more importantly, he got the nod as India's incumbent No. 4 from the chief selector. "Vijay Shankar is three dimensional. We are looking at him at No. 4 to begin with," MSK Prasad said in a press conference after picking India's World Cup squad.
However, an injury a day before India's first warm-up game ruled out the Tamil Nadu all-rounder for that game. Hence, KL Rahul got the chance to bat at 4. He has batted at 4 before but in just three games. He failed and it seemed like Shankar might take that spot if he's fit for the next warm-up game. However, the Karnataka batsman walked out to bat at No. 4 again, ahead of Shankar in the second warm-up game against Bangladesh.
Moreover, he struck a sublime 108 as he countered the conditions and the situations excellently. Rahul came into bat with India two-down for not too many and he was impressive against both spin and pace. He was severe on anything short and used his feet really well. He also rotated the strike beautifully. Hence, it was a timely innings for the Karnataka lad and this would do his confidence a world of good.
KL Rahul has batted in just three ODIs at No. 4 and may have well booked coveted No. 4 the spot, at least for now.
MS Dhoni's refreshing approach
In the last few years, MS Dhoni has developed a pattern to his batting. He largely takes his time at the start of his innings, gets his eye in and then goes for the big shots. He did the same in the first warm-up game against New Zealand before he fell for 17 trying to play a big shot.
However, in the second game against Bangladesh, the former Indian skipper went after the bowling pretty early in his innings. His approach was refreshing as he attacked almost from the get-go. Dhoni scored a brilliant 113 off just 78 balls as he continued his good form from the IPL. It's no secret that this is going to be a pretty high-scoring tournament and Dhoni knows that. Hence, India would love to see MS Dhoni bat in the way he did in the second warm-up game against Bangladesh. With Dhoni in this mood along with an in-form Hardik Pandya, could give India the right recipe at the death in this World Cup.
Same old story for the Indian openers when the ball moves around
It's always tough to face the new ball on a pitch which sports a greenish tinge with some bit of moisture and under overcast conditions. However, the Indian batsmen seem to have quite a few problems against the moving ball. It is no secret that the Indian openers are vulnerable against it big time.
That weakness was exposed twice in two games. Rohit Sharma and Shikhar Dhawan struggled in both the warm-up games. Dhawan was caught on the crease in both games as he struggled against left-arm pace. Rohit though did get a start of sorts in the second game against Bangladesh but it was a very scratchy innings.
Hence, the Indian openers didn't have the best of outings in these warm-up games. Rohit didn't have a great IPL either. However, the two of them have been a big part of India's success over the last few years and they've done well in multi-national tournaments.
Kuldeep gets some much-needed confidence
Kuldeep Yadav hasn't looked his best in the recent past. He had a lacklustre IPL where he picked up a mere four wickets from nine games. He went wicketless in the first warm-up game as well. The chinaman picked three wickets and got some much-needed confidence in the game against Bangladesh.
Kuldeep was seen slowly returning to his best as he deceived the batsmen in the air and off the pitch. He will be India's trump card in this World Cup alongside his spin-twin Yuzvendra Chahal.
Who will partner Jasprit Bumrah?
For the first time in a long time, India have a potent bowling attack going into the World Cup. In Jasprit Bumrah, India have one of the best all-format bowlers in the world at the moment. There's absolutely no doubt that he will be crucial in this tournament. Mohammed Shami and Bhuvneshwar Kumar are two other quality pace options to go along with India's weapons – Kuldeep Yadav and Yuzvendra Chahal.
The question is who will accompany Bumrah in the pace attack? While it's a good problem for India to have, India need to make the hard decision of choosing between Bhuvneshwar and Shami. Both of them went wicketless in the two warm-up games and had similar numbers. Shami looked in excellent rhythm in the lead-up while Bhuvneshwar has been doing well for the last few years. Thus, at the moment, it's quite difficult to gauge who will start alongside Bumrah.