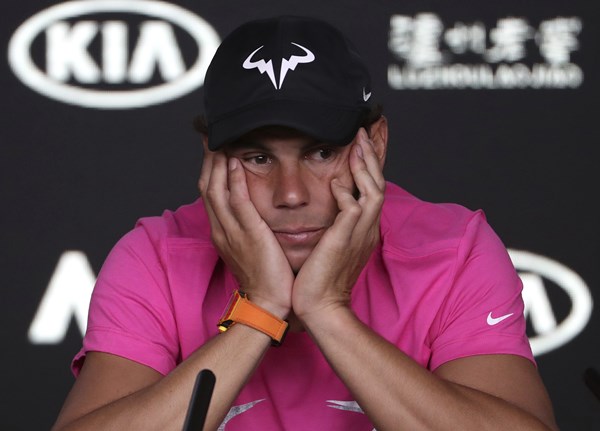 Clay court champion Nadal cries foul of Wimbledon's seeding system
French Open champion and World number 2 Rafael Nadal slams Wimbledon for seeding players on their own formula and not sticking to ATP and WTA rankings.
Among all the Grand slams, only Wimbledon seeds their players on their own, based on their grass court performance along with the player's ranking, which could boost any player in the top.
Wimbledon will announce the seeding's on Wednesday (June 26) and Nadal is likely to find himself seeded third behind defending champion Novak Djokovic and eight-time champion Roger Federer, who is currently third in the world rankings.
Speaking to Spanish TV station #Vamos, Nadal said: "If everyone did it, I think it would be appropriate or correct. Either way, being second or third seed, I have to play at the best level to aspire to the things I aspire to.
"It is better to be second than third, but if they consider that I have to be third, I will accept."
The Spaniard won the French open beating Dominic Thiem and secured runner-up in Australian open losing to World No. 1 Novak Djokovic this year.
Also Read: Twenty years after debut, can Federer lift ninth Wimbledon title?
Rafael Nadal, who possess a tough challenge in the clay court always find it difficult to perform well in the grass-court. Nadal won Wimbledon in 2008 and in 2010 and couldn't maintain his form in later years.
In support of Nadal, Wimbledon defending champion Novak Djokovic said, "It's their rules and you have to respect it, although it's a little bit surprising, to be honest,"
"Roger is the greatest of all time and has won the most Wimbledon titles of any player in history and if any player deserves it it's him, but at the same time it's Nadal that he is taking over (from as) the second seed", Djokovic said after playing at the Boodles exhibition event at Stoke Park in Buckinghamshire on Tuesday (June 25).
If Nadal is seeded third, Nadal might have to face Djokovic in semi-finals.
The 133rd edition of Wimbledon tournament starts at July 1, 2019, with Novak Djokovic and Angelique Kerber as the defending champions in the singles event.