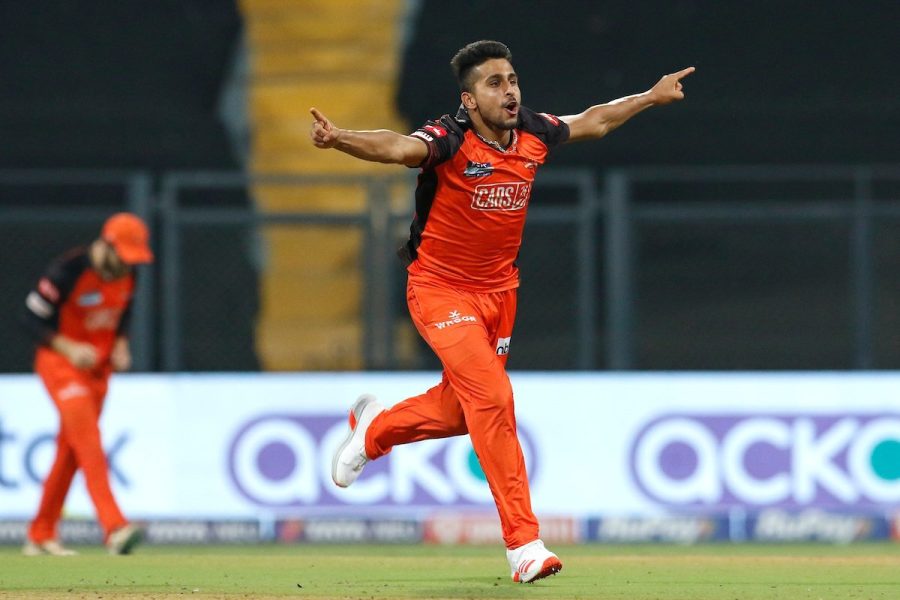 Can't delay, let us unleash Umran Malik, the thunderbolt, in Team India
As their campaign went decidedly south last season, Sunrisers Hyderabad introduced an unknown 21-year-old to the Indian Premier League. Few had heard of Umran Malik, but in three games in the second half of the tournament in the UAE, the right-arm quick did enough to suggest that this was a gem Indian cricket would do well to nurture.
The numbers weren't sensational; 12 overs fetched him just two wickets and he went at eight an over, but he had something the experts desperately look for in a player – the X factor. In Malik's case, that was sheer, raw, naked, unadulterated pace.
At the time of his IPL debut, Malik had played just one representative T20 game, for his state Jammu & Kashmir in the all-India Syed Mushtaq Ali Trophy T20 tournament. At the Alur ground in Bengaluru, Malik had provided the first glimpse of the mayhem he could uncork with a searing burst of three for 24, all his victims top-four batsmen, as he triggered a stunning collapse that saw Railways stumble from 104 without loss in 12.1 overs to a scarcely believable 133 for 9 in 20.
Malik had worked the Railways batsmen over with his unbridled hostility, though the commodity that troubles batsmen in domestic cricket, sheer pace, doesn't always rattle willow-wielders at the highest level. Or does it?
In the UAE last September-October, in the first glimpse the wider world had of this unpolished diamond, Malik rattled Kolkata Knight Riders, Royal Challengers Bangalore and Mumbai Indians, possessing the strongest batting line-ups of the competition. His first IPL victim was KS Bharat, the RCB wicketkeeper-batsman, caught behind, in his second game; he rounded off the season with the stick of MI opener Ishan Kishan, also caught by wicketkeeper Wriddhiman Saha.
The Sunrisers' management had seen enough to decide that they wanted to keep the faith when it came to the young lad. In a move that might have caught several by surprise, they retained the services of Malik ahead of Season 15 instead of sending him into the auction pool. That they were willing to dish out Rs 4 crore for someone who had played just three games for them suggested they had the wisdom and the sagacity to look beyond the numbers alone.
Also read: Umran Malik sets new pace record; here is the list of fastest IPL deliveries
Malik has reiterated the smartness and farsightedness of that move time and again this year. Between the IPLs, he played four matches for J&K in the Mushtaq Ali, picking up six wickets but conceding 9.56 runs per over. How would the Sunrisers treat him?
Very well, thank you, as it has turned out.
With Tom Moody restored to the head coach's job and South African legend Dale Steyn coming in as a bowling consultant, Malik has emerged as a central figure in the Hyderabad franchise's bid to turn around the dismal campaign of the last time around, when they only registered three wins and uncharacteristically brought up the foot of the table. The tearaway has not disappointed. After a slow, profligate start that might have forced some other teams to look elsewhere, Malik has come into his own, striking one major blow after another and striking terror in the hearts of the batsmen as he has established himself as a huge contender for a place in the national team.
Malik's is the classic risk vs rewards conundrum. Given how fast he bowls – 150 kmph is the norm rather than the exception with this strapping kid who has not a negative bone in his body and is temperamentally blessed – it is inevitable that he will occasionally be taken to the cleaners. Raw pace by itself doesn't intimidate like it used to, but there is more to Malik than just 150 kmph. He is remarkably accurate, possesses a mean yorker, uses the short ball as a wonderful weapon and, most importantly, doesn't just hustle in and hurl the ball at the batsmen. There is a method to the way he goes about his business that will do men far more experienced extremely proud, which is why he has already picked up 15 wickets this season in nine games at an excellent strike rate of a wicket every 13.6 deliveries and a perfectly acceptable economy rate of 8.44. He has one five-wicket haul and another four-wicket haul, he threatens stumps and toes regularly, and he heralds each success with a broad grin.
Malik knows he is more than just a star-in-the-making. He is a nearly-star, but he carries off that status with nonchalance and without frills. So, what next for him?
The logical progression will be an India cap, of course. But that supposition will come with the inevitable questions that crop up in such cases. Is he ready for international cricket? Is the volume of work he has put in enough for him to be fast-tracked to the next level? Should he not play a full domestic cricket season to show that he is the real deal?
Also read: Umran Malik should be fast-tracked into Indian team, says Irfan Pathan
Forget about all that, one says. Scrap the questions, ignore the doubters. Malik is as ready as he will be for international T20 cricket. Maybe not for 50-over action and certainly not for the longest format, but definitely for the 20-over thrill-fest. Unleash him when he is on top, feeling good about himself, in great mind-space. Don't wait for a season or two, by which time he might pick up an injury and go from 150 to the more commonplace 135-140 kmph bracket.
Malik is a rare, unique commodity in cricket. It's easy to say he is a rarity for an Indian bowler in that he tops 150 clicks, but how many in world cricket do so, prey? In the IPL, only Lockie Ferguson and Alzarri Joseph have touched 150, and Malik leads all-comers with a 154 kmph thunderbolt. His time is here, it is now. If not next month against South Africa at home, he must get a go when India travel to Ireland in July. India will do well not to miss the wood for the trees and allow Malik to bruise limbs and egos on a wider canvas.