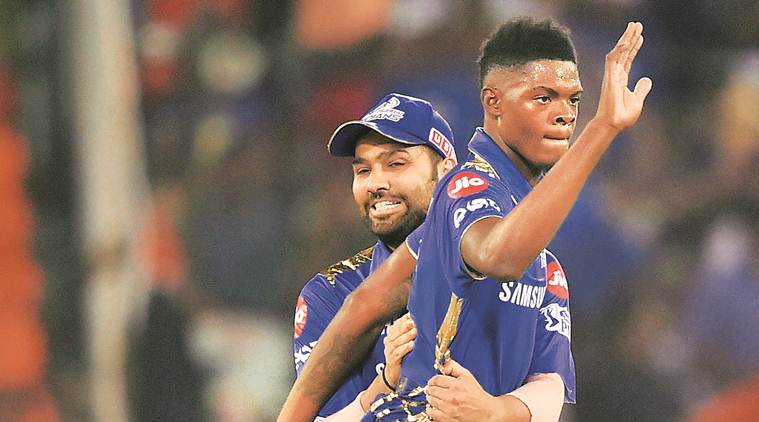 Alzarri Joseph's courage transcends his impressive bowling
In the words of celebrated American educator Bob Riley, "hard times do not create heroes. It is during the hard times when the 'hero' within us is revealed."
When you try to establish a correspondence between the above quote and the game of cricket, there are two 'heroes' who cross the mind — Sachin Tendulkar and Virat Kohli. Not for having a plethora of records under their belts, but for the way they defied personal tragedies to become two of Indian cricket's greatest batsmen.
Rewind to the 1999 World Cup. Four days after losing his father to a sudden heart attack, Tendulkar crafted a 140 not out against Kenya at the County Ground in Bristol. He put behind the biggest loss of his life for India to not suffer an early exit from the quadrennial event.
"After spending four days in India, I returned to England to re-join the team on the eve of the match against Kenya. That, it seemed to me, was what my father would have wanted me to do, and that's what prompted the decision to return to London to play the remaining World Cup matches," Tendulkar wrote.
The current Team India captain has a similar tale to tell. Just the night after his father's untimely death, the then 18-year-old Virat walked out to bat for Delhi in Ranji Trophy 2006-07 and scored 90 runs.
"It happened in my arms. It was 3 in the morning, and I was batting overnight. I was 40 not out, and I had to go in the morning and bat the next day because it was a four-day Ranji Trophy cricket. We just couldn't get help. We tried to get help from the neighbours, whoever we knew was a doctor. It was such a time of the night that no one responded. By the time ambulance and things came, everything was already gone," Kohli wrote.
"Tough times don't last, tough people do," goes the saying. Tendulkar and his contemporary best exemplify the truth in this hoary old saying.
Alzarri Joseph – a stalwart in the making
Sports is replete with stories of courage and among the latest of such stories to emerge from cricket is that of West Indies fast bowler Alzarri Joseph. On February 2, 2019, when West Indies registered a proud series win against a formidable England team, 22-year-old Alzarri was the boy of the moment.
Playing his first Test on his home ground, Alzarri received the darkest news imaginable, when his mother passed away before the start of play on Day 3. Few can be expected to attend work on such a day, but a courageous Alzarri continued to play the match, and also claimed the important wickets of England captain Joe Root and Joe Denly. Neither wicket was celebrated energetically, but the young boy was pillared by his teammates, who wore black armbands to mourn Joseph's loss.
"To see him in tears this morning was even harder, and we came together in the huddle and we just wanted to do it for him and we dedicate this day to him, his mom, and his family," skipper Jason Holder said.
Alzarri's Indian Premier League sojourn
Mumbai Indians picked Alzarri Joseph as a replacement for the injured New Zealand fast bowler Adam Milne for the IPL 2019. As per the auction rules, the replacement player can be paid only as much as the first-choice player was bought for at the auctions. Alzarri, thus, was handed over a contract of ₹75 lakh.
He made his debut against a formidable Sunrisers Hyderabad team, and registered the best bowling figures in IPL history. Alzarri's 6 for 12 broke the record set in 2008 by Pakistan's Sohail Tanvir, who took 6 for 14 for Rajasthan Royals against Chennai Super Kings. The tall and lanky pacer claimed the wickets of David Warner, Vijay Shankar, Deepak Hooda, Rashid Khan, Bhuvneshwar Kumar and Siddharth Kaul to hand Mumbai their third win of the season.
"Unbelievable. It's a great start. I don't think I could have asked for anything better. So I will really cherish this moment," Alzarri said at the post-match conference.
We are as amazed by his courage, as he is by his IPL debut. Even on the darkest day of his life, there was no stopping Alzarri from weaving magic with the cricket ball. Needless to say, West Indies don't have to worry about a pace spearhead for the next few years.