At 37 years, he is one of the oldest players in the current season of Indian Premier League (IPL). Over the course of 12 seasons, he has 203 sixes to his credit, becoming the first Indian batsman to hit 200 sixes in IPL, one shy of being number two on the list of players with most sixes in all seasons. In match 39 of IPL 2019, Chennai Super Kings (CSK) skipper MS Dhoni hit a massive six of 111 metres in the 20th over.
In his own swashbuckling style of sending the ball over the stadium roof, Dhoni hit 5 fours and 7 sixes, scoring an unbeaten 84 on Sunday (April 21). Along with hitting the longest six of the season yet*, captain Dhoni created a number of records. (*Biggest six of the tournament as on April 22 after the DC vs RR match)
He scored 4000 runs as a captain in IPL, scored his highest individual score in the league so far, 412 runs against Royal Challenger Bengaluru (RCB) in Bengaluru, the second highest aggregate against an opposition in their home-ground, the only batsman to score 20+ runs in the final over of IPL for four times.
Making 412 runs against Bengaluru, Dhoni averages 92.60 at the Chinnaswamy stadium, his highest in IPL. He has 23 half-centuries to his credit in IPL. He is also the first and only captain in IPL history to have guided the team to a 100 victories.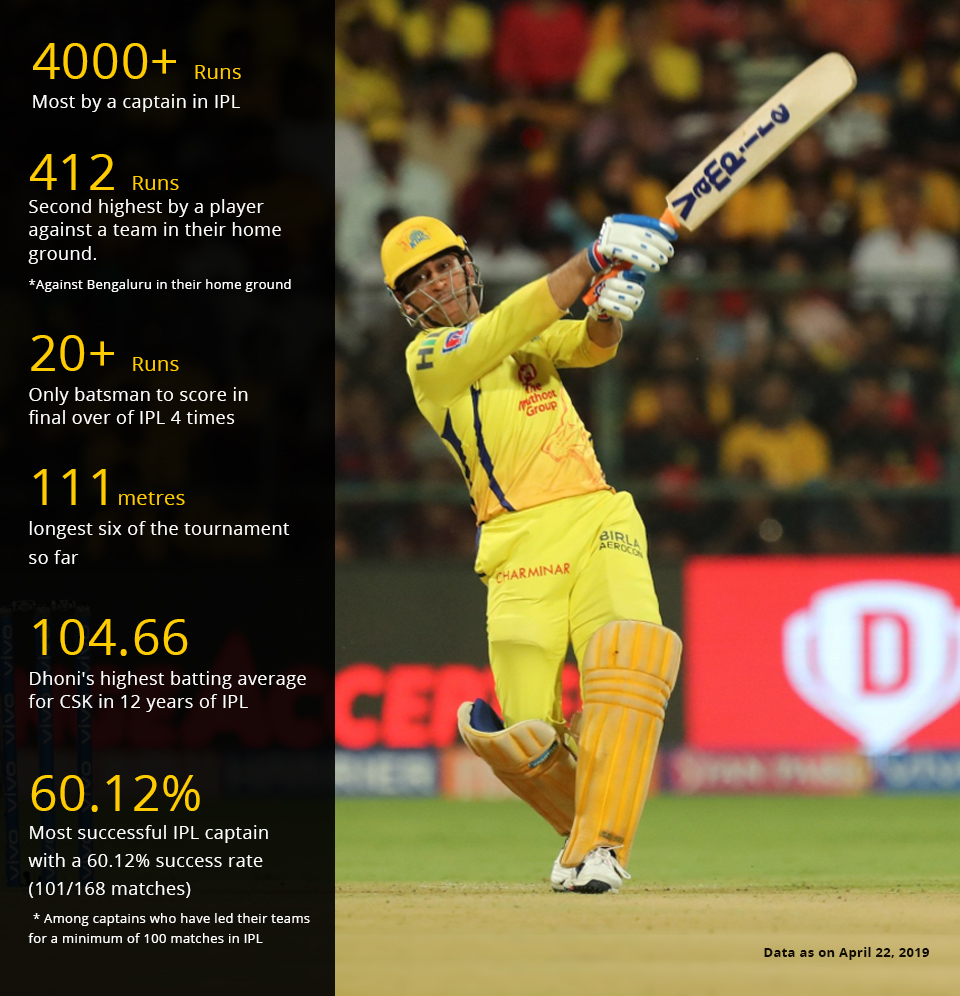 A lot has been written about Dhoni's supremacy as captain – he has led his team to victory three times, four runners-up finishes, Playoffs in all nine seasons apart from the Champions League T20 trophies in 2010 and 2014.
But what makes Dhoni, the batsman, a force to reckon with?
With an average of 42.03 and a strike rate of 138.11*, Dhoni is still a bowler's nightmare during the death overs, especially when he is chasing.  Former Pakistan cricketer Wasim Akram once said, "Dhoni is the only one in this world who can smash yorkers for sixes." (*2019 statistics as on April 22 after the match against RCB)
Dhoni and last ball six is his fans most loved partnership. As he approaches the twilight years of his careers, experts and critics expected his performance to slacken. However, Dhoni has had the best two seasons of IPL in terms of batting, in 2018 and 2019. He had an impressive strike rate of 150.66 last season, scoring 455 runs and averaging 75.83.
In just 9 matches (seven innings) this season, he has increased his batting average by a third from last year. 104.66 is his average this year and he amassed 314 runs already. Even in international games, statistically, Dhoni is known to exploit the last 5 overs. 45% of his 213 sixes have come at the death overs.
'Thala' as he is fondly called by CSK fans, contributes to his team in three-dimensions. As a captain, a batsman and as a wicketkeeper. With 89 catches and 35 stumpings, Dhoni has made the second highest wicket-keeper dismissals in IPL. Dhoni is also the most successful captain in IPL, with a win percentage of 60.12, winning 101 matches of 168. (Among captains who have led their teams for a minimum of 100 matches in IPL)
Twitterati goes crazy over his suave sixes
As he struck 3 sixes in the final over of the match against RCB, fans online went berserk over his vintage style innings. The 1-run loss to RCB was overlooked among his scintillating performance, say fans.
Uff! Some game! Cricket needs Dhoni to write its scripts.

— Harsha Bhogle (@bhogleharsha) April 21, 2019
Uff! Some game! Cricket needs Dhoni to write its scripts.

— Harsha Bhogle (@bhogleharsha) April 21, 2019
Dhoni for PM. Or have I said that before a dozen times ?

— Prannoy Roy (@PrannoyRoyNDTV) April 21, 2019
Mahi Hai Toh Mumkin Hai…..his calmness in a run-chase is a case-study. Kya player hai boss ?‍♂️ #RCBvCSK #IPL #Dhoni

— Aakash Chopra (@cricketaakash) April 21, 2019
Icebergs want to grow up and be Dhoni.

— Gaurav Kapur (@gauravkapur) April 21, 2019
MSD's brilliance as a batsman, his wicket-keeping skills that dismisses players within a split second and his dominance in the death overs is often engulfed by his captaincy. Behind the aura of Dhoni as a captain, he is backed by numbers in IPL and national games, an angle that is often overlooked.