The Indian Cricket Team undertook their last international assignment on March 13, more than two months before their World Cup sojourn. The 12th edition of the Indian Premier League (IPL) was thus their last competitive tournament to get in shape for the blockbuster ODI event, albeit in a T20 format. As Virat Kohli and co aim for India's third World Cup trophy, let us take a look at how the team's 15 men, who will represent the country in England, fared in their IPL report cards.
Shikhar Dhawan
Irrespective of how Shikhar Dhawan fared in the IPL, he will be key to India's chances in the World cup because of his impressive records in both ICC events and in England. In 18 games at ICC tournaments, the southpaw has 1113 runs at an average of 65.47 (five 100s and four 50s), while in 17 ODIs in England, he has amassed 976 runs at 65.06 (three 100s and four 50s).
But what's even better is that the experienced campaigner is coming into the tournament on the back of being the fourth-highest run-getter in the IPL's league stage (521 runs), which includes his highest individual T20 score – an unbeaten 97 against Kolkata Knight Riders (KKR).
Rohit Sharma
Little needs to be said for the four-time IPL winning captain's leadership skills, but his batting, to say the least, was poor this season. In order to get himself in groove for the World Cup, Rohit batted as an opener all through the season, but could not muster more than 405 runs in 15 games. However, he is one of the best ODI batsmen in the world, and will be looking to leave behind his T20 form at home and renew himself in the 50-over event.
Virat Kohli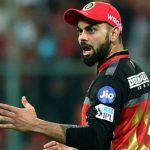 464 runs in 14 games at an average of 33 is probably not the best of the run-machine's IPL reports cards, but when donning the blue flannels, the skipper is an altogether different beast. In what is Kohli's third successive World Cup campaign and first as a skipper, his bat will be India's biggest weapon in England. Name one visual better than watching Kohli bat effortlessly in a run-chase? There is none.
KL Rahul
Although as an opener and not at number four, KL Rahul batted exceptionally well in the IPL this season – 593 runs in 14 games at an average of 42. It is still not decided on who will bat at number four – it could be MS Dhoni or Vijay Shankar or a last-minute reshuffle could also see someone from the lower middle-order bat higher up. But if KL gets a chance in the playing XI, it will only be as a back-up opener or second-choice number four.
Kedar Jadhav
India are still sweating over the availability of the all-rounder for the World cup after he suffered an injury during the IPL. That he was out of form for CSK (162 runs in 14 games) is only secondary to the lucky charm that he is for India. Statistically, the Maharashtrian is the fourth most successful ODI all-rounder globally, and that explains how his uncanny bowling and quick innings down the order is important to India.
 MS Dhoni
Three-time ICC trophy winning captain MS Dhoni had a terrific IPL 12 campaign, scoring 416 runs from 15 games at an average of 83, including three half-centuries. His wicketkeeping (16 dismissals), too, was a recap of when he was at the peak of his career. This augurs well for Dhoni's form in what is the veteran's last World Cup.
Dinesh Karthik
The KKR captain's poor form (253 runs in 13 innings @ 13.62) has sparked a debate over why Rishabh Pant should have made it to the World Cup squad instead. It is unlikely that Karthik will feature in India's starting XI unless MS Dhoni meets with an injury. But the Tamil Nadu wicketkeeper batsman will still be hoping to put this IPL campaign far behind him.
Vijay Shankar
Much like Karthik, Shankar's inclusion in the squad is also being criticised due to his poor IPL form. 244 runs in 15 games, and lack of trust from the captain for bowling – Shankar bowled only 48 balls in total, means that it will be difficult for the 'three-dimensional' cricketer to repay the faith national selectors have put in him.
Hardik Pandya
402 runs in 14 innings at a strike rate of 191.42, as well as 14 wickets with the cherry is an excellent form to go with into the World Cup. The all-rounder was Mumbai Indians' biggest impact player this year, delivering both with the ball and with the bat down the order. The only concern, however, is his economy rate which was in excess of 9 runs per over in the IPL.
Ravindra Jadeja
The all-rounder did not get to bat much for CSK this season, but made the most of the spin-friendly Chepauk track, grabbing 15 wickets from 16 games at an economy of 6.35. It will be interesting to see how captain Kohli utilises him on the green England decks. In case frontline spinners Kuldeep Yadav and Yuzvendra Chahal go wrong, Jadeja will be a reliable and experienced back-up.
Spin spearhead Yuzvendra Chahal and Kuldeep Yadav
18 wickets in 14 matches at an economy of 7.82 on Chahal's IPL report card, and four wickets in nine games at an economy of 9 on that of Kuldeep's, shows how the spin twins enjoyed contrasting fortunes in IPL 12. However, the duo has performed exceptionally well for India ever since becoming a regular in the team since the Champions Trophy 2017. Finger spin makes the two of them attacking bowlers, so it won't matter even if they leak a few runs on the fast England pitches as long as they are providing crucial breakthroughs. In the 18 ODIs the two have played together, the right-arm leg-spinner and the chinaman have picked up 75 wickets!
Bhuvneshwar Kumar
The senior-most pacer in the squad wasn't up to the mark in the IPL, leaking 92 runs in the first two games itself. 13 wickets in 15 matches at an economy of 7.81 is not a poor record, but it is substandard for a world-class bowler like Kumar of whom a lot better is expected. His bowling in the death overs is also a concern going into the World Cup and Kohli will only hope that the pacer redeems himself well in time.
Mohammad Shami
Kumar's lacklustre performances can be made up for by Shami, who took 19 wickets in 14 matches at an economy 8.68. Shami was the fifth highest wicket-taker this season, but his economy rate was a bit expensive. However, a lot on the batting-friendly England wickets depends on the wickets bowlers can provide, where Shami will play a crucial role with his variations.
Jasprit Bumrah
If there is one bowler who can promise India the World Cup, it is Bumrah. 19 wickets in 16 matches at an economy of 6.63 was not surprising from the bowler this IPL, given the reputation he has made for himself. His exceptional bowling in the death overs will be India's biggest asset on pitches that are a batsman's paradise.