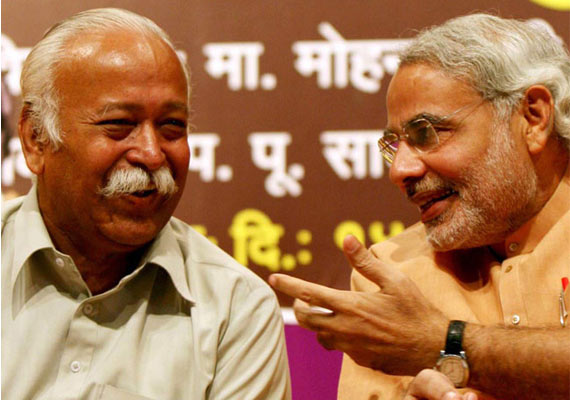 Podcast: BJP government committed to fulfilling RSS agenda
On July 5, on the occasion of Guru Poornima Prime Minister Narendra Modi through video conference, paid his obeisance to Mohan Bhagwat, the head of Rashtriya Swayamsewak Sangh or RSS, the Hindu nationalist organisation widely regarded as the parent body of the BJP.
Guru Poornima is celebrated as a festival in India where devotees revere their chosen spiritual teachers/ leaders and express their gratitude. According to R Rajagopalan, a veteran journalist if there were no Coronavirus, Modi would have taken a special flight to Nagpur to pay his respects to Mohan Bhagwat, who is called the 'Sarsanghchalak' of the RSS.
For long, RSS has been claiming that it is a social organisation with no interest in electoral politics. With the rise of Modi in 2014 elections and his reconfirmation in 2019, the relationship between the two entities are normalised to such an extent that nobody talks about it anymore.
Rajagopalan, who keeps a close eye on the BJP and its leaders says that the government is committed to fulfil the RSS agenda. Abrogation of Article 370 and 35A, law on Triple Talaq and starting the construction of Ram Temple in Ayodhya are three electoral promises already fulfilled by the government, which has pleased the RSS. Going ahead the government was readying to bring Uniform Civil Code into statute books.
He said with this the last of the promises made by the BJP to the RSS would be fulfilled. In the past when Atal Behari Vajpayee was at the helm of the union government as prime minister, he had an uneasy relationship with the RSS. Rajagopalan says Modi maintains a smooth relationship with the RSS because he realises that without its backing it would not have been possible for him to register two back-to-back massive wins.
Listen to the podcast for more details and juicy insights.