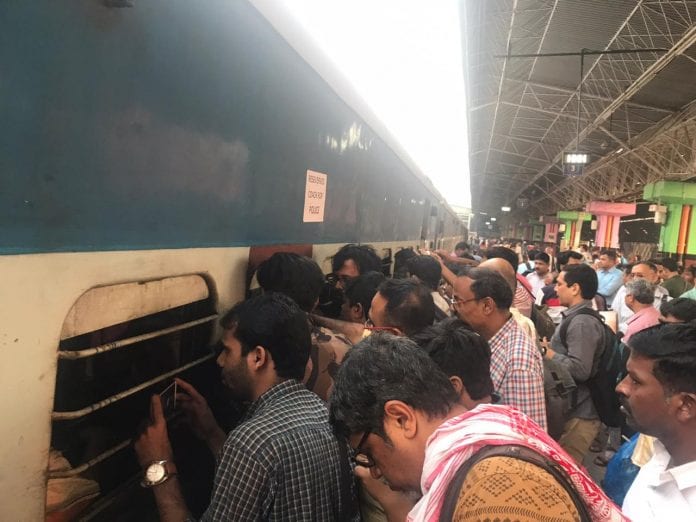 The hush-hush manner in which India reportedly carried out pushback of 59 alleged illegal Bangladeshi migrants in the wee hours of of Friday (November 29) speaks volumes about the handling of an emotive issue, which is currently dominating Indian politics, particularly in eastern India.
The clandestine operation was in sharp contrast to how 150 Indians were deported by US authorities for either violating visa norms or illegally entering America, just weeks before India's "mission push back". A month ago, another 300 Indians, including a woman, were deported by Mexican immigration authorities for illegal-entry into their country.
These incidents reconfirmed the impossibility of totally shutting out people from illegally migrating from a lower-income country to a higher-income nation. Some desperate people will always traverse even thousands of perilous miles looking for better opportunities. Hence, it's imperative to regulate the movement, making it transparent, humane and legal.
But the growing prejudice against migrants comes in the way of taking a more open approach towards the problem of so-called illegal migration. The prejudice is shaped by myths that have been associated with the issue.
According to a report of the International Organization for Migration, the percentage of migrants in the global population increased from 2.9 percent in 1990 to just 3.5 percent in 2019, and only a minuscule part of it comprises illegal migrants. Yet, migration continues to be the most divisive issue across the globe.
Also read | Mysterious case of Bangladeshis: Trafficked, hunted and now missing
In the Indian context too, the problem of illegal migrants is blown out of proportion. For instance, let's take the case of Assam, the state which first raised the bogey of illegal migrants in the country. Varied statistics of illegal migrants have been conjured up over the years on the basis of flimsy intelligence report or fertile political imagination.
In an official letter dated July 11, 1969, Assam's then-joint secretary (home) Madan Prasad Bezbaruah informed the then Assam Jamiat president Sheikh Ahmed Ali that there was no foreigner in the state. Subsequently, Bimala Prasad Chaliha-led Assam government announced on the floor of the assembly the dismantling of all foreigners tribunals.
Two decades later, another chief minister Hiteshwar Saikia told the Assam assembly that there were three million illegal Bangladeshis residing in the state. He, however, soon retracted his statement in a public meeting.
During the anti-foreigners agitation of 1979-85, the influential All Assam Students Union (AASU) claimed there were five million "foreign nationals" in Assam. In 1997, India's then-Union home minister Indrajit Gupta pegged the number of illegal migrants in India at 10 million. LK Advani, six years later, doubled the number to 20 million. A year later in 2004, the home ministry revised the number to 12 million. In an affidavit filed before the Supreme Court in 2012, the ministry again claimed that there was little possibility of foreigners being included in Assam's electoral rolls as it went through several revisions.
The final list of the National Register of Citizens (NRC) published on August 31 this year, now stripped citizenship of 19,06,657 people. Among those who flunked the NRC test are family members of a former President of India, a former MLA, retired government employees, ex-servicemen and several indigenous Assamese people, putting a serious question mark on the rationality of the exercise, which harmed many of its own citizens.
Also read | The dark, long road home: Bangladeshi migrants relive horrors of cross over

The NRC process, which took 10 years to complete, and cost the government a whopping ₹1,220 crore, has denied citizenship to an honorary flight lieutenant of Indian Air Force just because of some "clerical errors". It's not just an isolated incident. Yes, that's exactly how flippant the exercise was.
The government, however, is not perturbed. It seeks to bin the process not because it found it flippant or discriminated against many genuine Indian citizens, whom the State is duty-bound to protect. Rather, the burial of Assam NRC has become necessary for the ruling BJP as it has failed to serve the party's political agenda of depicting Assam being swarmed by "Bangladeshi Muslims", whom BJP president Amit Shah infamously termed as "termites".
To achieve its avowed goal, the Union government is now pushing for a nationwide NRC. Addressing an election rally in Jharkhand, Shah on Monday (November 2) set a 2024 deadline for identifying and deporting each and every illegal migrant from Bangladesh. Obviously, he did not give any estimate of how many genuine Indians would have to sacrifice their citizenships for his ambitious political project. For our own guesswork, we, however, have a prototype in Assam's NRC.
The Union home minister also avoids telling us how India proposes to deport even if it detects illegal migrants through a pan-India NRC exercise. It has time and again assured Dhaka that the NRC would not impact Bangladesh. Hence, it's obvious that New Delhi is not even considering taking up the matter with Dhaka to work out a bilateral mechanism to mutually resolve the issue. Moreover, Bangladesh, as expected, has been denying illegal presence of any large number of its citizens in India. In such a scenario, India is left with only one option of "stealthily" pushing back those it considers as illegal Bangladeshi migrants. But such a clandestine operation could be pulled off only when the number of perceived illegal migrants is very small. It was none other than former prime minister Atal Bihari Vajpayee who had admitted that to try deport illegal migrants was unrealistic.
For the sake of argument, even if we assume that India succeeded in "pushing back" all illegal migrants, where is the guarantee that after a few years the issue would not be raked up again for political dividend.
Also read | Lack of repatriation laws could push Bangladeshi migrants to no man's land
A prerequisite to a viable solution to the problem is shunning of prejudice. The problem should not be over-magnified to target minority Muslims by conjuring up an astonishingly high figure of illegal migrants. The problem also should not be viewed from the narrow prism of national security, when there is no evidence to link migration to terrorism. It's an economic problem and should be viewed as one.
Since 2006, Bangladesh has biometric data of its citizens. India should try and convince Bangladesh to help it identify Bangladeshi citizens residing illegally in India using the database. To incentivise Dhaka to do so, New Delhi should consider giving short-term work permit to those whose nationality as a Bangladeshi was established. This could open up for Bangladesh another avenue of getting remittance, the mainstay of Bangladesh's economy.
Bangladesh has already used such bilateral mechanism to curb illegal immigration and boost its economy with countries like Malaysia, Saudi Arabia, the United Arab Emirates, Japan, Qatar, Kuwait, China, Republic of Korea, Oman Jordan and others.  In 2017, it allowed legal migration of 1,000,525 workers to these countries and earned USD 13.53 billion in remittance.
Unfortunately in India, as politics gets better of pragmatism, rhetoric and whipping of sentiments dissuade any such genuine attempt to solve the persistent problem.