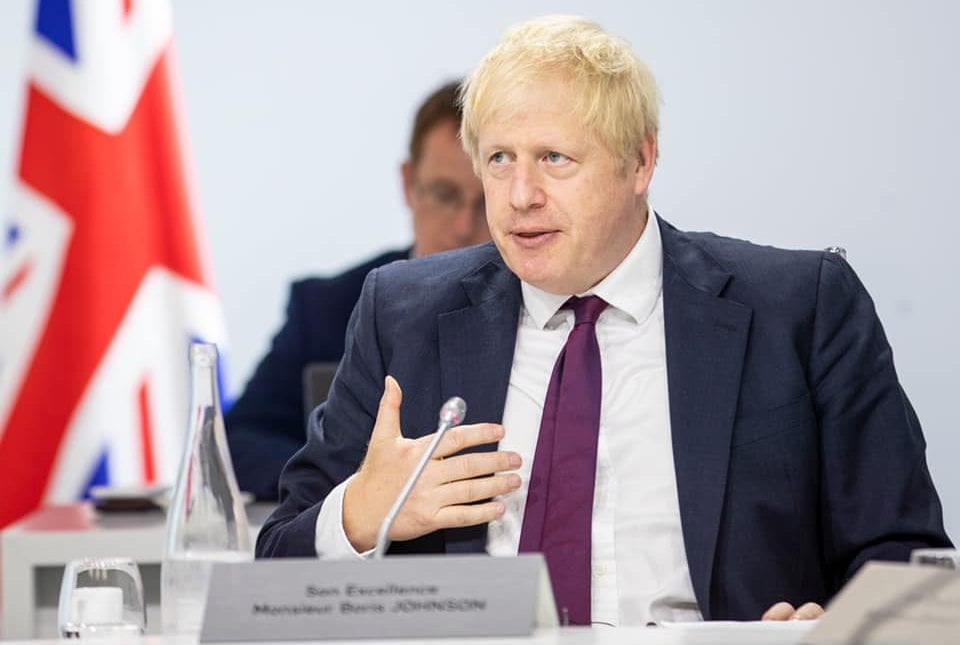 Trust vote through, but Boris Johnson's end could be near
Apart from Conservative MPs, even staunch Tory party members, donors and voters have become disillusioned with the PM, and not just because of Partygate
British Prime Minister Boris Johnson may have survived the dramatic no-confidence vote held by Conservative party members of Parliament by the skin of his teeth, but it has laid bare how much his popularity has waned in the last year ever since the 'Partygate' scandal erupted.
It may not be the end of his prime ministership, but it is certainly the beginning of the end for the British leader, who went from being the Tories' most reliable vote-getter to a scandal-ridden figure, whose job has been in peril ever since reports of the illicit lockdown parties in Downing Street emerged in November last year.
Boris, as he prefers to be called, won the vote with 211 MPs voting in his favour, as opposed to 148 voting against him, falling short of the simple majority needed for his ouster. After winning the vote with 59 per cent of MPs still showing confidence in him, Boris vowed to stay on and "lead you (Conservative Party) to victory again (next election) and the winners will be the people of this country".
However, historically, any Tory prime minister who has been subjected to such a vote and even when they win, is eventually drummed out of office. In 1990, Margaret Thatcher faced a similar leadership challenge and survived with roughly the same proportion of MPs voting against her, but her cabinet rebelled and she was forced to announce her resignation within 48 hours, after being leader of the party for 15 years and prime minister for 11 of them.
Neville Chamberlain, another Tory prime minister, felt compelled to resign after 101 of his MPs failed to vote for him after Britain was unable to liberate Norway in 1940. But Boris is no Chamberlain. He has had to apologise to the House of Commons umpteen number of times, paid fines for breaking laws he made, been told by senior Tory leaders 'in the name of God, go' and even been booed by the public as he and his wife Carrie entered St Paul's Cathedral to attend a thanksgiving service for Queen Elizabeth II, but he has stuck to his chair.
Also read: From 'Dishy Rishi' to 'Fishy Rishy', Sunak's popularity goes for a toss
What is striking is that no rebellion has built up against Boris since the vote. A number of colleagues have expressed their loyalty, including the Indian-origin Chancellor of the Exchequer Rishi Sunak, who tweeted, "The PM has won the confidence vote, it is time to move forward." Rishi, like Boris,  has had to pay fines for breaking lockdown rules and has seen his own popularity tumble over his wife's non-domiciled tax status was reported.
Oddly, no government minister has resigned, despite 10 or 11 out of a total of 79 are suspected to have voted against Boris, nor has any of Boris's leadership rivals tried to seize the narrative to remove him.
However, it would be wrong to think that Boris is now safe till the general elections in 2024. According to current Tory party rules, a no-confidence vote can only be held once in a year, but Grahame Brady, chairman of the 1922 committee, has suggested that rules can be changed to allow a second no-confidence vote later this year, much as it threatened to do in 2018, after prime minister Theresa May prevailed in the first vote and which persuaded her to negotiate her exit six months later.
The rebels may have retreated for now out of sheer exhaustion but they are bound to return. Boris has definitely become a lame-duck prime minister, and his rivals in the cabinet are likely to grow in confidence as time goes by. Bets are already being placed on how long he has left and autumn is emerging as the odds-on favourite.
Rebel Conservative MPs are looking forward to the inquiry by the privileges committee into whether the prime minister lied to Parliament about Partygate, first telling the House of Commons there were no parties in Downing Street, then saying he had been told there were no parties, before finally admitting there had been parties after the Sue Gray report exposed his lies. If the privileges committee inquiry finds Boris guilty then he can be suspended from Parliament and that would surely be the end of his career. The inquiry is likely to give its report in the autumn, when the Tories hold their annual party conference.
Also read: 'Vanity trip' to India did little to exonerate Boris Johnson from Partygate scandal
Downing Street has been threatening that if the party deposes a proven vote winner like Boris, the next election will see a Labour or an Opposition coalition government. Boris himself warned, "If we were so foolish as to descend into some pointless fratricidal debate about the future of the party when, frankly, there is no alternative vision I am hearing", then it would lay the ground open for the Opposition. However, many Tories believe that Boris is now more a liability than an asset.
Apart from Conservative MPs, even staunch Tory party members, donors and voters have become disillusioned with Boris and not just because of Partygate. Under Boris, they feel they do not recognise the government as being the low-tax, business-friendly Conservative government they expect, particularly in the last year with what they see as quasi-socialist policies being churned out by the prime minister and his Chancellor of the Exchequer.
On June 23, two crucial parliamentary by-elections will be held in Wakefield and Tiverton and Honiton constituencies. Both these seats were won by the Conservatives in the last election and the by-elections were necessitated when the sitting MPs had to resign under the cloud of sex scandals. Reports from both constituencies show that the Tories are fighting a losing battle. If the results are as bad as many Tories fear, then Boris may be forced to resign in order to give another leader two years to regain the confidence of the electorate before the next general election.
If Boris were to make an honourable exit, he could restore some of the enormous affection and respect he has lost among Conservative MPs and voters alike. However, judging by Boris's track record, he is unlikely to go easily and will eventually have to be pushed out kicking and screaming.