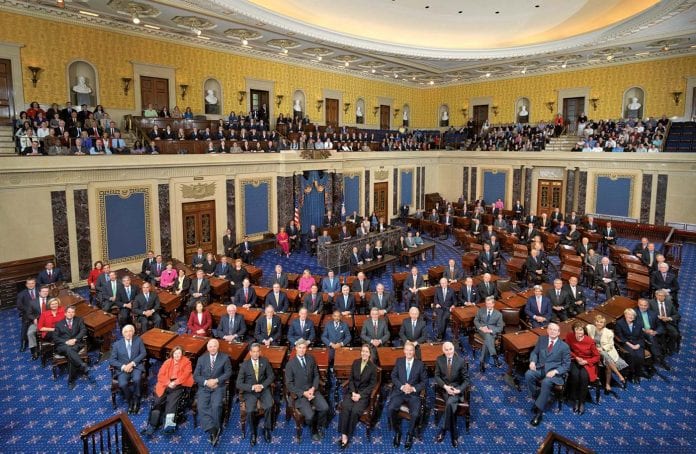 The stage is all set for February 9 in the United States, as the Senate prepares to start former President Donald Trump's trial, on a single charge of inciting violence on Capitol Hill on January 6, which left five persons, including a police officer, dead.
The impeachment process in House of Representatives breezed through as 10 Republicans joined Democrats to approve the resolution to send it to Senate, where Republicans and Democrats will act as jurors and judges, to ascertain if Trump can be convicted for being an 'inciter-in-chief'. Tempers are already running high with Republicans outraged that Democrats can even consider calling witnesses in the Senate, when they had none of this at the House of Representatives.
Outside the political spectrum, many are deliberating whether the country really needs this charade or circus at this point of time. Constitutionally, the question that has been raised is whether the Senate has even the power to try a person, who is no longer in office. One of the arguments put forth is that the notion of an impeachment itself is only to throw someone out of office; not to go after a person who is already out of office.
Advertisement
Also Read: A disgraceful turn of events for President Donald Trump
On the other hand, some argue that not prosecuting someone out of office means giving them a licence to do something outrageous in the last days of a tenure, as what Democrats say the 45th President did. In fact, the Senate itself wrestled with this constitutional aspect only to be voted down by a simple majority.
But the last word on the subject has not been said, especially if Democrats insist on witnesses and have their way. Even without any witnesses, Trump's legal team can be expected to make the argument that the entire impeachment process aside from being a "public relations stunt", is unconstitutional. Further, others point out that Trump's legal team is certain to emphasise that the former President merely made a political speech that is protected constitutionally. And, at no time did he ask his supporters to indulge in violence. The first shots have already been fired along these lines, after the impeachment trial's Lead House Manager asked the former President to testify.
"The President will not testify in an unconstitutional proceeding," snapped Jason Miller, a senior advisor to Trump. Senior Republicans like Senator Lindsey Graham of South Carolina too have warned Democrats of a protracted process should witnesses be called.
"If you open that can of worms, we'll want the FBI to come in and tell us how people actually pre-planned these attacks and what happened with the security footprint at the Capitol. You open up a Pandora's box, if you call one witness. I hope we don't call any and we vote and get this trial over next week — when it starts," Graham told Fox News.
Also Read: US President Donald Trump acquitted of all impeachment charges
There is little to indicate at this time whether 17 Senators are willing to abandon the Grand Old Party and throw the former President under the bus. At the very best, even the most optimistic believe that no more than four or five Republican Senators will join Democrats to convict Trump. But the larger question is, will a wrong message be sent out even if Trump gets acquitted? And, that this can be used by the former President's supporters — that he had somehow 'won' and that Trump's stance on massive voter fraud stands vindicated. Worse, the high-pitched rhetoric would only fan the flames of a highly divisive America that is currently at the peak of political polarisation.
"We'll get the worst of all worlds: a divisive impeachment trial that inflames half the country and that brings no vindication for the other half. Given the importance of condemning Trump's destructive actions, the message sent by an acquittal may be worse than no trial. And, further, the result may complicate any effort by criminal-law enforcement to investigate and indict Trump for inciting insurrection… As we look ahead, then, even those of us who supported impeaching Trump for his catastrophically dangerous conduct in January, in the hopes of removing him, might reasonably feel dread at the consequences of trying him for it in February," said Jeannie Suk Gersen, a contributing writer for The New Yorker and Professor at Harvard Law School.
Elders in the Democratic Party are maintaining a stoic silence, as if to imply that they are above the fray and the impeachment is only a matter for Congress. In the process, they forget that there are bigger political implications, if Democrats are seen as nothing more than a bunch of vindictive people trying to settle scores with a former President, who has already faded away. Joseph Biden has made it to the White House fair and square, but the Democrats have not made any major inroads in Washington DC or State Capitals; and the Congressional elections in 2022 is a grim reminder of the stakes involved, especially with the GOP waiting to take back control of the House of Representatives and the Senate.
Continuing to keep the focus on Trump keeps the former President's base not only agitated and alive but also united; and not to overlook the fact that 75 million voted for Trump in the November elections, which is by no means a small number.
(Formerly a senior journalist in Washington D.C. covering North America and the United Nations, the author is currently a Professor of Journalism and Mass Communication at the College of Science and Humanities, SRM Institute of Science and Technology, Chennai)