The 45th President of the United States has been obsessed with many things; and one of them has been that he has not been awarded the Nobel Peace Prize! Just why he should have been given the coveted prize is best left to him to answer; but he has been fixated on the prize just because the former President Barack Obama got it just months after he stepped into the Oval Office in 2009. But Donald Trump has been hinting rather openly that he should have been given the Nobel Peace Prize for his efforts on the Korean Peninsula even without getting anything from Kim Jong Un after at least three meetings including two formal summits in Singapore and Vietnam.
Now with the Nobel Peace Prize turning out to be an elusive dream, President Trump better not be attempting to win a Nobel Prize in Science for his loud thinking on ways to come to terms with the coronavirus, a pandemic that has taken the lives of nearly 53,000 Americans so far and leaving more than one million infected. In one of his brilliant 'intellectual'  moments — later on sheepishly passed off as sarcastic or even a rhetorical query to reporters — the President said that perhaps injecting a small amount of disinfectants could perhaps do the job of coming to terms with the deadly virus that was taking its toll globally.
Related news: Trump 'sarcastically' suggests injecting disinfectants, cos. warn against it
Advertisement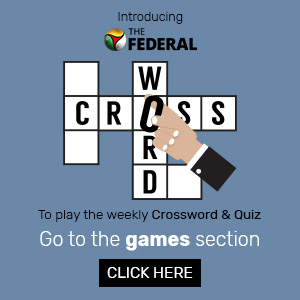 With falling oil prices Trump mercifully did not explore the idea of people ingesting small quantities of gasoline and topping it off with a lighted match on the premise that if the gasoline did not take care of the virus, the inferno that followed would have incinerated the coronavirus. Thank the Lord for small favours!
White House staffers and advisors were not the only ones stunned at the President's width and depth of scientific knowledge; makers of bleach, Lysol and Dettol rushed to warn customers not to experiment with anything other than what their products were intended for. And all this was unfolding even as reports came in from New York that some 20 persons had already consumed some sort of bleach or disinfectant; fortunately no fatalities have been reported. And the first impact has already been reported from the White House: for a person who loves to hear his own voice and for long periods of time, Trump will no longer hold forte for more than 20 or 25 minutes at press briefings and will take no questions. Just how long this will last is anybody's guess. No staffer would seem to have the guts to stop Trump if the last four years have been anything to go by.
The scientific 'brilliance' of the President has naturally set off tongues wagging on why it was that Trump suddenly let loose his line of thinking: was it because of a perception that this line of treatment that even the biggest loonies among the quacks may not touch with a bargepole would actually work? Or was it because President Trump has been really worried about his slipping in polls against the presumptive Democratic opponent Joseph Biden, especially in critical battleground and swing states that he is not able to think straight or stay focused? Many political analysts are convinced that the politically smart Trump and his advisors are getting the message: the administration's handling and bungling of the coronavirus pandemic is taking a toll and the longer President Trump stays on television, the more politically detrimental it is, from a re-election point of view.
Related news: Biden may be on a roll, but Sanders not ready to give up yet
It is just a little over six months to go for the November 3 elections showdown and the conventional wisdom is that opinion polls tighten during this period of time. Still what has rattled the President's re-election team is that Trump trails Biden among registered voters in the battleground states of Wisconsin, Michigan and Pennsylvania that he very narrowly won in 2016. According to an Ipsos poll done in those three states between April 15 and 20, 45 per cent of registered voters said they would support Biden as opposed to 39 per cent for Trump. What is also being pointed out is that in spite of portraying himself as a "wartime President" fighting an "invisible enemy", Trump's national standing in a separate Reuters/Ipsos poll showed Biden with an 8 point advantage, with support for the Democratic candidate rising nationally in each of the last three weeks.
The bottom line: Trump's handling of the pandemic is coming under closer scrutiny and taken in context of the economic chaos that has cast a gloom against a backdrop of 26 million Americans filing for unemployment benefits over the last five weeks is definitely a cause for concern and alarm. Some argue that Hillary Clinton had a lead over Donald Trump in the three battleground states in 2016 and still lost them in the final analysis by one per cent difference. In the latest Ipsos poll, registered voters disapprove of the incumbent President more than those who approve of him: in Wisconsin by six per cent; in Pennsylvania by four per cent and in Michigan by eight per cent. And it is pointed out that the top concern in all three states is coronavirus where more than 4500 people have died combined. The poll showed coronavirus with 48 per cent as the highest concern followed by economy (15 per cent); healthcare (12 per cent) and immigration (2 per cent). About 47 per cent of all registered voters in three states approved the federal government's response, but substantially lower than the 67 per cent approval rating of the State Governor's handling of the pandemic.
Related news: A very rare genius: Coronavirus, immigrants and Donald Trump
Quite apart from the Ipsos and Reuters/Ipsos polls, a Fox News poll between April 18 and 21 in Florida, Michigan and Pennsylvania also showed a Biden lead over Trump; and in all three states Biden owed this to women voters — leading Trump by 12 percentage points in Florida; and by about 20 percentage points in Michigan and Pennsylvania. And a Quinnipiac University poll of Florida showed Biden with a small 46 to 42 per cent lead over Trump and with the Democrat showing a 7 percentage point lead among Florida Independents. A few other national polls have shown Biden getting the better of Trump by 10 percentage points; and the Democrats seems to be doing well with Independents, a group of voters that Trump strategists are actively courting for 2020.
One thinking in the political community is that Biden's relative silence in the wake of what is going on is not to his advantage. That said, analysts are also pointing out that Trump's long drawn out appearances at the White House on the coronavirus has not exactly helped him — perhaps has even hurt him. "Trump is dominating the news in the midst of a crisis, but he is not using the platform he has to materially improve his position in the horse race. If Trump were cutting into Biden's national lead and consistently leading in key states that won him the White House, Democratic concern would be warranted. But that is not what is happening," says Kyle Kondik of the University of Virginia's Center for Politics.
(The writer was a former senior journalist in Washington D.C. covering North America and the United Nations)
(The Federal seeks to present views and opinions from all sides of the spectrum. The information, ideas or opinions in the articles are of the author and do not reflect the views of The Federal)