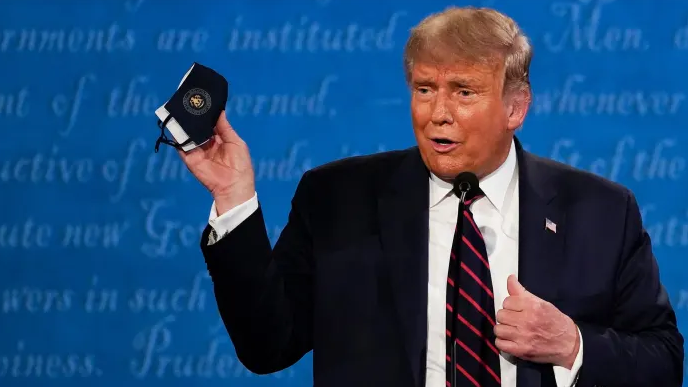 Neither Donald Trump nor the White House have been known for their straight talk; and when things fall flat the entire team is on a desperate run to lay the blame on someone who perhaps had nothing to do with the problem. Take the latest issue of the President being infected with the coronavirus: the White House and the President's physician, Navy Commodore Sean Conley, are yet to firmly put a date and a time as to when Trump was diagnosed with COVID-19—was it Wednesday or late Thursday? Did the President know that he was down with an infection and still travelled to New Jersey for a political event?
Was the White House aware that Presidential advisor Hope Hicks may have already been down with COVID-19 when she travelled on Air Force One with Trump for the first debate? Was the President administered oxygen at the White House before being transferred to the Walter Reed Military Hospital in Bethesda, Maryland? The short answer to all questions is along expected lines: the President is doing well, is cheerful and not on oxygen! In the absence of straight answers, media reports out of Washington have been left with no other option than to go about seeking information from "sources" not authorised to speak, leaving the President and the White House with a convenient comeback: Fake News.
Related news: Trump pays the price of being in denial after testing positive for COVID-19
Advertisement
The reluctance to part with information has led to a lot of speculation including that the whole thing to do with Trump and COVID is a big hoax foisted on the American people to help him garner some sympathy, leading up to the second debate between the Presidential contenders at Miami, Florida on October 15 after the embarrassing show by Trump at Cleveland State University. Of course the incumbent claims that surveys have put him on the top when meaningful polls showed democratic challenger coming out on top in six out of 10 surveys. And at a time when the Presidential Commission on Debates is contemplating changing the rules to prevent frequent disruptions at debates, Trump's protestation was along expected lines: Why should I agree to changes when I have won? And at least one senior member of the Trump campaign has termed the Commission members as "swamp monsters".
Right now all eyes are on the Vice Presidential debate set for October 7 at the University of Utah between Vice President Mike Pence and the Democratic running mate of Biden Senator Kamala Harris. Although they will be seated at the debate and at a distance of 12 feet, questions still remain if this event will happen at all. For two days in a row, Pence has been testing because he has been with the President and especially as a bunch of White House aides and staffers have been infected because of their proximity to the President or to his campaign people. As the debate in Cleveland showed except for the Trump family that defiantly refused to wear masks and even waved away volunteers who brought one to them, the First Family not only run the risk of spreading  between themselves but also to others who may be at the venue as invited guests. If the Utah event does get under way, it will be seen if the Second Family does a repeat of the Cleveland show. Not likely it would seem given the temperament and demeanour of Vice President Pence.
In many ways it is too much to expect anything at all from either the President or the White House even if unnamed sources have put out that the next two days will be critical for Trump, irrespective of all that is being dished out by Dr Conley and company.
Related news: Barely five weeks to go, unclear whether Trump will leave if defeated
Transparency has not been the middle name of Trump; and neither he nor the White House are about to make any changes at this point of time. Three Senators are said to be down with the COVID and the Senate Majority leader, Mitch McConnel, has made it clear that the Senate Judiciary Committee's hearing on Supreme Court Nominee Judge Amy Coney Barret will go on as schedule on October 12, bringing about a sharp rebuke from ranking member Chuck Schumer that the Kentucky Republican is jeopardizing the lives of Senators, staffers and aides who have to be present. Trump through his surrogate has made it quite plain that the game plan must proceed even if it means that others are going to be brought down in the process.
In the absence of honest answers from the White House, even the best of attempts will fall by the wayside as a deliberate intention to mislead with the only intention of scoring political points in an election year. Except his core group of supporters and right wing partisan hacks, no one really thought Trump did creditably well at Case Western Reserve University in the First debate. If anything, Trump came off as a 'Disruptor-in-Chief' and 'Bully-in-Chief' trying to muscle his way through both Biden and Fox News moderator, Chris Wallace. For a person who has been in outward denial all through the last eight months of the deadly coronavirus, even now it is not too late to admit that he had been in an error of judgement. For one thing that will be asking too much of a President who thinks he cannot make mistakes; and for another that still will be of too little of comfort to the families of 207,000-odd Americans who have lost a dear one.
(The writer was a former senior journalist in Washington D.C. covering North America and the United Nations.)
(The Federal seeks to present views and opinions from all sides of the spectrum. The information, ideas or opinions in the articles are of the author and do not reflect the views of The Federal.)