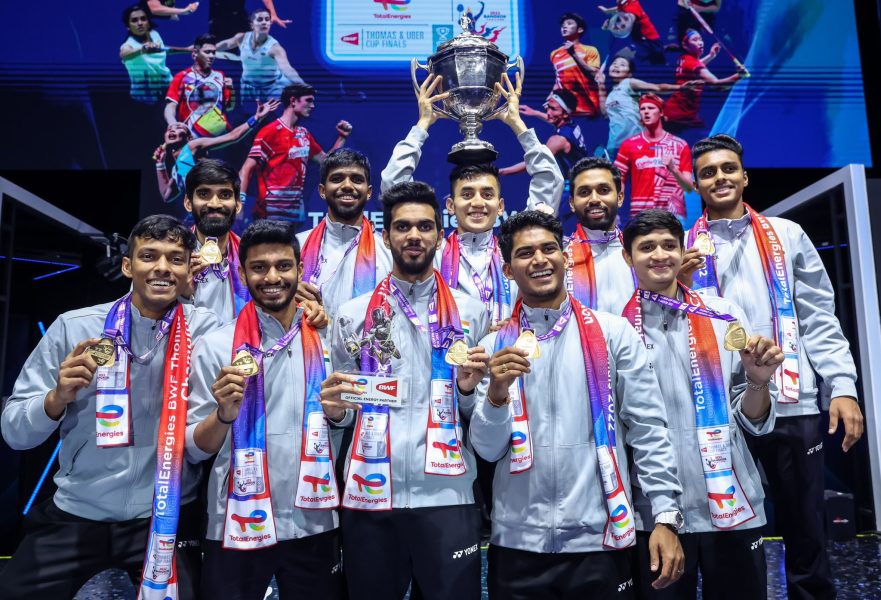 Thomas Cup victory was no coup per se; it was foretold
Indian men's badminton team's victory in the Thomas Cup (equivalent to the World Cup in cricket or football) is being rightly celebrated throughout the country.  This is the only world-conquering sporting victory India has had since the 1983 Cricket World cup win, the other being the recent javelin Olympic gold of Neeraj Chopra, India's first medal in Track and Field event.
Not to count the rise and Olympic medals of PV Sindhu and other victories in cricket in which India has been a world power for long. Otherwise, India has shown glimpses of its sporting power and most often has fallen just short of victory. So as a nation we are used to disappointing finishes.
The Thomas Cup victory is being seen or written about as an upset or unexpected victory possible only due to luck or fortune. Actually, the Thomas Cup win was foretold by the drastically improving performance of the men's team, the rising ranking and head-to-head stats.
Also Read: Can Thomas Cup coup be the 1983 moment for Indian badminton?
To see whether a team has a chance in a World Cup-like tournament, we need to look at the official world ranking of the team and also its players. These data are crucial factors in trying to figure out how a  team will perform. In the Thomas Cup, India had three players in the top twenty and 7 players in the top 50 in world badminton, making the country a champion team and showing its depth in the game. A similar position in tennis, for instance, would have got India the Davis Cup in tennis as well.
In my recently published book Top Game, I have discussed in detail how an upset in sport is a rare or almost impossible event. But, a lower-ranked person has every chance to beat a player ranked above him, if he is within roughly 10 spots in the ranking. It is almost impossible, however, for a 50th ranked player to beat a number 1 in badminton or tennis and such individual games. Such results are very rare. This means that a top-ranked player even when not playing his best can take out a 50th ranked player almost always.
But a detailed analysis of data will show that it is very much within the arc of possibility that a number 8th player will beat the No1 even though normally it is the No1 or a higher seed who wins.  That is exactly what happened in the final when India's top players Lakshya Sen (9) beat Antony Ginting of Indonesia (5). But such was Indonesia's reputation and history in badminton (14-time winners of the Thomas Cup) that we did not give ourselves a chance. Indonesia had Ginting and Jonathan Christie (8) in the top ten and India apart from Sen had Kidambi Srikanth at 11 and the third player H.S Prannoy ranked 23. The rise of Lakshya Sen in the last year has been crucial in India's newfound stature.
Another crucial factor in looking at strengths is the career head-to-head scores. If recent head-to-head stats are balanced and not one-sided, it means that any one of the two can win. If the stats are one-sided like 6-1 for instance there is little chance for the lower-placed person to win in a pressure final like the Thomas Cup. Before the India vs Indonesia final  Kidambi vs Christie head to head was 4-4 giving both an even chance of winning though Christie won the last encounter they had in the Swiss Open in Basel in April (18-21, 21-7, 21-13). So going into the match on an even keel. Kidambi who had won all his three matches on the way to the final had a good chance anyway. If Christie had a 6-1 record against Kidambi, the chances of the Indian winning would have been very slim.
India's top player Sen ranked 9 had a 1-0 advantage head to head over Ginting, though the Indonesian had a stellar record. So here too it was not an impossible task that Sen accomplished because there was always the possibility of him pulling out his best game.
In individual sports, another factor is that if you have played each other twice or more you know each other's game.  But in many events, Indian players do not analyse the opposing players well, and coaches are not strategically inclined or efficient. It might be of interest to note that once India started appointing foreign coaches, we started getting better results. Gopichand is very good is taking players to the top, but in strategy or as a courtside coach he has his defects. A fieldside coach has to be excitable and full of instant ideas and transfer some of that excitement and notions of possibility and confidence to the player then and there.
Also Read: Thomas Cup win bigger than 1983 World Cup for badminton: Gopichand
The Indian Thomas Cup win can also easily be carried into the next year.  Mind you we have 5 players in the top 50. Sai Praneeth ranked 19 was not even in the team. Kidambi and Lakshya Sen by the time of the Paris Olympics next year will both be in the top 10 and thus theoretically close to a medal though both of them have not beaten the top seed Denmark's Viktor Axelsen. The doubles pairing of Satwiksairaj Rankireddy and Chirag Shetty are ranked 8 and also within touching distance of an Olympic medal since they have beaten the troublesome Indonesian pair on the way to the cup.
In sports, to think that when two teams line up for the start of play, either team has a chance of winning. In reality, the higher seeded team will always win unless both teams are within a 10 spot distance in ranking. In football, India is raked below 100 in the world making it impossible to even get into the World Cup, where only the top 32 teams get in after years of qualifying struggle. The 32 teams which are playing in Qatar World Cup are among the top 32 in the world ranking too with a few exceptions of course.
The Thomas Cup victory was foretold.
Also Read: IPL: Where young talents sprout, mushroom and then explode