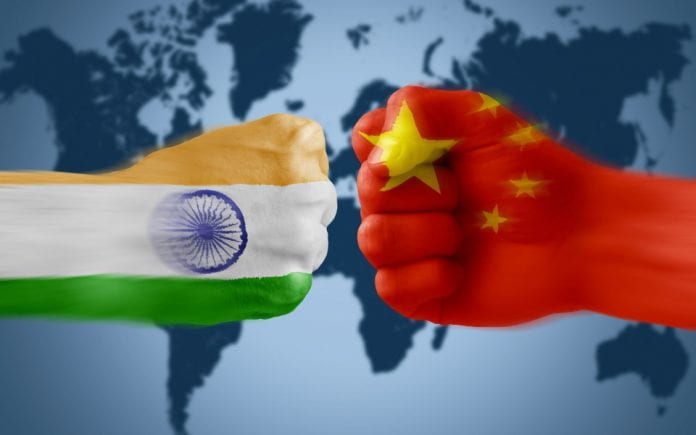 Like everything else that is almost always frigid in the Himalayas, the India-China standoff at Pangong Tso lake area in eastern Ladakh seems frozen too.
Since May this year when reports appeared of Chinese "transgression" in areas earlier patrolled by India on the Line of Actual Control other than in the Galwan valley, where China pulled back its troops, the nearby Psangong Tso lake area has seen no such withdrawal.
India has been pushing back but China has stood its ground. Several rounds of talks, some between the Commanders of the two armies on the ground and others at a diplomatic level have taken place but no outcome is visible on the ground.
Advertisement
Tensions spiked after a skirmish in Galwan on June 15 that claimed the lives of at least 21 Indian troops including an officer while the Chinese too acknowledged it lost an officer but without going into more details, including any more deaths if any.
But the standoff is not straightforward. For instance, Indian Prime Minister Narendra Modi four days after the Galwan clash publicly stated that no one had captured any Indian post nor had entered Indian territory. Following a chorus of shock and protests within India to this statement Modi all but backtracked a few days later during a surprise visit to Ladakh when (ostensibly referring to China without naming it) he said, in history, expansionist forces had always lost.
Relevant News: India-China talks on Friday to focus on steps after Ladakh withdrawal
This was followed up by belligerent statements from New Delhi that it would relook at business ties with China, which is India's largest trading partner. Scores of Chinese apps, popular in India, including Tik-Tok were pulled off India's cyberspace and several investment deals with Chinese entities have all but been blocked if not under review. This could reportedly affect investments in India of Chinese behemoths like Alibaba and Tencent.
If one expected a concomitant ratcheting up of the Indian government's political opposition to Beijing, that was not to be. Instead, in a surprising move, in the first week of August India's defence ministry pulled down from its website a report on China's incursion into Indian territory. The report had been up for two days when it was pulled down without any explanation. According to media reports, an Indian ministry official in charge of keeping track of China's moves too was abruptly transferred.
By deleting the article on the website about China's incursions, it was obvious that the Indian government was attempting to shut down discussion on the subject by knocking off authorised information. If anyone suspected that this could be a prelude to a climb down by the Modi government that has not happened either, until now.
In fact, the Chief of the newly-formed Combined Defence Forces and former commander in chief of the Indian Army General Bipin Rawat was reported as having said the military option is on the table. The conflicting signals from the government and its representatives could even be part of a larger attempt at creating a red herring, though to what purpose is not clear at the moment.
Relevant News: Stuck between India-China rivalry, hapless Nepal poised for rough ride
For, until now, the Chinese have officially not reacted with any trace of belligerence to India's myriad statements regarding the purported transgressions. Beijing has, in fact, been contrite at what happened at Galwan and some of its officials including its Ambassador to India Sun Weidong have expressed regret over the, as yet, unexplained clash on June 15. There have been speculations galore about the clashes, but no definitive version from either of the countries.
Prime Minister Modi, in all his statements over the developments, has until now not named China even once including during his address on Independence Day or earlier during his visit to Ladakh. China too has merely repeated its view that the two countries must focus on peaceful co-existence and affable neighbourliness. However, on the ground where it matters Beijing has refused to pull back troops to its pre-May position on the LAC, when the transgressions first occurred.
Amidst this is the unhappiness of China over New Delhi's move last August to downgrade the disputed Kashmir region from the status of a state, with some autonomy, to a union territory without any special status – achieved by abrogating Article 370 and Article 35A of the Constitution and dividing the state and creating new union territories of Ladakh and Jammu & Kashmir.
Some reports point out that Indian Home Minister Amit Shah in Parliament, during the discussion on Kashmir last August, stated that the state of Jammu and Kashmir included "Pakistan Occupied Kashmir and Aksai Chin (now in China's control)". This angered Beijing which asked India to be cautious and followed it up by lodging a protest with the United Nations Security Council. China has since demanded restoration of status quo ante with reference to Kashmir.
Relevant News: India-China third-round talks remain inconclusive, say sources
Whether India's moves on Kashmir provoked China to transgress on India's side of the LAC is anyone's guess, but considering that it was an internal administrative move albeit for politico-ideological reasons of the ruling BJP-RSS combine it is not clear why that irritated Beijing. Or, did China react to Shah's statement in Parliament and move its troops into India-controlled areas in Eastern Ladakh as a show of strength, and a dare to New Delhi?
The mixed signals from New Delhi and Beijing hasn't helped ease the situation. The lack of clarity could even be the result of Track Two negotiations happening between the two countries, away from media attention. This, even while open, official-level talks go on to give the impression that a solution is being arrived at.
It may sound conspiratorial but, as any diplomat would vouch, it is not uncommon for countries to indulge in parallel, subterranean talks on sensitive issues where hard deals are struck and compromises arrived at. If this is indeed happening, that would explain all the seemingly inexplicable developments being played out for public consumption.