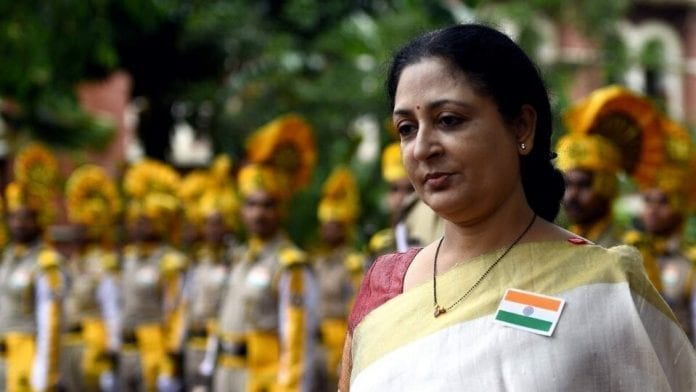 "The power of transfer is a highly dangerous power involving great hardship and, injury to the judge transferred including a stigma on his reputation in cases where the transfer is not effected pursuant to any policy but the judge is picked out for transfer on a selective basis and to my mind, it makes no difference whether the transfer is made by the government on its own initiative or it is made at the instance of the Chief Justice of India."
This statement given by the Constitution Bench of Supreme Court in landmark case of SP Gupta vs Union of India applies to the shocking transfer of Chief Justice of Madras HC Vijaya Tahilramani, to Meghalaya high court.
Also read: After SC declines to reconsider transfer, Madras HC Chief Justice resigns
The Madras high court has 75 judges while Meghalaya got just two including a Chief Justice, the sanctioned strength is three. How can this transfer be said for "better administration"?
It is an unusual transfer. Tahilramani has quit the service after her request for reconsideration was rejected by the Collegium stating merely "it is not possible to accede to her request". Why is it impossible? Whether collegium has any reasons, if so, what are those reasons? Or, is it a transfer without reason? The Collegium's move has generated many questions and raises doubts about many basic tenets of our Constitution and governance of judicial administration besides judicial independence. Doubts arise about possible link between her verdict in 2017 in Bilkis Bano case in Gujarat riots, where she upheld life sentence of eleven and reversed the acquittal of five police officers and two doctors for destroying evidence.
Justice Jayant Patel's transfer
Earlier, Justice Jayant Patel was transferred to Allahabad high court overlooking his seniority which could have promoted him to Supreme Court or at least as Chief Justice of a high court. However, Justice Patel resigned in protest. The unusualness of the transfer without giving reasons raise speculation that his transfer was directly linked to his order of CBI probe into the controversial encounter of Ishrat Jahan and three others. He monitored the investigation that led to naming of top officials of Intelligence Bureau (IB) and Gujarat Police. Bar Association of Gujarat high court passed resolutions against his transfer saying that he was victimised for not buckling under the pressure of government.
Two more judges transferred
Justice Abdul Hamid Kureshi was transferred from Gujarat high court to Bombay HC allegedly in retaliation to his order of custodial remand of Amit Shah to CBI in Sohrabuddin case. The Gujarat HC even passed a unanimous resolution condemning the transfer.
Justice Untwalia presiding the SP Gupta case had said, "Transfer without the consent of the judge concerned will bring devastating results and cause damage to the tower of judiciary and erosion of its independence."
Former Supreme Court Justice Khalid's statement in the past recalling as to how transfer could be a more dangerous weapon than dismissal, reminding the dark days of Emergency. "The style of functioning of the Collegium leaves one with the impression that the high court is subordinate to the Collegium. This affects the majesty of the high court and erodes the primacy of position given to high courts in the constitutional scheme of things."
Indira Gandhi's style
Former Prime Minister Indira Gandhi overlooked seniority of three judges and appointed fourth as Chief Justice of India. It was a clear indication of the PM's dislike for the three judges for their judgments against the government. Soon after the incident, the three judges stepped down. This was considered a turning point in the judicial history of India. The incident also made judiciary suspicious about the bona fides of the rulers.
The drastic step that necessitated three senior judges to resign will in fact, amount to dismissal, for no valid reason. It was unceremonious termination of services of three judges, who cannot be otherwise dismissed without following cumbersome process of impeachment requiring majority of MPs to move or accept the motion on proven allegation. Indira Gandhi is remembered for this vindictive action as an assault on judiciary.
The unusual transfer is no less than supersession. Secrecy about transfer and reasons for the decisions of the collegium are against the basic character of administration of justice. Transparency in public hearing is the hall mark of judicial functioning. Then why secrecy about such an important transfer? People of Tamil Nadu and Meghalaya in particular and Indians in general have a right to know why a Chief Justice was shifted? Supreme Court and Union of India have legitimate duty under our Constitution and RTI Act to explain.
Legendary lawyer late Ram Jethmalani while holding portfolio of Union minister for law, had thrown open all the files of ministry to the public. This democratic step was rolled back because of the compulsions created by bureaucracy. The Supreme Court during the regime of Justice Deepak Mishra, has taken a historic decision to keep decisions of the Collegium in public domain. But why did they not give reasons for the decisions also?
Madras high court lawyers in a letter requested Chief Justice Ranjan Gogoi to reconsider this transfer. Their strongly worded memorandum said, "Such kind of arbitrary transfer whittles away the independence of the judiciary and confidence of the judges… Transfers have become a weapon in the hands of the all-powerful Collegium, which is not a creation of legislation but that of the judiciary itself and there are no checks and balances in matters of administration of the judiciary." They quoted SC judges referred above in their letter pleading for justice. Interestingly all the three transferred judges have judged causes arising out of Gujarat riots.
Should judges go by rule of law or rulers' law?
(M Sridhar Acharyulu, Former Central Information Commissioner, Professor of Constitutional Law in Bennett University)
(The Federal seeks to present views and opinions from all sides of the spectrum. The information, ideas or opinions in the articles are of the author and do not necessarily reflect the views of The Federal.)