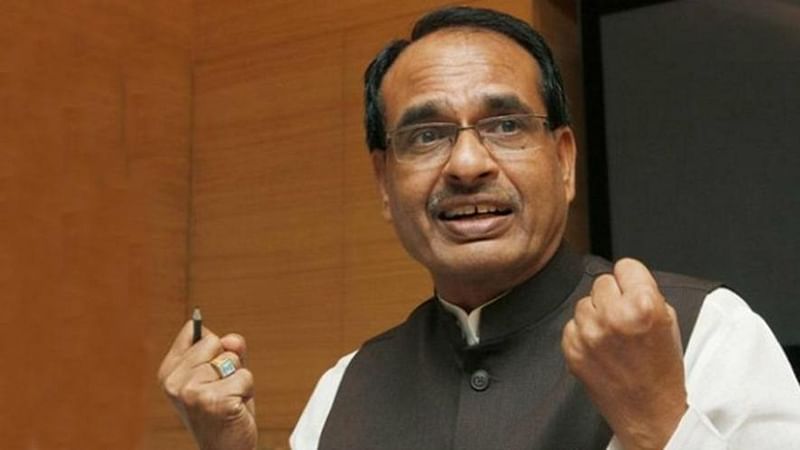 Muslims become easy target as Chouhan emulates Yogi in MP
Stringent Hindutva seems to be the way up the ladder in the BJP and the MP Chief Minister seems to have opted for it to take on his challengers
Uttar Pradesh Chief Minister Yogi Adityanath seems to be becoming a role model for other BJP chief ministers in the country, more so after his win in the recently held Assembly elections. There's a scramble to copy what is being seen as success of his stringent form of Hindutva, especially his use of bulldozers to send an unequivocal 'communal' message to people.
Madhya Pradesh Chief Minister Shivraj Singh Chouhan — who was seen more as a moderate among BJP leaders in his earlier terms as a state head – has taken a leaf out of Yogi's rulebook to position himself as a hardliner in his present term. What happened in Khargone on Ram Navami day is a pointer to Chouhan's new avatar.
Also read: Once a whisper, RSS slogan of 'Akhand Bharat' now a dangerous chorus
The festival that marks the birthday of Lord Rama was observed this time after a break of two years due to COVID restrictions, by taking out big processions throughout the country on April 10.
Soon after violent incidents in Khargone that day, bulldozers moved to knock down the homes and shops of quite a few suspects, mostly Muslims, whom police blamed to be behind stone-pelting at the procession in the city on April 10.
Bulldozer 'Mama'
In the wake of this, Chouhan earned the sobriquet 'Bulldozer Mama', a clear play on Yogi's 'Bulldozer Baba' title. Interestingly, Chouhan was earlier nicknamed 'Dumper Mama' when the previous Congress regime in MP led by Kamal Nath tried to reopen a case against Chouhan and his wife regarding the purchase of four dumpers and leasing them to the JP Cement factory in Rewa district.
But more interesting is how Chouhan came to be known as mama, or maternal uncle: It was because of his welfare schemes aimed at helping girls during his earlier term.
Watch: Khargone peaceful but tense
Chouhan owes his recent term to Jyotiraditya Scindia, who broke away with his supporters from the Congress to join the BJP, which resulted in the fall of the Kamal Nath-led government. The BJP, despite losing the 2018 state election, got another chance at power and anointed Chouhan again as the MP chief minister.
Chouhan, though, has many challengers in the party who too would be eyeing the chief minister's chair. With state assembly elections due in the later part of 2023, it seems the positioning within the party has already begun. Chouhan's bulldozer move and the communal turn that he has taken are aimed at fortifying his position.
Chouhan's challengers
Chouhan's main challengers include former state chief minister Uma Bharati, who after being shifted to Uttar Pradesh, seems to be making a move to come back to her home state. She recently pelted stones at a liquor shop in Bhopal, demanding its closure or relocation, as poorly paid workers who lived in the area were getting addicted to alcohol and, thus, losing quite a bit of their hard-earned money. This sort of socio-political campaign in her ancestral state again can well be motivated by a desire to make a comeback in state politics.
Also read: Politics of food: Practice, not texts, determines Hinduism
Uma Bharti is not the lone challenger that Chouhan may have to fear within the BJP. The party has a string of leaders. Hawkish leaders like state Home Minister Narottam Mishra and party veteran Kailash Vijayvargiya, besides senior central ministers Narendra Singh Tomar and Jyotiraditya Scindia, have the potential to prove more than a match for Chouhan.
It is a known fact that Scindia fell out with the Congress because he could not become chief minister after Congress won the last polls in the state. On the other hand, Mishra is thought to be close to Union Home Minister Amit Shah. Vijayvargia and Chouhan are old rivals and Tomar too is close to the powers that be in the party. Thus, there can be too many challenges in the way of the current Chief Minister as he goes to look for another term.
Astute player
Chouhan is well aware of the challenges and is an astute political player. Significantly, a day before Ram Navami, he claimed at a conference with officials that a total of 2,244 acres of land spread all over the state had been cleared of illegal encroachments and re-acquired by his government. This was to indicate widespread use of bulldozers at his orders. This is how Chouhan laid claim to the bulldozer move at Khargone before Home Minister Mishra could do so.
Last year, the Madhya Pradesh Prevention of Damage to Public and Private Property and Recovery of Damage Act was passed. Yet, government officials have to first approach a Claims Tribunal before resorting to any action under the Act. It is a moot question whether the government approached the tribunal before using the bulldozer in Khargone.
Chouhan tried to take credit for bulldozing houses and shops in the riot-torn town as Mishra could not specify the law under which such an action was taken. A TV channel tried to pin Mishra down regarding this issue and he could not tell anything about the law or the tribunal. Instead, he remarked that even "scriptures" call for such punishment (against lawbreakers).
Muslims targeted
In the times today, political ascendency in the BJP is to a large extent measured in action taken against Muslims. Targeting the minorities is being seen by leaders as a sure-shot way to gain limelight and the way up the ladder in the party. Chouhan, too, has opted to take this route. The sufferers in this game of political oneupmanship are the common Muslims.
A renowned anthropologist and Reliance Dhirubhai Ambani Chair at Stanford University, California, Professor Thomas Blom Hansen, described them in a recent interview given to an Indian periodical by saying, "Muslims in India – and this is a large and very diverse category of communities – are today poorer, less educated, more marginalised from the economy and less politically represented in the Lok Sabha and in the states than at any point since Independence."
He went on to say: "I am full of admiration for the calm and stoic dignity that the vast majority of Muslims retain in the face of the unrelenting onslaught on their rights and livelihoods. But it (is) also heartbreaking and simply cruel to watch."
Are Chouhan and his party bosses in Delhi, parts of which also came under a riotous spell warranting huge police deployment since April 16 evening, listening?