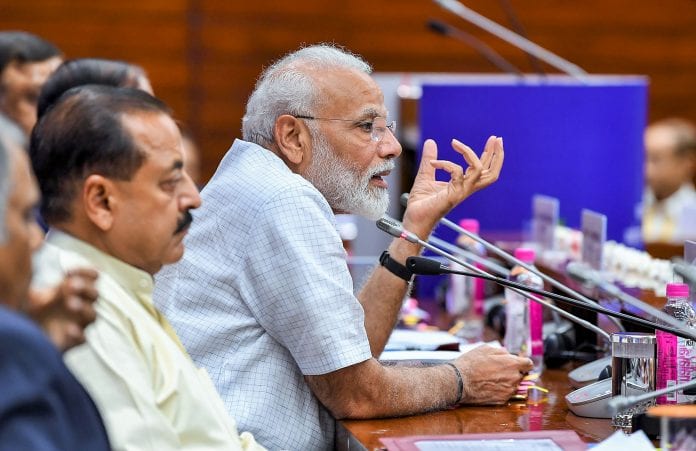 Prime Minister Narendra Modi on Tuesday (June 2) said that arrogance and misbehaviour will not be tolerated in the BJP, no matter who the person was or whose son he/she was.
The stern message comes days after Indore MLA Akash Vijayvargiya, son of party general secretary Kailash Vijayvargiya, made headlines for thrashing a municipal official during an anti-encroachment drive and was arrested after a video of the incident went viral. However, Modi's remarks can be taken as a warning to others too who have put the party and the government to shame.
Some other motor-mouths and their statements:
Advertisement
Sadhvi Pragya Thakur – Member of Parliament from Bhopal
Apart from cursing former ATS chief late Hemant Karkare, she termed Mahatma Gandhi's assassin Nathu Ram Godse a "patriot".
Sacchidanand Sakshi Maharaj – Member of Parliament from Unnao
Sakshi said there would be no elections required after the 2019 polls, thanks to the "Modi tsunami".
("Modi is a tsunami that has brought awakening in the country. I believe there would be no elections in 2024 after this election is done. This is the ultimate election. Will work to make the hopefuls win.")
Bhagwat Sharan Gangwar, Minister and Member of Parliament from Bareilly
Gangwar triggered a controversy by saying that furore should not be created over one or two rape cases in a big country like India. The remarks came at a time when the country was witnessing public outrage over the brutal rape and murder of a minor girl in Kathua and the rape of a 17-year-old girl in Uttar Pradesh's Unnao, which involves a BJP MLA as the key accused.
Biplab Kumar Deb, Chief Minister of Tripura
The Tripura CM's statements have embarrassed the BJP many a time. He said that internet and satellite communication had existed in the days of Mahabharata. That's how Sanjaya, the charioteer of King Dhritarashtra, was able to give a detailed description to the blind king about the battle of Kurukshetra.
He had also drawn a discomfort in the party over his comments on Indian Miss Worlds, advice to mechanical engineers to not take up civil service and about the importance of having a cow to earn a living.
Satyapal Singh, former Minister and Member of Parliament from Baghpat
Satyapal Singh said Darwin's theory (of evolution of humans) is scientifically wrong. It needs to be changed in school and college curriculum. Since the first time man was seen on earth, he has always been a man. And no one has seen an ape turning into a human.
Giriraj Singh, Minister and Member of Parliament from Begusarai
If Rajiv Gandhi had married a Nigerian lady and she had not been fair skinned, would the Congress have accepted her leadership?
PM praises young Chirag Paswan
Prime Minister Modi in his meeting with the MPs was all praise of Lok Janshakti Party Member of Parliament from Jamui, Chirag Paswan, son of LJP president Ram Vilas Paswan. Sources said that PM told the MPs that he has been observing 36-year-old Chirag in Parliament from 2014. He said that one should learn public discourse and mannerism both inside and outside the House from Chirag Paswan.
Lessons from failure of 'Chowkidaar Chor Hai'
Congress President Rahul Gandhi had just one rhetoric in his public address and that was the personal attack on Prime Minister Narendra Modi — "Chowkidaar Chor Hai". And this personal attack proved to be counter-effective not only for the Congress party but also for Rahul Gandhi.
In 2024, when the Modi-Shah duo face elections again, deliverables and not jingoism could be the ultimate choice of the voter. The present government will need to improve the strength of a sagging economy, deal with unemployment and farm crisis and address other major issues.
Also read: Kailash Vijayvargiya dubs MLA son's act as unfortunate, pro-poor
Harmful speeches and actions that invite embarrassment will not help BJP, rather, it will take it back. Prime Minister Narendra Modi will need to not only berate about such partymen but also take strong action against them to rein in the damage in times to come.
(Vivek Avasthi is Senior Editor Politics with Business India Television – BTVI.)
(The Federal seeks to present views and opinions from all sides of the spectrum. The information, ideas or opinions in the articles are of the author and do not reflect the views of The Federal.)