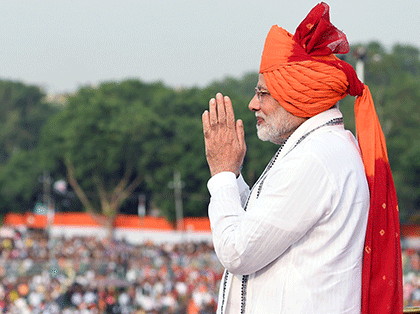 Prime Minister Narendra Modi must be a fan of Humpty Dumpty. Oh, this is not about the guy who sat on a wall and had a great fall. But, about a great linguist who could, as he told Alice while she was lost in Lewis Carroll's wonderland, make every word mean exactly what he chose it to mean — 'neither more nor less.'
Give Modi a word — Modi, in this case — and he will pluck it out of context, tweak its semantics, and make liberal additions, alliterations and subtractions to make it mean exactly what he wants, even if the original meaning was something completely different.
On Wednesday, speaking at a rally in Maharashtra, the PM launched a scathing attack on his rival Rahul Gandhi for targeting him, Modi, and 'his community' because he is from a backward community.
Advertisement
If you have been following elections in India closely, many things would have become clear by now. One, Modi will always talk about Hindus, Muslims and Pakistan. Two, he will always draw attention to his humble beginnings — chaiwala and backward. And three, he will always ladle listeners with high dose of emotions and inevitably find an opportunity to water the poll field with his tears.
For the moment, let's stick to the PM's propensity for drawing attention to his 'backward' status and his use of verbal callisthenics to bring it into the election discourse. The PM's loves it the most if a rival gives him the opportunity — like a thespian's cue — to use the word backward. For instance, in the 2014 elections, Priyanka Gandhi alleged the BJP was resorting to neech kism (low level) politics. Out came running Humpty Dumpty from Modi's many poll personas: "I don't deny I was born in a neech (backward/low) jaati (caste). But is it a crime?" Modi spun the word around to make it mean caste when the original barb was thrown at the level of politics. The Congress, of course, failed to learn the right lesson from the low-level discourse. In 2017, its leader Mani Shankar Aiyar accused Modi of being a 'neech aadmi' (lowlife), only to watch Modi play the backward class victim again.
But, sometimes Modi doesn't even need the right verbal prodding to bring caste into the debate. He just needs some illogical, knotty wordplay —like India and Canada are the 2AB in the formula (A+B) square — to talk about his caste.
The latest example is his Maharashtra attack on the Congress chief. Consider Modi's twisted logic. At a rally in Maharashtra, Gandhi started with his trademark 'chowkidaar chor hai' jibe and ended by asking "how come all thieves have Modi in their surname?" He was obviously referring to the PM, fugitive trader Nirav Modi and former IPL chief Lalit Modi, who is on the run from Indian agencies.
Gandhi is, of course, factually incorrect. Not all thieves, as he argued, use the surname Modi. Even the Modis on the run just accused of financial bungling, are not certified thieves. Modi would have been right had he pointed at the flaws in Gandhi's arguments. But, he went into an altogether different trajectory by claiming: A) The Congress chief had insulted the entire community and b) the slur was on all backward classes.
Fact is, just as not all Modis are alleged crooks, all of them are not backwards either. Modi is a typical north Indian surname used generally by traders, most of whom are from the so-called upper castes. The PM, of course, is from the Ghanchi (oil presser) community of Gujarat, where they are part of the Other Backward Classes. The other two Modis — Lalit and Neerav — are scions of leading business families of Uttar Pradesh and Gujarat. To paint them as icons of backward classes is too much of a flight of fancy for Modi, the PM.
The fact is, the PM needed a ruse to talk about his caste in a state like Maharashtra, where Dalit voters are in sizable numbers. Without making himself sound like a casteist, Modi needed to seek votes in the name of castes. Even if Gandhi had not made the illogical comparison, Modi would have found an excuse to refer to his identity.
In Bihar, where he lost to the Nitish Kumar-Lalu Yadav combine in 2015, Modi had led a campaign that projected him as an 'extremely backward.' This he had done without channelling his internal Humpty with the simple expedient of believing that in a tough election a division between OBCs — the so-called forwards among backwards and the extremely backwards — would help the BJP. In the end, the BJP was decimated.
When Humpty Dumpty had claimed that he can make a word exactly what he wants, Alice had asked: "The question is, whether you can make words mean so many different things?"
No. In Modi's lexicon most words mean just a few things — Hindu, Pakistan, backward, and, these days, martyrs, Balakot and Pulwama.