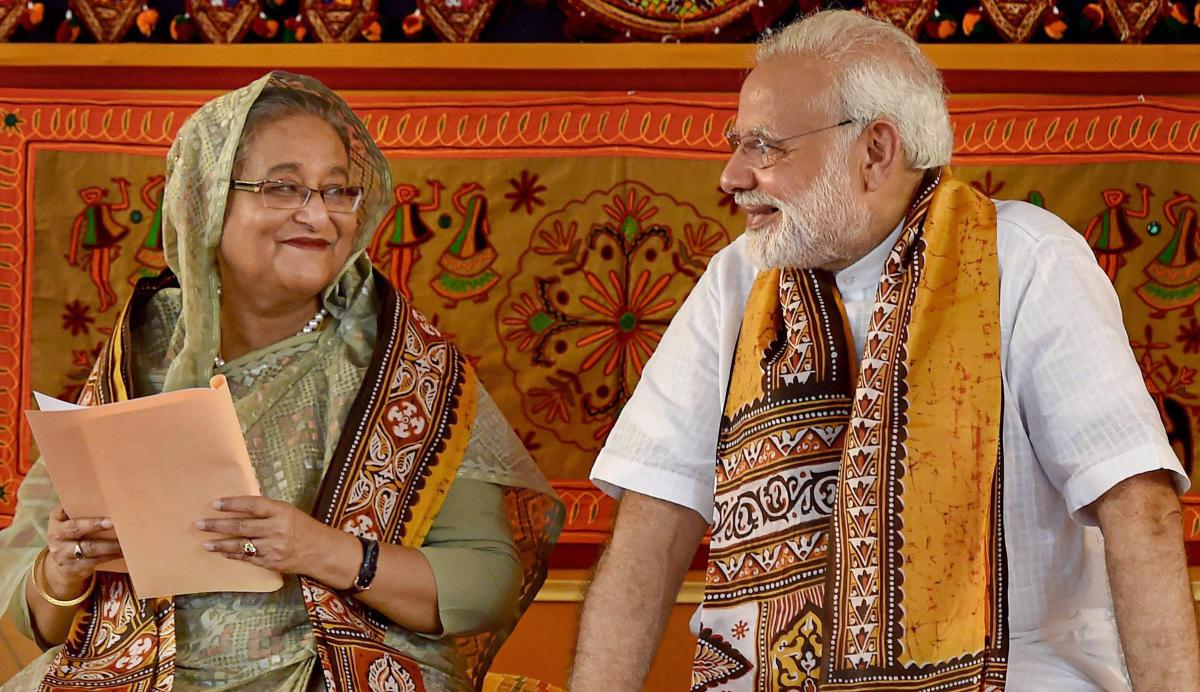 It is crucial for India to revive ties with Bangladesh
By all accounts, the recent visit of India's Foreign Secretary Harsh Vardhan Shringla to Bangladesh was a salvage operation. It came in the wake of somewhat uneasy times for Indian diplomacy in the South Asia region.
By all accounts, the recent visit of India's Foreign Secretary Harsh Vardhan Shringla to Bangladesh was a salvage operation. It came in the wake of somewhat uneasy times for Indian diplomacy in the South Asia region.
Thanks to the violence involving Indian and Chinese troops at the Galwan valley in the Ladakh region, along with troop movements on both sides of the Sino-India border, the Indian government's attention remained fixed on the Himalayan skirmish. Consequentially, developments in neighbouring Bangladesh and Nepal went under the radar for a while.
While the brief oversight in responding to the developments in Dhaka and Kathmandu proved less damaging for India in Bangladesh, there were a number of signs that India's neighbours were deeply upset with the Indian government for reasons of their own.
Both in Bangladesh and Nepal, the ruling NDA government has unwittingly strengthened the powerful anti-Indian political lobbies, largely through the sins of inaction. Delhi-based policy mandarins need reminding that today's warm relations with Bangladesh and the significant growth of bilateral trade and economic opportunities is a relatively new phenomenon that does not go back beyond a decade.
The spadework for the present India-Bangla bonhomie is tenuous, predicated almost entirely on a broad preference for India within the ruling Awami League. But it is important to build on the positives in bilateral relations and nurture them consistently. It must not be forgotten how India got steadily sidelined and Pakistan gained a strong foothold in its former Eastern province, during the tenure of the Bangladesh Nationalist Party (BNP) or the army.
Related news: Navigable river routes vital to reaping benefit of Bangladesh's sea access

Furthermore, the broad support that India enjoys from the Awami league (AL) is almost entirely one person-centric, rooted in the enduring political dominance of Sheikh Hasina. It is known that she approaches India more as a daughter of the late Mujibur Rahman, than as an AL leader. Delhi must appreciate the high price the AL and Hasina pay for their barely concealed preference for India in the face of frenzied opposition from the BNP, the Jamat-e-Islami and scores scores of foreign-aided Muslim extremist organsations. There is no reason to think these major anti-India groups and formations do not enjoy major mass support in Bangladesh either.
Yet, Hasina has walked the extra mile to provide emergency water supplies for drought-hit Tripura from the Feni river during the dry season this year. She was roundly abused by her opponents who accused her of ignoring the plight of northern Bangladesh districts. Her reply was: "How can we forget the help and shelter given by Tripura to lakhs of Bangladeshis trying to escape the Pakistani genocide during 1970-71?" Again, to assuage Indian concerns, the AL was instrumental in cancelling negotiations with China for building a new port at Poyra.
Compare this to India's failure to conclude the long pending Teesta water-sharing agreement with Bangladesh, only because Bengal Chief Minister Mamata Banerjee has blocked it! It is a very sensitive issue for angry Bangladeshis facing a water scarcity as they grumble that the bigger country has its way all the time!
Even worse has been the impact of the National Register of Citizens (NRC) exercise conducted in Assam mainly to identify and punish suspected illegal Bangladeshi immigrants in Assam. True, the issue has political significance and resonance for Assam and the northeastern states. But it also impacts Bangladesh directly. Most Bangladeshis working or studying in Kolkata expressed their anger over Union Home Minister Amit Shah's statement that illegal Bangladeshis were eating away India's economy like 'termites'. Earlier, prime Minister Narendra Modi had warned illegal migrants settled in Assam to pack their bags if the BJP won the Lok Sabha polls.
It is another matter that, at repeated official and semi-official meetings between the two countries, Indian officials always assure Bangladesh that the implementation of the NRC or the Citizenship Amendment Act (CAA) legislation were 'internal matters not directed at Bangladesh'.
Related news: BJP's political agenda pushing Bangladesh towards China
Even a cursory browsing of Bangladeshi media would show that questions about India's intentions are being asked daily by common people. AL leaders and ministers have shown commendable reticence in consistently downplaying local Bangladeshi concerns and brushing off anti-India suggestions. But the tension persists, threatening the support base of the AL.
It would be no wonder that as India's stronger challenger, China would move in, increasing its footprint as well as influence on a much bigger scale in Bangladesh. India had advanced a $1 billion aid to Bangladesh and has sizably increased the level of its technological help to Bangladesh's infrastructure development and economy, encouraging joint ventures.
Current Indian investments amount to nearly $3 billion. But China's investment is almost twice as big. Bangladesh is not fully satisfied with the slow disbursal of funds for specific infra projects from China, which had announced a $22 billion aid package. However, of late, the pursestrings in Bejing have loosened a bit as discontent over India's policies and postures is simmering in Bangladesh. Chinese companies have revived talks to set up Special Economic Zones (SEZs) in Bangladesh.
Many Bangladeshis feel that under the NDA government, Delhi suffers from a big power syndrome, not only in its rhetoric towards China or Pakistan, but even in matters relating to relations with its nearest neighbours like Bangladesh and Nepal. China has stepped in especially where its help will hurt India the most. It has announced an instant $100 million assistance and technical expertise to help Bangladesh manage the flow of the Teesta river more effectively. The amount may not be much, but one can imagine how China will win the battle to win Bangladeshi hearts hands down once the work is underway with much fanfare.
It should not come as a surprise that China will supply in the short term two modern submarines, modern arms and weapons to aid the modernisation of Bangladesh's armed forces and help set up the second nuclear power plant in Bangladesh, after Russia. The overall quantum of assistance could well exceed $10 billion.
Related news: CAA, NRC: BJP's 'Bangladeshi termites' rant is now gnawing at India-Bangla ties
The help it will provide in building Bangladesh's infrastructure sector would come separately. Can India in the present state of its economy, remotely match such assistance? It follows naturally that apart from the BNP and other forces, China gets a much more favourable coverage in the Bangladeshi media of late — unlike India.
Furthermore, it is not just a question of China. Only recently, Prime Minister Hasina met the new Ambassador designate of Pakistan in Dhaka, after keeping Islamabad waiting for ages. Pakistan would like nothing better than to renew its severed ties with Bangladesh, being totally blindsided on its East by India in recent years. In this context, it needs pointing out that even as the meeting with Pakistani diplomats was being organised, there had been a virtual breakdown in communications between Delhi and Dhaka. Several Bangladeshi ministers cancelled their proposed trips to India on one pretext or the other, or rescheduled bilateral programmes in Dhaka.
Foreign Secretary Shringla's meeting, therefore, comes as a major relief to India as Riva Choudhury, India's serving High Commissioner now about to hand over charge, had not been able to meet the Bangladesh PM for over several months before that. There can be no question that over the next few months, Indian diplomats will have their work cut out in the short term in Bangladesh, Delhi's closest—and perhaps only—ally in South Asia.
(Ashis Biswas is a Kolkata-based senior journalist. He has worked in New Delhi, Kolkata and Guwahati for India's reputed media organisations)
(The Federal seeks to present views and opinions from all sides of the spectrum. The information, ideas or opinions in the articles are of the author and do not necessarily reflect the views of The Federal)