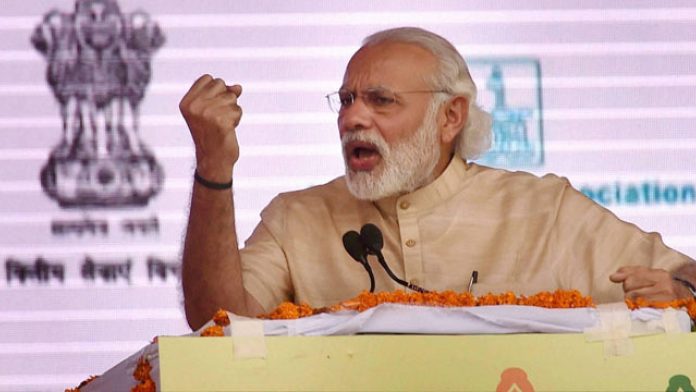 Soon after the NDA public meeting in Chennai on March 4, DMK president M K Stalin attacked the alliance asking how the AIADMK could ally with the BJP and Narendra Modi when Jayalalithaa did not do so in 2014. He recalled how Jayalalithaa refused to break bread with the saffronists, defying a nationwide Modi wave.
Though Jayalalithaa recognised Modi's popularity at that time, she said Modi is for the rest of India, but, in Tamil Nadu, it's the lady who counts. She was referring to herself as the lady. And she won hands down.
On March 8, the AIADMK dairy minister KT Rajenthra Bhalaji responded to Stalin's criticism saying that in the absence of the lady, Jayalalithaa, Modi was Daddy. Bhalaji may have let the cat out of the bag. It was probably a Freudian slip for Amma's minion who saw a father-figure in Modi. But does it mean that for Bhalaji, as well as for the 1.8 crore people who voted for the AIADMK in 2014, Modi is the new leader?
Larger than life
The average AIADMK voter has always been charmed by a powerful leader. It was film star MGR once. It became Jayalalithaa later.
For that voter, the leader was not just a politician, but a larger-than-life figure – a deity who was beyond reproach. The voter saw the leader as a protector who didn't have a family of his own but for whom the people were their children.
Neither Jayalalithaa nor MGR had children but doled out favours and basic necessities. MGR's image of being a generous do-gooder given to charity and who protected women was carefully orchestrated and used by the DMK when he was in that party. That image stuck on him and worked up electoral magic when he quit the DMK to form his own organisation.
Jayalalithaa too was largely known for the image she projected. She was the mother, the amma who took care of her children – the voters. So, now that the lady is gone, it may be time for a new all-powerful leader to step into the state.
Disadvantages of the Modi narrative
Modi projects power. He has consistently sought to create an image of being a powerful leader. His party cadres have tried hard to project his image in Tamil Nadu, leveraging various central schemes such as Mudra loans and Ayushman Bharat that popularise his brand. He is the man without a family who has dedicated himself to the welfare of the people. He works non-stop to fulfil their needs.
A Modi narrative is waiting to take hold in Tamil Nadu. Or is, it would seem. But Modi has some disadvantages. He had several opportunities to endear himself to Tamils after the death of Jayalalithaa but did not seem to care. From NEET through Cauvery, he seemed to indicate that Tamil public opinion didn't matter to him.
In NEET, he refused to buy Tamil Nadu's argument that its medical education system based on state exams had served the state, which has among the best healthcare systems in India. In Cauvery, the Centre played ball with Karnataka on building a new dam across the river, even as the agency it set up to implement the tribunal's final order has not been empowered to automatically overrule states if there was a dispute over complying with the order.
Until recently, it seemed that Tamil Nadu did not figure in the BJP's scheme of things. So the recent attention that Modi has bestowed on the state by visiting it four times in as many weeks seems like an afterthought. Purely politically, Modi is not on a strong wicket in Tamil Nadu. On a personal level too, Modi's style may not sync with the state.
A different persona
Prime Minister Narendra Modi of the 56-inch chest is all brawn, whereas Tamil leaders rarely project macho. Tough-looking Tamil men sporting walrus moustaches often break into tears on political platforms. Just a few days ago, the fire-breathing Vaiko was overcome with emotion when Stalin, against whose rise in the party Vaiko had quit, said he would take care of Vaiko going forward. It was a homecoming of sorts and a reconciliation between family members. It was a rather routine sight in the state.
Tamil Nadu's leaders are womanly, even if they are men. They are soft at heart, not brash moustachioed petes. They smile and plead to be accepted as a family member of the voter.
To convince the Tamil voter, Modi will have to acquire a different persona. He could still be the all-powerful care-giver who doles out patronage. His name may send shivers down the spines of enemies but he has to gaze benignly at his subjects. He can be a despot but he has to be caring.
Imagine, Modi breaking down into tears at every public meeting. That may be an odd thing to happen in the rest of India. But, in Tamil Nadu, he should be willing to shed tears, publicly and convincingly. He should be sincere because many Tamils think with their hearts while choosing a leader.